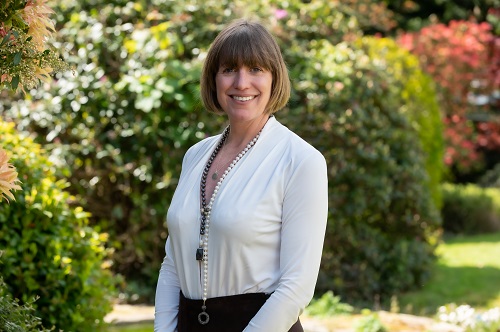 Theya Healthcare Secures €500,000 Investment to Further Develop US Market and Conduct New Research
Theya Healthcare, the Irish health and wellbeing garment producer, today announced that it has secured a €500,000 investment from the University of Vermont (UVM) Health Network, a not-for-profit integrated academic health system that serves more than one million residents in the north-eastern US.
The investment is through the UVM Health Network's Ventures team, which invests in healthcare innovations that benefit patients, families and the communities it serves. This latest investment follows cumulative funding of €3.5 million secured by the company in its two previous funding rounds, from individual investors and Enterprise Ireland.
Theya Healthcare was founded in 2015 by Ciara Donlon and is a client company of NovaUCD, the Centre for New Ventures and Entrepreneurs at University College Dublin (UCD).
The company, which produces bamboo fibre underwear designed specifically for post-surgical use under its Theya Healthcare brand, first entered the US market in 2019, when it signed a deal with US purchasing co-op Greenhealth Exchange, which specifies, screens and sources high-quality and ethically sourced products for its members.
The deal saw the company become a preferred supplier to 11 large healthcare systems, including the Mayo Clinic, Dignity Health, Dartmouth-Hitchcock Medical and the UVM Health Network, among others.
Ciara Donlon, Theya Healthcare, CEO said, "We are delighted to have secured this significant investment from one of the world's premier not-for-profit health systems. It's a fantastic endorsement of our unique healthcare products and will help us to further develop our reach across the US market."
"In addition to its reach across Vermont and Northern New York, the UVM Health Network is a member of a strong network of hospital groups, which will give us new access to the medical B2B market as we expand our footprint in the US."
As part of its further expansion into the US market, the company is in talks with an Illinois-based hospital group about the roll-out of a joint research study. The study will explore the long-term economic benefits to health systems and insurers of Theya Healthcare's post-surgical products and will build on previous scientific research undertaken in conjunction with UCD in 2017.
The UCD research found that the company's unique bamboo fabric mix is naturally highly anti-bacterial, absorbent and wicks moisture more efficiently than cotton or synthetic materials. It also showed that women who wore the Theya Healthcare post-surgical bras while recovering from breast cancer surgery reported significantly increased health status and body image, as well as reduced pain levels.
"Both our previous research and anecdotal evidence we have gathered over the past number of years clearly shows that our unique bamboo fibre mix aids post-operative wound healing, significantly decreases the likelihood of infection, and makes women feel better physically and psychologically", added Ciara Donlon.
"It is our intention to build on this knowledge with this new joint study in the US, and to demonstrate how the use of our naturally anti-bacterial, highly absorbent, hypoallergenic, and thermally-regulating fabric can ultimately severely cut healthcare costs. It can do this by reducing the length of hospital stays and recovery periods, as well as lowering re-admission rates and drug prescriptions to address physical and psychological aftereffects."
She concluded, "While health systems and hospitals around the world have been severely affected by the Covid-19 crisis over the past year, as we are emerging from the pandemic, we are excited to accelerate our expansion in the US and across other markets to ensure access to our products by as many people recovering from breast, thoracic, pelvic or abdominal surgery as possible."
Last year during the Covid-19 pandemic, the company pivoted its business to provide personal protective equipment (PPE) to the HSE. It used its expertise to develop and supply reusable, washable, naturally anti-bacterial bamboo fibre face masks, as well as back-to-work safety packs.
Last month the company re-designed its brand architecture and added three non-medical brands to its portfolio, Theya Lingerie, Theya Maternity and Theya Sleep. They join the original medical brand, Theya Healthcare. The company's overarching brand will be Theya Bambú.
ENDS
18 June 2021
For further information contact Micéal Whelan, Communications and Media Relations Manager, NovaUCD, e: miceal.whelan@ucd.ie or Sebastian Enke, Theya Healthcare, e: sebastianenke@theyahealthcare.com.
Editors Notes
Theya Healthcare product development is based on scientific research, and its unique bamboo fibre mix fabric is scientifically proven to be naturally anti-bacterial, absorbent, wickable, hypoallergenic, thermally-regulating and UV-resistant.
The bamboo fibre mix used by Theya Healthcare is OEKO-TEX Standard 100 approved, and free of harmful substances. As a resource, bamboo is highly sustainable; it doesn't rely on pesticides or fertilisers, does not require watering, and stores five-times more CO2 than the equivalent amount of trees. The cultivation of cotton, by contrast, requires large amounts of water and is responsible for 30% of worldwide pesticide sales.
The company is an approved supplier to the HSE in Ireland; the NHS in the UK; and the Greenhealth Exchange purchasing co-op in the US, whose members include more than 4,000 hospitals. https://www.theyahealthcare.com/
The University of Vermont Health Network is an integrated not-for-profit academic health system that serves more than one million residents across Vermont and Northern New York. It is working to preserve access to care for its families, friends and communities while also innovating to change the way that care is delivered to focus on wellness as much as illness and to control costs. www.uvmhealth.org