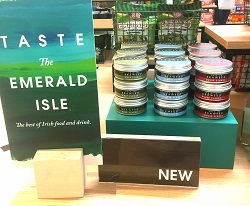 This is Seaweed Expands into UK Market and Goes on Sale in Selfridges
This is Seaweed, the Irish organic food company, today announced expansion into the UK market with its range of seaweed flakes now on sale in Selfridges.
Selfridges & Co's flagship store on Oxford Street, London, is now stocking in store This is Seaweed's range of organic seaweed flakes (Kelp, Alaria and Dulse).
This is Seaweed's aim is to encourage consumers to engage with seaweeds and to understand the benefits they possess in terms of nutrition and taste. Each seaweed in the company's product range has its own suite of beneficial vitamins and minerals that make them 'superfoods'.
The company headquartered at NovaUCD, the Centre for New Ventures and Entrepreneurs at University College Dublin, was established in 2015 by Paul O'Connor, a marine biologist and a seafood enthusiast.
Speaking about the expansion Paul O'Connor, founder, This is Seaweed said, "I am very proud to see This is Seaweed products stocked on the shelves of one of the world's most prestigious stores. Quality has always been at the forefront of what we stand for so it is fitting that a store such as Selfridges, which demands the highest quality, is happy to provide our products for their customers."
He added, "The company's flagship store on Oxford Street has long been recognised as one of the UK's most esteemed food halls and to add them to our list of current stockists is a mark of great distinction for This is Seaweed."
He concluded, "The company is currently seeking to raise €1.5 million to develop new products and to assist in expanding our market reach further within the UK and across Europe and we hope to create up to 10 new jobs within the next 2-years."
This is Seaweed products are currently on sale online and in over 20 stores across Ireland and The United Arab Emirates.
This is Seaweed is supported by Enterprise Ireland and Bord Bia.
ENDS
8 August 2018
For further information contact Micéal Whelan, Communications Manager, UCD Research and Innovation, e: miceal.whelan@ucd.ie, t: + 353 1 716 3712.
Editors Notes
At NovaUCD, the hub for new ventures and entrepreneurs at University College Dublin, we nurture and support new high-tech and knowledge-intensive companies as part of UCD's mission. At NovaUCD we provide purpose-built, state-of-the-art incubation facilities alongside a comprehensive business support programme for client companies such as This is Seaweed. NovaUCD has been funded through a unique public-private partnership that includes AIB Bank, Arthur Cox, Deloitte, Enterprise Ireland, Ericsson, Goodbody Stockbrokers, UCD and Xilinx. www.ucd.ie/novaucd