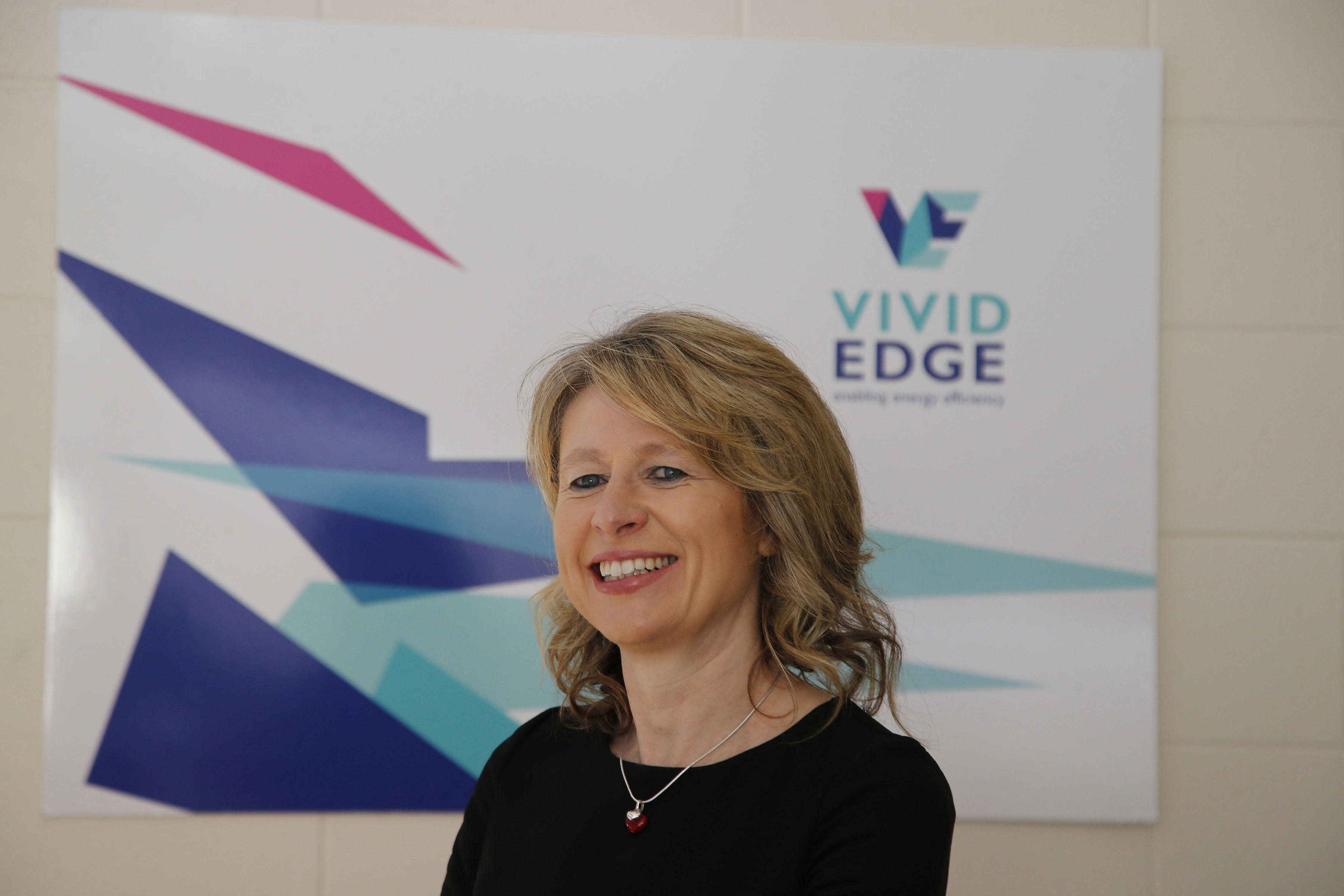 Irish Entrepreneur Named as Finalist in Global 2019 Cartier Women's Initiative
- Tracy O'Rourke, Vivid Edge, one of 21 finalists from 2,900 applications
Irish entrepreneur, Tracy O'Rourke, CEO and Founder of Vivid Edge, an energy efficiency specialist company, has been named as a finalist of the prestigious 2019 Cartier Women's Initiative.
The Cartier Women's Initiative is an annual global business competition established in 2006 to identify, support and encourage female entrepreneurs who are working to solve contemporary global challenges.
A total of twenty-one (21) finalists in seven (7) award regions (Latin America, North America, Europe, Sub-Saharan Africa, Middle East & North Africa, East Asia, South Asia & Oceania) have been shortlisted from almost 2,900 applicants from over 140 countries.
Tracy O'Rourke is the only Irish entrepreneur shortlisted for the Europe Award alongside two other entrepreneurs, one from France and one from Switzerland.
Vivid Edge, established in 2015, has developed a pioneering 'energy efficiency as a service' model for organisations which use large amounts of energy. The company provides the capital to enable organisations to upgrade the efficiency of their buildings, beyond their own capital budgets, replacing such expenditure with a simple service fee.
To date Vivid Edge has secured the backing of a large European energy efficiency fund with an initial €30 million project funding facility and has completed projects with private and public sector organisations, generating a multi-million euro revenue stream.
Vivid Edge, headquartered at NovaUCD, the Centre for New Ventures and Entrepreneurs at University College Dublin, is an Enterprise Ireland high potential start-up (HPSU) company.
To find out more about Tracy O'Rourke watch a short Cartier Women's Initiative video filmed at NovaUCD
Tracy O'Rourke, founder and CEO, Vivid Edge said, "I am delighted to be one of only 21 female entrepreneurs from around the world, who are all working to tackle a range of global challenges, to have been shortlisted for this year's prestigious Cartier Women's Initiative. I am now looking forward to meeting all the other finalists during the Awards week in San Francisco commencing at the end of April."
She added, "We have an exciting sales pipeline reaching into Europe, Middle East and Africa. We help organisations, in Ireland and around the world, to mobilise energy efficiency projects that may not otherwise happen. We help ensure they make commercial sense and have a positive economic and environmental impact. This is thinking smart, thinking global and thinking of the next generation."
Cyrille Vigneron, CEO, Cartier International, said, "With the Cartier Women's Initiative, our company seeks to support women all around the world and thus honour values that are deeply anchored in the culture of our Maison: curiosity, audacity and openness."
"Sharing the dreams of these women and being a part of their lives is both a source of responsibility and one of pride for us. This community of women and the success achieved by their side inspires us to go even further in striving for a world enriched by diversity."
The winners of the 2019 Cartier Women's Initiative Awards will be announced at an Awards ceremony which takes place in San Francisco's Fort Mason Centre for Arts and Culture on 2 May.
Each of the 7 regional Award winners will receive US$100,000 in prize money, with the remaining 14 finalists each receiving US$30,000. All 21 finalists will also receive personalised mentoring, media visibility, networking opportunities as well as a place on an executive INSEAD programme.
Previous Europe winners, or Laureates, of the Europe Cartier Women's Initiative, include; Ciara Donlon, CEO, THEYA Healthcare (2017), which is also headquartered at NovaUCD; Ciara Clancy, CEO, Beats Medical (2015) and Leonora O'Brien, CEO, Pharmapod (2013).
Social media: @vivid_edge, @CartierAwards, #CWI19
ENDS
5 March 2019
For further information contact Micéal Whelan, University College Dublin, Communications Manager (Innovation), e: miceal.whelan@ucd.ie, t: + 353 1 716 3712.
Editors Notes
Tracy O'Rourke has held leadership roles in both multinationals and start-up companies in financial services and aircraft leasing. She is an Independent Non-Executive Director of Aviva Ireland DAC and Friends First Life Assurance Company DAC. She is a fellow of The Institute of Chartered Accountants and the Institute of Bankers of Ireland.
The Vivid Edge service works for building upgrades such as heating, cooling, lighting, control systems and other measures that reduce energy consumption. Vivid Edge looks after project installation and ongoing maintenance and the service fee is covered through the energy savings. This enables organisations to reduce their carbon emissions, reduce costs, increase operational resilience and improve the working environment. Simplicity and choice are at the heart of the company's offering. Behind it is a smart approach and deep understanding of risk and energy efficiency, all of which gives Vivid its Edge! www.vividedge.ie
Founded in 2006 by Cartier, McKinsey & Company and INSEAD Business School, the Cartier Women's Initiative is open to women-run, for-profit businesses in any country and sector working to create strong social impact. Awards aim to encourage inspirational women entrepreneurs worldwide to solve contemporary global challenges by supporting and recognising creative women who are making concrete contributions to finding solutions for the future of our planet and bringing these business solutions to the largest audience possible. www.cartierwomensinitiative.com
At NovaUCD, the hub for new ventures and entrepreneurs at University College Dublin, we nurture and support new high-tech and knowledge-intensive companies as part of UCD's mission. At NovaUCD we provide purpose-built, state-of-the-art incubation facilities alongside a comprehensive business support programme for client companies such as Vivid Edge. NovaUCD has been funded through a unique public-private partnership that includes AIB Bank, Arthur Cox, Deloitte, Enterprise Ireland, Ericsson, Goodbody Stockbrokers, UCD and Xilinx. https://www.ucd.ie/innovation/