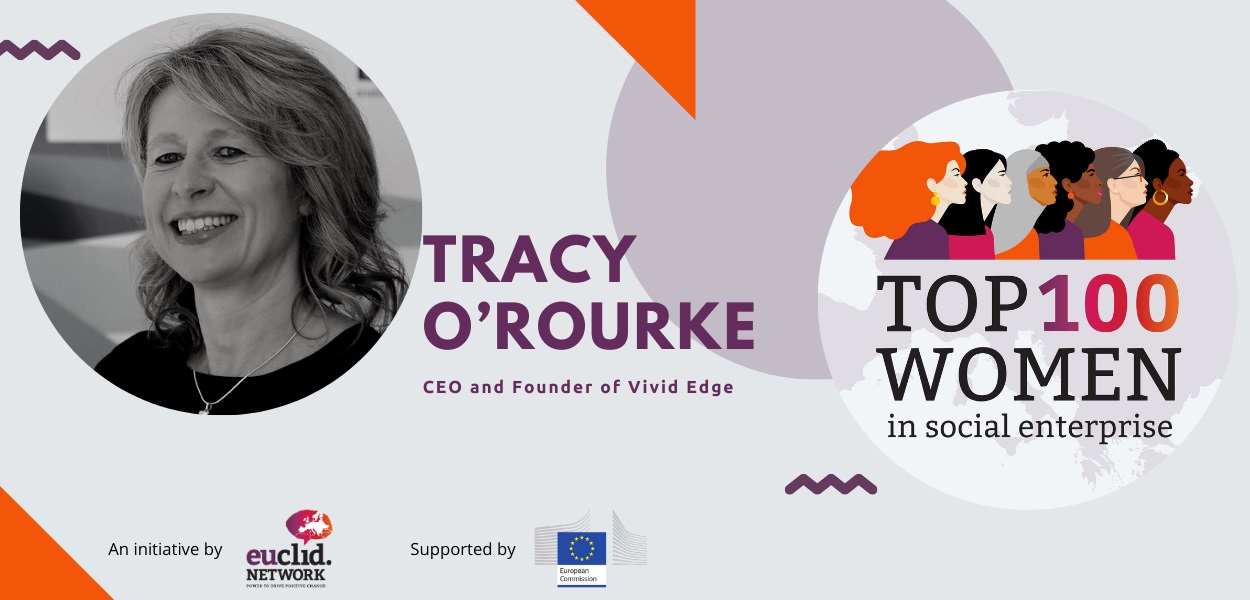 Vivid Edge Founder Named Among Top 100 Women in Social Enterprise by Euclid Network
Tracy O'Rourke, the founder and CEO of Vivid Edge a climate action impact business headquartered at NovaUCD, has been named as one of the Top 100 Women in Social Enterprise by the Euclid Network, the European Social Enterprise Network.
The Euclid Network (EN), which fosters social entrepreneurship and social innovation in Europe through knowledge exchange, capacity building, networking and international advocacy, announced the list today on International Women's Day. The list features women changemakers who are leading the way in social entrepreneurship and innovation.
Vivid Edge, an Enterprise Ireland high potential start-up, supports large organisations to implement energy efficiency retrofit projects through a service model. Vivid Edge funds 100% of the fully installed project, including materials, labour and ancillary costs. Customers pay a monthly service fee once installed. This enables these organisations to implement more energy efficiency projects without using their capital budgets.
Social entrepreneurs and social innovators have long supported their communities and contributed towards achieving the UN SDGs. Their efforts have been essential during the COVID-19 crisis, filling gaps left behind by governments. Women leaders, in particular, have shown tremendous fortitude and vigour in achieving their respective organisations' missions.
Inspired by their accomplishments, the Euclid Network launched The Top 100 Women in Social Enterprise initiative, in partnership with Empow'her. Through this initiative, EN celebrates women in the social enterprise sector, spotlighting their impact journey and achievements, connecting them to learn from and inspire each other.
Tracy O'Rourke, founder and CEO, Vivid Edge said, "It is an honour to be selected alongside such an incredible group of women, working to make a difference, and restore our planet for our children. A special thanks to Cartier Women's Initiative for the nomination and to the Euclid Network for recognising our contribution."
"It is a humbling experience to work with trailblazing women day in, day out – whose significant impact on bringing us closer to a fair and green economy should be celebrated widely. This is why we started the Top 100 initiative," said Veerle Klijn, Project Manager, Euclid Network.
Based on almost 500 answers from an open nomination call, the jury selected 100 women who stood out as having created significant positive social and/or environmental impact. The chosen women demonstrated outstanding leadership skills and commitment by going beyond their role and inspiring others to channel their potential.
They have been developing and successfully implementing large-scale projects aimed at improving sector-practices and achieving the SDGs. Their innovate approaches are adaptable and sustainable and therefore, have the potential to continue creating positive impact over a long period of time.
The complete Top 100 Women in Social Enterprise 2021 list is available via https://euclidnetwork.eu/wp-content/uploads/2021/03/top100women.pdf
ENDS
8 March 2021
For more information contact Micéal Whelan, University College Dublin, Communications Manager, NovaUCD, t: + 353 1 716 3712, e: miceal.whelan@ucd.ie.
Editors Notes
Vivid Edge helps large organisations reduce carbon footprint with no out-of-pocket cost. Vivid Edge delivers 'energy efficiency as a service'. Backed by a large European energy efficiency fund, the company uses its capital to implement energy efficiency upgrades in offices, data centres and processing facilities. Vivid Edge takes on ownership risks, charging a monthly service fee that is often more than covered by the energy savings. This saves costs for their customers while improving their carbon footprint. It enables its customers to fast track their energy efficiency plans as no capital is required. Vivid Edge fills a market gap with a smart, cost-effective alternative to current offerings. https://www.vividedge.ie
The Euclid Network (EN) is the European Social Enterprise Network. Founded in 2007, EN has been a frontrunner in shaping the European impact ecosystem in the past decade. The global community of changemakers is growing and so is our network: our members represent over 100,000 organisations in 21 countries throughout Europe and beyond.
Together with its members, EN strives towards an economy that works for people and the planet in support of all 17 UN Sustainable Development Goals, making impact its daily business. Our vision is to see social entrepreneurship and social innovation pave the way for a new green and just economy. https://euclidnetwork.eu/
At NovaUCD, the hub for new ventures and entrepreneurs at University College Dublin, we nurture and support new high-tech companies as part of UCD's mission. At NovaUCD we provide purpose-built, state-of-the-art incubation facilities alongside a comprehensive business support programme for client companies such as Vivid Edge. www.novaucd.ie