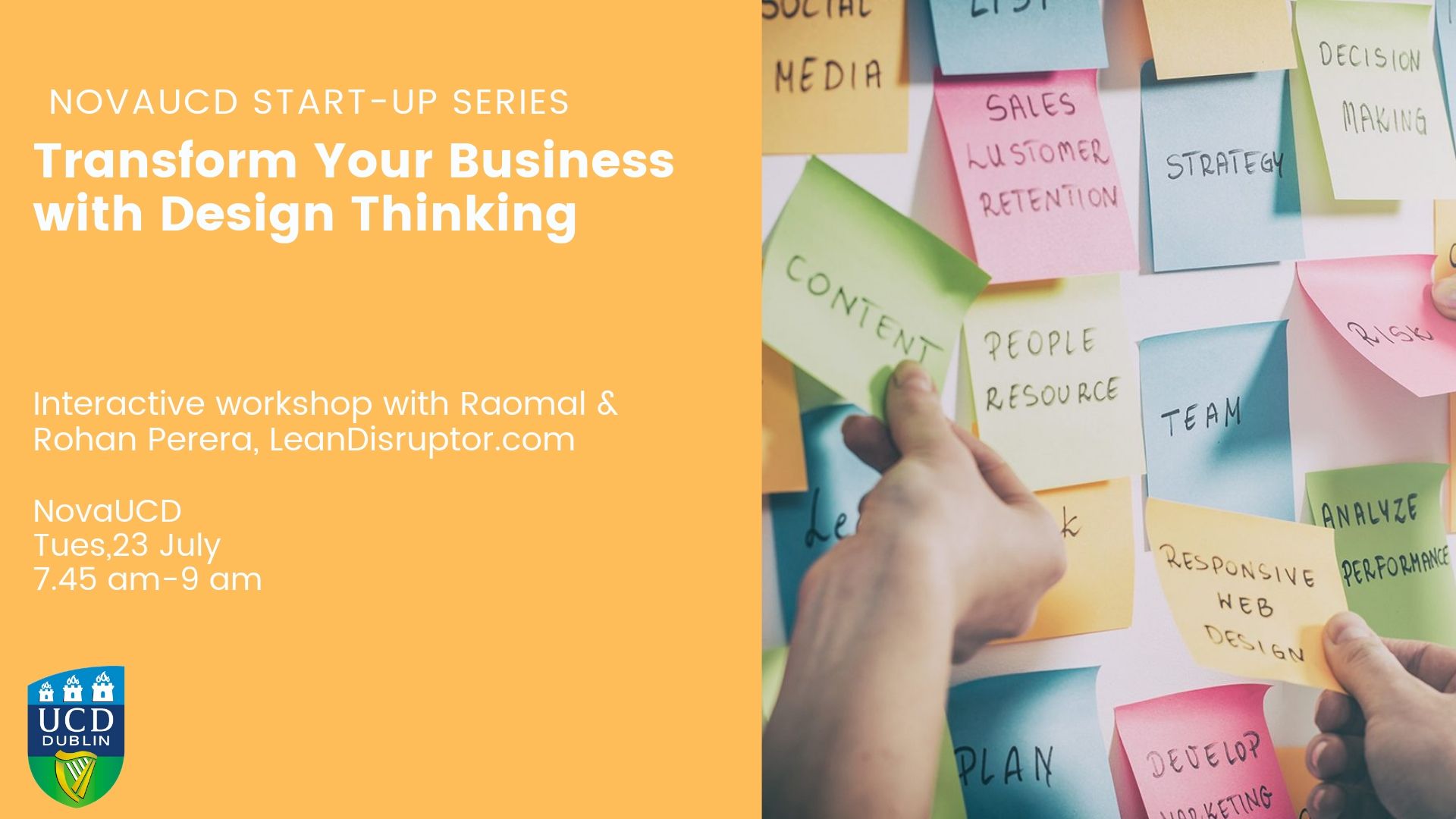 Event: Transform Your Business with Design Thinking
Registration is now open for the second workshop in the NovaUCD Start-Up Series of workshops and is entitled, 'Transform Your Business with Design Thinking'.
This interactive workshop will take place at NovaUCD on 23 July, 7:45 am to 9 am and will be delivered by Rohan Perera and Raomal Perera, LeanDisruptor.com.
Design thinking can transform the way your start-up develops products, services, processes and strategy. Applying design thinking methodologies can help your company overcome key business challenges in today's fast-paced technology and data driven environment.
During this workshop attendees will learn valuable design methodologies and strategies that will transform your approach to problem solving and innovation.
Design thinking can be used as an innovative approach:
to create customer-centric products and services;
for problem solving and management strategy;
to anticipate and respond to new trends and technologies;
to develop systemised solutions.
Raomal Perera is a veteran of multiple entrepreneurial ventures and an Adjunct Professor of Entrepreneurship at UCD and INSEAD where he currently teaches and studies entrepreneurship, innovation and the management of rapidly growing companies.
Rohan Perera is an advocate of Jake Knapp's (Author of Sprint, How to Solve Big Problems and Test New Ideas in Just Five Days) Design Sprint process. The Design Sprint packages the "greatest hits" of design thinking and innovation frameworks into a fast process that any team can use. He has delivered multiple Design Sprints across Ireland, the US and the UK for companies such as The Institute of Banking, Glandore, Aviva, ClaimVantage, Irish Life and Spencer Stuart International.
Click here to register to attend.
ENDS
18 July 2019
For more information contact Micéal Whelan, Communications and Media Relations Manager, NovaUCD, UCD Research and Innovation, t: + 353 1 716 3712, e: miceal.whelan@ucd.ie.
Editors Notes
NovaUCD, the hub for new ventures and entrepreneurs at University College Dublin, is Ireland's leading innovation hub with a strong reputation and a proven track record in assisting start-ups to grow and scale internationally. At NovaUCD we provide purpose-built, state-of-the-art facilities alongside a comprehensive business support programme for our client companies. NovaUCD has supported over 360 companies and early-stage ventures and supported companies have attracted over €760 million of investment and currently employ over 1,040 people directly.
Following a €6.5 million project to develop the Centre's eastern courtyard we can now support an ambitious community of over 450 people. We are now seeking high-tech aspiring start-ups who want to locate at NovaUCD and benefit from our unrivalled network of serial and next generation entrepreneurs, private investors and VCs, experienced business mentors and world-class researchers
NovaUCD has been funded through a unique public-private partnership that includes AIB Bank, Arthur Cox, Deloitte, Enterprise Ireland, Ericsson, Goodbody Stockbrokers, UCD and Xilinx. www.novaucd.ie