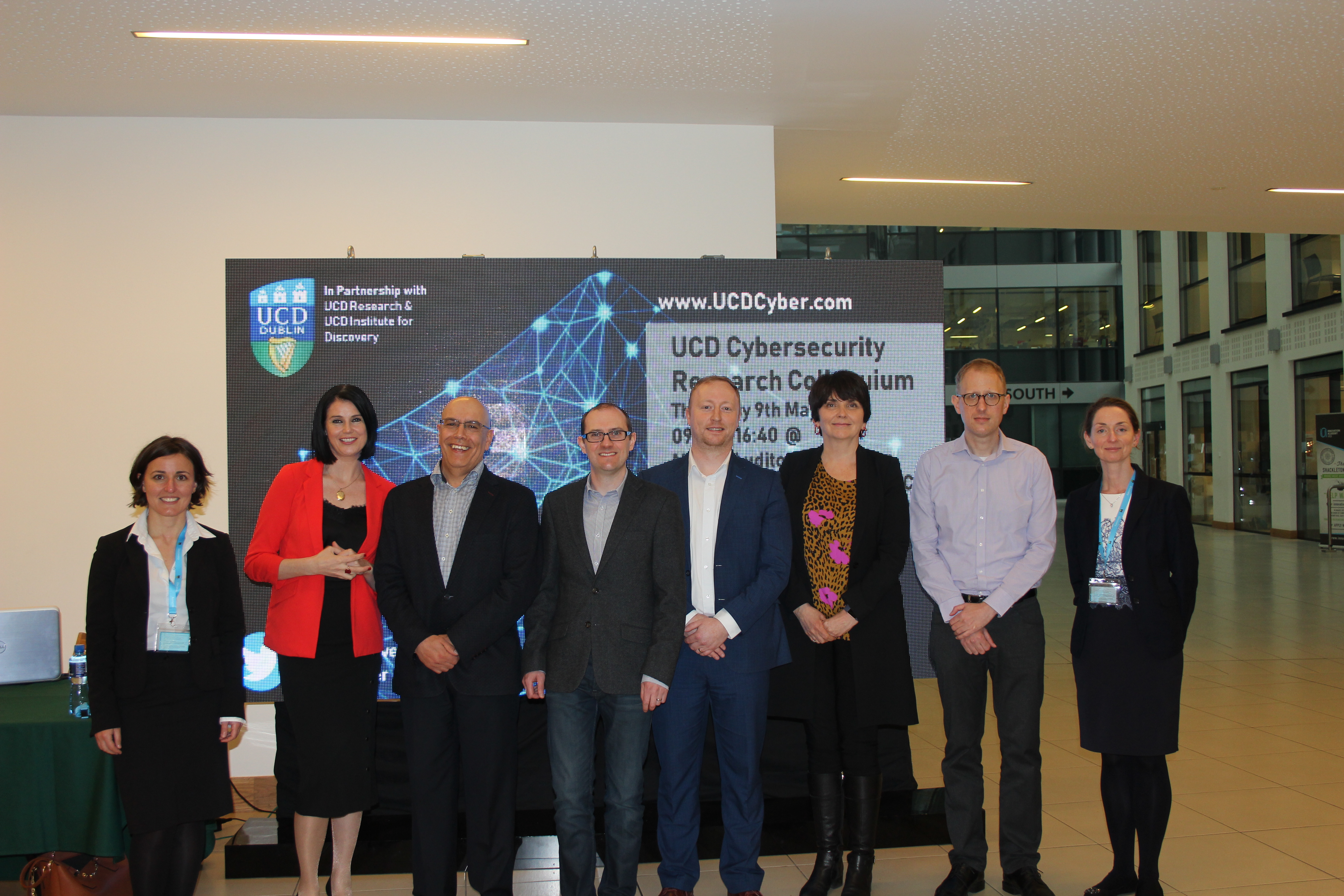 Future of Cybersecurity Research and Need for National Cybersecurity Research Centre Among Topics Discussed at Annual Colloquium at UCD
University College Dublin (UCD) has hosted its 2019 cybersecurity research colloquium to showcase the breadth of world class research being undertaken at the university within this key research area. The future of cybersecurity research and the need for a national cybersecurity research centre were among the topics discussed at the annual colloquium which is organised by UCD Research and the UCD Institute for Discovery.
This year's colloquium combined a number of contributions from leading scientists and practitioners from UCD, Mastercard, IBM Research-Ireland, EXEDEC, the University of Lausanne, and DAC Beachcroft, the Dublin law firm who sponsored the event.
Presentations by guest speakers (see list below) covered topics such as; Artificial Intelligence (AI) enabled cybersecurity, cryptography, cybercrime investigation, digital forensics and hardware-related security, along with issues such as network security, privacy, trust, human behaviour, policy, and security-by-design.
A panel session chaired by UCD's Professor Tahar Kechadi also discussed the increased incidence of cybercrime in Ireland and key challenges and new technologies addressing this trend and the need for strong policy and privacy considerations.
Speaking at the end of the colloquium Professor Kechadi, UCD School of Computer Science and a Principal Investigator at the SFI Insight Centre for Data Analytics said, "The discussions during the colloquium clearly indicate that there is a significant need for targeted research funding to further develop scientific excellence in cybersecurity research."
He added, "In addition the lack of a national cybersecurity research centre is a key gap that needs to be addressed as a priority in order to ensure the development of necessary cybersecurity skills, cutting-edge research and innovation in Ireland."
Professor Orla Feely, UCD Vice-President for Research, Innovation, and Impact opening the colloquium said, "Cybersecurity is an area that is a huge strategic priority for Ireland and for us in UCD, as a national leader in cybersecurity research. We know the solutions are not solely technical but will draw also on social sciences in areas such as psychology, behavioural analysis, ethics and law."
She added, "We want to see this multidisciplinary community come together in a national entity of scale, to deliver solutions of national relevance and global significance. We also want to develop that nexus of policy, education, research and practice with our academic, industry and policy partners nationally and internationally, and this colloquium is an important step towards that."
Aidan Healy, Legal director at DAC Beachcroft, an international law firm, added "We were delighted to sponsor this event and to learn more about the new and exciting approaches at UCD to addressing the need for personal privacy while effectively mitigating cybersecurity risk."
During the colloquium Dr Mathieu Sinn, Manager, Cognitive Data Science, IBM Research-Ireland outlined new methods being developed by IBM to defend AI models against adversarial threats.
He said, "I was delighted to take part in this UCD cybersecurity colloquium and provide a demonstration of IBM's new Adversarial Robustness Toolbox, an open-source software library to support researchers and developers in defending neural networks against adversarial attacks."
Eoghan Casey, Professor of Digital Forensic Science and Investigation, University of Lausanne, said, "I was delighted to take part in this excellent event and to discuss our exciting new program to train the next generation of cybersecurity and digital forensics leaders. This novel initiative, Cyber Sleuth Lab, is focused on inspiring and equipping young women to pursue careers in cybersecurity and digital forensics, while exploring complex issues associated with cybercrime. It would be great to see something similar introduced here in Ireland."
ENDS
14 May 2019
For further information contact Micéal Whelan, Communications Manager, UCD Research and Innovation, t: + 353 1 716 3712, e: miceal.whelan@ucd.ie or Dr Colm McMahon, Research Partner, ICT and Data Science, UCD Research and Innovation, e: colm.mcmahon1@ucd.ie, t: +353 1 716 4028.
Editors Notes
Speakers at the colloquium and the titles of their presentations are as follows;
Dr Pavel Gladyshev, UCD School of Computer Science, 'The Application of Generalised Hough Transform Algorithm for Digital Forensics Data Recovery'.
Dr Eimear Byrne, UCD School of Mathematics and Statistics, 'Coding Theory for Networks, Storage, and Security'.
Dr Alessia Paccagnini, UCD School of Business, 'How Blockchain and Cryptocurrencies are Changing the Economy'.
Dr Giovanni Russo, UCD School of Electrical and Electronic Engineering, 'Safety and Privacy in Data-Driven Closed-loop System.'
Dr Mathieu Sinn, IBM Research Ireland, 'Defending AI models against Adversarial Threats'.
Professor John Sheridan, UCD School of Electrical and Electronic Engineering, 'Optical Security and Encryption'.
Caitríona Heinl, EXEDEC, Artificial Intelligence and autonomous weapons systems: Major governance issues.
Dr Mark Scanlon, UCD School of Computer Science, 'Deep Learning Framework for Digital Investigation Evidence Prioritisation'.
Professor Eoghan Casey, University of Lausanne, 'Cyber Sleuth Science Labs: Inspiring and Equipping Young Women to Pursue Careers in Cybersecurity and Digital Forensics'.
Dr Liliana Pasquale, UCD School of Computer Science, 'I have seen this before - Sharing Knowledge about Cyber-Physical Incidents'.
Professor John Murphy, UCD School of Computer Science, '5G Networks - Making the Inter-Controller Communication Secure and Resilient.'
Professor Tahar Kechadi, UCD School of Computer Science, 'Factoring Privacy and Security into Big Data Analytics'.
Members of panel session chaired by Professor Kechadi, included; Brendan Gormley Director Information Security Engineering, Mastercard; Aidan Healy, Legal Director, DAC Beachcroft, Caitríona Heinl, EXEDEC, Dr Liliana Pasquale and Dr Mathieu Sinn.