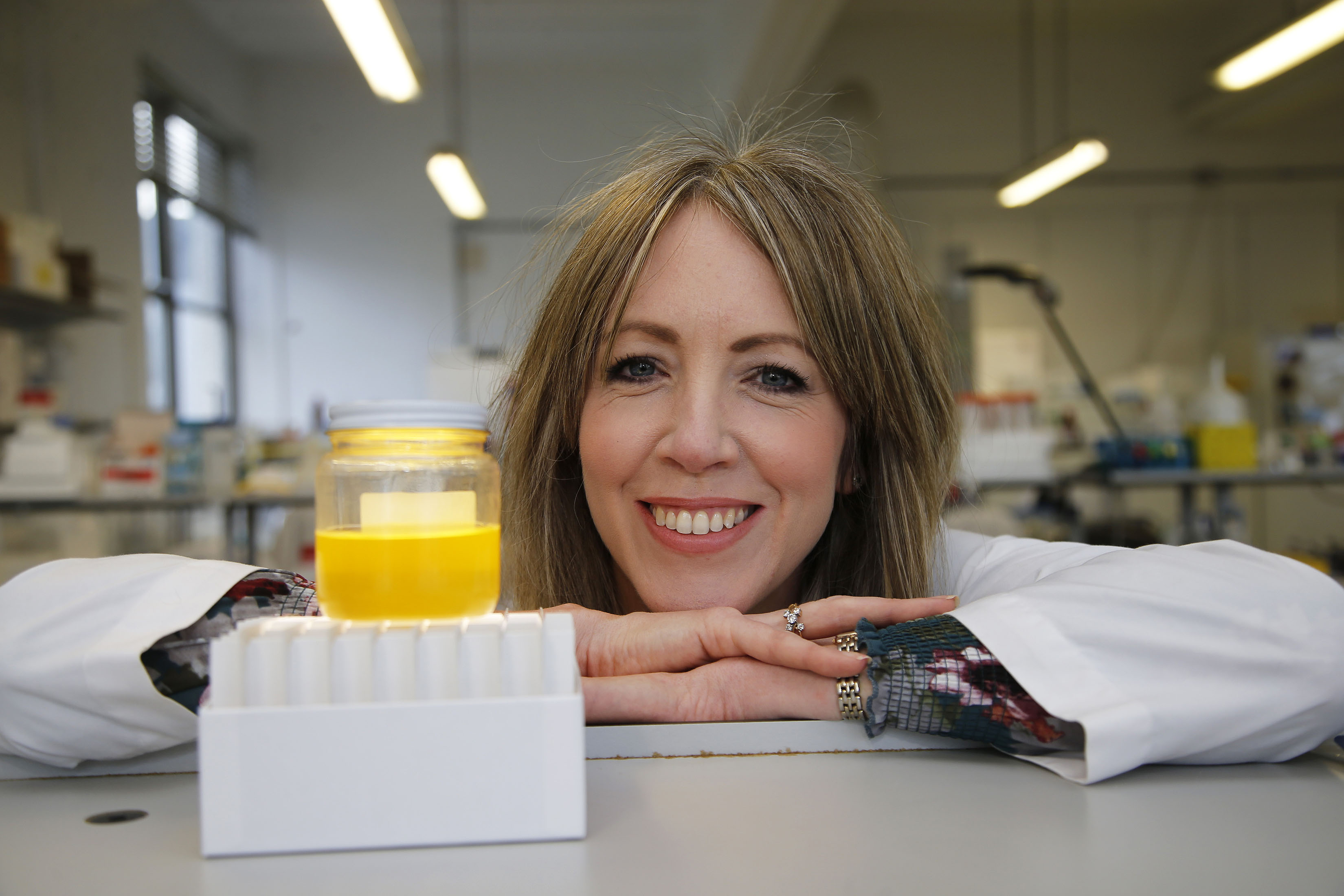 Cancer Researchers at University College Dublin Lead Development of New Test to Detect Prostate Cancer
- Research supported by Irish Cancer Society which calls on support on Daffodil Day to fund more life-saving cancer research
Cancer researchers at University College Dublin (UCD) have led the development of a new test which uses urine to detect prostate cancer, in research supported by the Irish Cancer Society.
Studies have so far shown the test to be 70% more specific for prostate cancer compared to the blood test currently used by doctors.
If the new 'epiCaPture' test is further validated it could help to more accurately identify which men do or don't need invasive tests. This means that many men could be spared harsh treatments that often have long-term side effects.
The test could also help to identify aggressive prostate cancer early, so that more patients can be potentially cured of their cancer.
This research was funded through donations from the public to the Irish Cancer Society and funding from Science Foundation Ireland, the US Prostate Cancer Foundation and Movember.
In Ireland 3,500 men are diagnosed with prostate cancer annually. One in three of these cases will be aggressive cancers, and around 500 men die from this disease here every year.
When a man is diagnosed with prostate cancer, he will first find out whether doctors think his prostate cancer is likely to spread to other parts of the body or not. If not, the patient can be monitored regularly by his doctor through 'active surveillance' – where regular check-ups and tests are carried out in lieu of immediate treatment. This spares the patient harsh treatments like chemotherapy and radical surgeries that can have life-long side effects like incontinence and erectile dysfunction.
If the man's prostate cancer is already aggressive – i.e. has spread, or likely to spread beyond the prostate if left untreated – then he has no option but to be treated urgently.
This research was part of an international collaboration led by Dr Antoinette Perry, Assistant Professor of Cell Biology and Genetics at the UCD School of Biology and Environmental Science and the UCD Conway Institute, and her team, including PhD student Eve O'Reilly and Irish Cancer Society funded researcher Alexandra Tuzova.
Dr Perry said, "Prostate cancer is the fourth leading cause of cancer deaths in Ireland so early detection is vital to catch the disease before it spreads. Unfortunately, the tests we have to detect prostate cancer are not entirely accurate. Our research, funded with the support of the Irish Cancer Society and others, is addressing this problem by developing new ways to catch aggressive, potentially lethal prostate cancer from a simple urine test."
"Over the last four years our research team at University College Dublin has worked with doctors, nurses, patients and other scientists from around Ireland, the UK, USA and Canada to study urine from almost 500 men. We showed that almost 90% of men with aggressive prostate cancer have changes in their DNA that we could find in their urine."
"These changes were absent in healthy men and men with non-aggressive disease. If we can replicate these findings, our research could contribute to a new, more accurate test to help catch aggressive prostate cancer and save lives from this disease."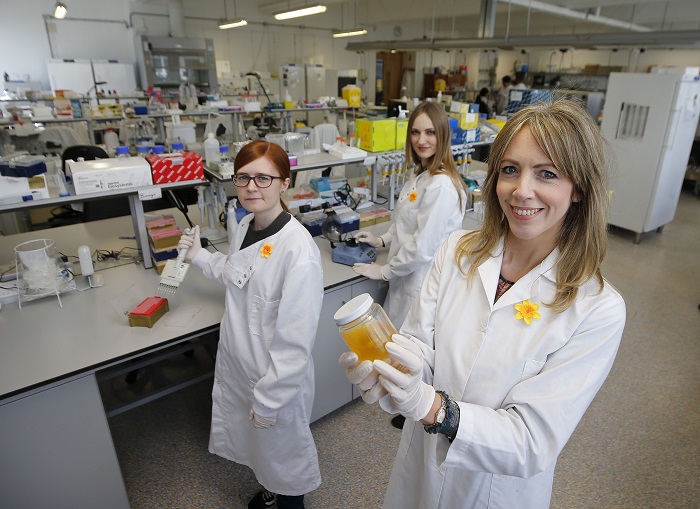 UCD PhD student Eve O'Reilly, Dr Aontoinette Perry and Irish Cancer Society funded PhD student Alexandra Tuzova
Dr Robert O'Connor, Head of Cancer Research at the Irish Cancer Society, said, "This major new research highlights the vital work world-class cancer researchers are doing in UCD and across Ireland to identify new ways to improve the diagnosis of cancer. More work is needed before the potential benefits reach cancer patients. But it does show the potential we have to save more lives from this disease."
"The Irish Cancer Society can only invest in vital research like this because of the public's generous support. We currently fund more than 100 researchers across Ireland and are on track to invest €30 million into life-saving cancer research in the decade up to 2020. But we could fund even more research if we had the funds. That's why Daffodil Day this Friday needs to be the biggest one yet."
Dr Perry is currently working closely with UCD's technology transfer team at NovaUCD to bring this test to market. She has recently been awarded Enterprise Ireland funding to validate the epiCaPture technology in the hope that it will be ready for use by doctors to test men for prostate cancer in the coming years.
Daffodil Day, proudly supported by Boots Ireland, takes place on 22 March and raises crucial funds for the Irish Cancer Society to continue investing in life-saving research and to support cancer patients and their families.
ENDS
18 March 2019
For further information contact Micéal Whelan, Communications Manager, UCD Research and Innovation, e: miceal.whelan@ucd.ie, t: + 353 1 716 3712 or Michael McHale, Communications Manager, Irish Cancer Society, e: mmchale@irishcancer.ie.

Editors Notes
The research team's findings were recently published in the American Society of Clinical Oncology Journal JCO Precision Oncology in a paper entitled 'epiCaPture: A Urine DNA Methylation Test for Early Detection of Aggressive Prostate Cancer' http://ascopubs.org/doi/full/10.1200/PO.18.00134
Authors: Eve O'Reilly, Alexandra V. Tuzova, Anna L. Walsh, Niamh M. Russell, Odharnaith O'Brien, Sarah Kelly, Odharna Ni Dhomhnallain, Liam DeBarra, Connie M. Dale, Rick Brugman, Gavin Clarke, Olivia Schmidt, Shane O'Meachair, Dattatraya Patil, Kathryn L. Pellegrini, Neil Fleshner, Julia Garcia, Fang Zhao, Stephen Finn, Robert Mills, Marcelino Y. Hanna, Rachel Hurst, Elizabeth McEvoy, William M. Gallagher, Rustom P. Manecksha, Colin S. Cooper, Daniel S. Brewer, Bharati Bapat, Martin G. Sanda, Jeremy Clark, and Antoinette S. Perry.
This research was led in UCD and included scientists, clinicians and patients from Trinity College Dublin and St James's and Tallaght Hospitals. International collaboration came, in the US, from the Emory University School of Medicine, Atlanta, Georgia; in Canada, from the University of Toronto; and in the UK from Norfolk and Norwich University Hospital, the University of East Anglia and the Eartham Institute, Norwich.
The initial research underpinning this work was carried out by Dr Perry at Trinity College Dublin before she moved to UCD in 2015.