University College Dublin and Queen's University Belfast Sign MoU to Strengthen Research and Innovation Collaboration
University College Dublin (UCD) and Queen's University Belfast (QUB) today announced the signing of a new Memorandum of Understanding (MoU) to strengthen collaboration between both universities.
Following many decades of close collaboration, the aim of the MoU is to enhance cooperation in research and innovation in areas of mutual strength including arts and humanities; climate and sustainability, and energy; food and agriculture; healthcare and cancer; and manufacturing and digital technologies.
Each institution will also explore opportunities for collaboration in emerging areas of expertise, and in academic and postgraduate student mobility.
Professor Orla Feely, UCD Vice-President for Research, Innovation and Impact, said, "I am delighted that UCD is deepening its level of partnership with Queen's University Belfast through the Memorandum of Understanding signed today. This agreement formalises a significant and close partnership between the two institutions and expresses our ambition to jointly contribute our expertise to co-develop solutions to shared global challenges."
She added, "UCD looks forward to participating in future all-island and international funding programmes with Queen's University Belfast, together with other Higher Education and industry partners, which will have transformative impacts for citizens and support talent for the jobs of the future on the Island of Ireland."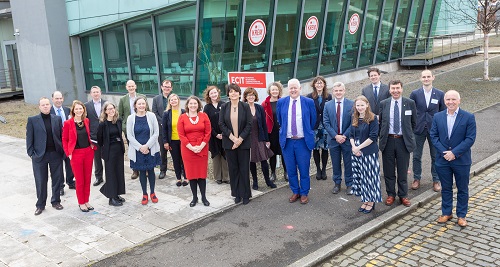 Research and innovation delegates from UCD and Queen's came together at Queen's Institute of Electronics, Communications and Information Technology in Belfast for the signing of the historic MoU between the two universities
Professor Emma Flynn, Pro-Vice Chancellor, QUB said, "We are pleased to collaborate with UCD and other partners on a range of important and ground breaking projects. Working together to advance cooperation, academic exchanges and research is a positive and important way to blend our expertise for the benefit of society as a whole. The enhanced connectivity delivered to our universities and communities through these projects will ensure that our cutting-edge research continues to make a real difference to our society."
She added, "This is an exciting time for Queen's as we lead on the delivery of three Belfast Region City Deal Innovation Centres in advanced manufacturing, clinical research and secure, connected digital technologies. Linking at scale into UK and all-Island networks is vital to the success of these centres and we greatly value research partnerships with organisations like UCD to help us create global impact where it truly matters."
Queen's and UCD were recently successful in 10 jointly led proposals under the Higher Education Authority's North-South Research Programme funded through the Irish Government's Shared Island Fund in areas including the All-island Vaccine Research and Training Alliance and the All-Island Cancer Research Institute, as well as projects in healthcare, social justice, creative arts and the bioeconomy.
All-island Vaccine Research and Training Alliance led by Associate Professor Siobhán McClean, UCD School of Biomolecular and Biomedical Science along with Professor Miguel Valvano, QUB will draw on shared expertise in infection, immunology, pharmacy and psychology, with a shared goal of designing and developing better vaccines to prevent difficult to treat bacterial infections.
The All-Island Cancer Research Institute, led by Professor Mark Lawler, QUB and Professor William Gallagher, UCD School of Biomolecular and Biomedical Science, is designed to be an unparalleled opportunity for the universities to work together to combat a disease that will affect one in two people on this island during their lifetime.
Both institutions are co-leading other networks along with other HEI partners in Food Integrity (FOOD-I, the All-Island Food Integrity Initiative) and in Climate and Biodiversity (the All-Island Climate and Biodiversity Research Network) involving industry and other key stakeholders across the island.
Following on from the signing of this MoU, both universities plan to enhance their joint international research and innovation funding applications.
ENDS
6 April 2022
For further information contact Micéal Whelan, Communications and Media Relations Manager, NovaUCD, e: miceal.whelan@ucd.ie or Caroline Byrne, Communications Manager, UCD Research, e: caroline.byrne1@ucd.ie.
Editors Notes
University College Dublin is Ireland's largest and most diverse university and one of Europe's leading research intensive universities. Since 1854 UCD has made a unique contribution to the creation of modern Ireland, based on successful engagement with Irish society on every level and across every sphere of activity. As Ireland's leading university in innovation, knowledge transfer and commercialisation, UCD's commitment to innovation and entrepreneurship recognises the importance of active participation and collaboration to exploit leading-edge research and development outputs. As set out in Rising to the Future 2020-2024 UCD's four strategic themes are; creating a sustainable global society, transforming through digital technology, building a healthy world, and empowering humanity. www.ucd.ie
Queen's University Belfast is a member of the Russell Group of UK research-intensive universities, offering world-class education and research and has been making a difference to societies locally, nationally and internationally since 1945. Queen's is globally connected and networked with strategic partnerships across the world. We focus on shaping the world around us through our innovative, impactful and world-leading research which has made positive changes to people's lives. https://www.qub.ac.uk