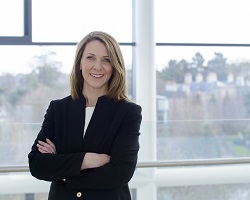 University College Dublin Proposes New Partnership Model for Agri-Food Sustainability at Food 2030 Conference in Bulgaria
- Only three speakers from Ireland, all from UCD, presenting at dedicated European food research and innovation conference
During a Food 2030 conference currently taking place at the Agriculture University in Plovdiv, Bulgaria, University College Dublin (UCD) has proposed a new partnership model to build capacity for agri-food sustainability.
Europe is losing competitiveness and it has been difficult for it to pursue agri-food policy objectives such as; achieving a circular bioeconomy; delivering safe, nutritious, high quality and affordable food and decarbonising the economy. The innovation required to drive competitiveness in these areas is a challenge which needs human capital with as yet little understood skills and capabilities.
Through an Infrastructure for Sustainable Development (ISD), the UCD proposal is to solve this challenge by bringing multi-actor partnerships together combining production strategies, processing optimisation and nutrition impact, with sustainable practices across the food chain, from producer to consumer.
At the heart of the proposed approach is the circular bioeconomy, maximising food production and processing cycles to optimise the value of our resources and minimise environmental impact. The social, business, policy, ethical and regulatory frameworks will distribute value across the chain from producer to consumer.
The proposal was made by Triona McCormack, UCD Director of Research during a 2-day conference, entitled Research and Innovation for Food and Nutrition Security – Transforming our Food Systems, whichis taking place under the umbrella of the Bulgarian Presidency of the EU Council.
The overarching goal of the conference is to engage a wide diversity of stakeholders to build a shared and inclusive vision and provide input to strategic long term Food and Nutrition Security related research and innovation developments at the EU level.
Three UCD speakers, the only speakers from an Irish university, are taking part in the conference. In addition to Ms McCormack, the other UCD speakers are, Professor Lorraine Brennan and Professor Nick Holden, both leading agri-food and nutrition researchers.
Professor Brennan is a principle investigator in the UCD School of Agriculture and Food Science and in the UCD Institute of Food and Health where she leads the successful nutrition, biomarkers, and health research group. Professor Holden is a Professor of Biosystems Engineering, in the UCD School of Biosystems and Food Engineering, and leader of the food chain sustainability research group in the UCD Institute of Food and Health.
In her keynote talk entitled Leading from the ground up: resolving the food, health and sustainability challenge, Triona McCormack, said, "The Infrastructure for Sustainable Development proposal will see research and education partners, working with industry, government and NGOs; all as active players and contributors to the partnership. Importantly, each entity will operate with the principles as set out in the UN's SDG agenda."
She added, "Ireland has a significant and leading agri-food sector, we can and should play a leadership role in transforming Europe's food systems. The EU must also look beyond its borders working with partners across the globe to deliver on the ambition set out in the UN's SDGs. As Ireland's Global University, these are ambitions that we at UCD share and will contribute to."
Professor Loraine Brennan, a speaker in the plenary discussion entitled, Understanding the complexity of food systems and dynamics of how they must change, said, "In order to ensure that we can deliver Food 2030 we need to ensure that our food systems become nutrition sensitive. We need to think right through from food production to the food on our plate and its impact on our nutrition and health."
She added, "We have a unique opportunity to deal with major nutrition and health issues in a foods systems manner. Food 2030 offers the possibility to think differently about how food is produced, processed and sold."
Professor Nick Holden, a speaker in the breakout session entitled How to build resilient food systems by 2030? said, "We need to know the baseline environmental, social and economic impacts of the food system and we need to identify what it should become. Food system transformation needs to be purposeful and intentional. My work contributes to this necessary knowledge by looking at the system holistically."
He added, "We need to collect and use data from all stages in the system, Internet of Food, IoT, Big data, to better understand how the system works and how it can be sustainable. Use of data comes with very important ethical, social and business responsibilities that need to be addressed immediately to ensure stakeholder confidence and to provide a factual basis for decision making."
Other speakers at the conference include; Jean-Eric Paquet, Director General of DG Research and Innovation, Carlos Moedas, European Commissioner for Research and Innovation; Rumen Porozhanov, Bulgarian Minister of Agriculture and Food; Vytenis Andriukaitis, European Commissioner for Health and Food Safety and Phil Hogan, European Commissioner for Agriculture and Rural Development.
Triona McCormack concluded, "This conference is occurring at an important time. The EU's multi-annual framework fund is in the final stages of development, so it is timely that Europe consider its relationship beyond its borders and how activities within the Union can be aligned to broader global goals. Ireland, and UCD, have an opportunity to lead a discussion of EU's relationship beyond its borders, particularly its relationship with its neighbouring continent, Africa."
"Ireland's leadership in food and nutrition security is demonstrated by having two leading researchers address this European conference and both are from UCD."
ENDS
14 June 2018
For further information contact Micéal Whelan, Communications Manager, UCD Research and Innovation, e: miceal.whelan@ucd.ie, t: +353 1 716 3712.
Editors Notes
The Agri-food industry in Ireland employs over 170,000 people and has an annual turnover of €26 billion and the marine industry employs circa 18,000 people with turnover of approx. €4.5 billion. Ireland's marine and agriculture production capabilities provide it with a unique opportunity to create a new bioeconomy that creates higher value for traditional sectors and boosts rural redevelopment, while also addressing a European need.
University College Dublin is the largest university in Ireland and is ranked within the top 1 per cent of universities worldwide. UCD has a strong track record of education and research in agri-food has world-leading expertise in agriculture and food science and has the only veterinary programme in Ireland. UCD researchers are supported by and collaborate with many organisations including the Department of Agriculture, Food and the Marine, Irish industry, the European Union and other international partnerships. www.ucd.ie