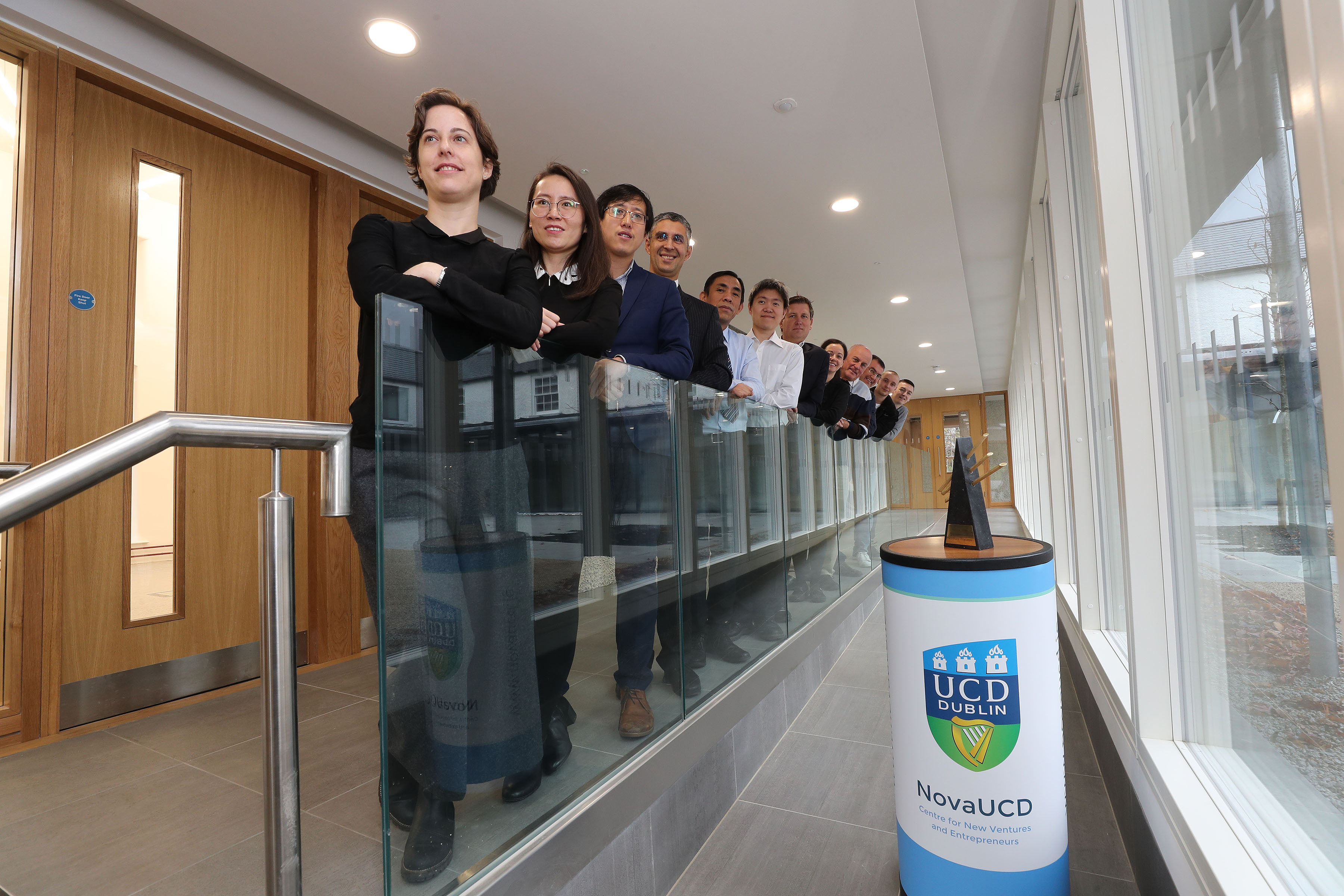 VentureLaunch Pitches Showcase Diversity of Technology Solutions
What do grinding your teeth at night, dreading blood tests and enormous energy bills have in common? They were among the issues being tackled by innovators at UCD's VentureLaunch Accelerator Programme Showcase and Awards evening which took place at the end of November.
The evening saw seven emerging start-ups pitch their business plans to a panel of judges in the hope of scooping the grand prize. Each team had crafted their business propositions and plans in their time during the on-campus accelerator programme, and delivered short talks about their propositions to a packed audience and the judging panel – Dr Helen Mc Breen, Atlantic Bridge (chair); Audrey Boyd, AIB; Caroline Gaynor, Lightstone Ventures; Tomás Jones, Elkstone; Dr Sharon O'Kane, LivaNova and a NovaUCD Entrepreneur-in-Residence, and John O'Sullivan, ACT Venture Capital.
Many of the issues they seek to address are everyday - or every night in the case of teeth grinding. Emer O'Hare and Dr John A. Cogan from UCD School of Mechanical and Materials Engineering outlined a wearable device called iBRUX that can measure bruxim or tooth grinding during sleep using sensors and provide the 'bruxer' with information through an engaging app.
Gerry Conheady presented another sensor-based technology called Cara Rehab, which is designed to help people effectively carry out exercises at home during physiotherapy-guided rehabilitation and provide the patient with feedback about their moves. The smart platform scored highly on usability tests with patients, and could help to reduce the burden on hospitals by helping patients to stick to regimes at home.
Branca Bunús is looking to get under the skin of a rare and painful condition called Epidermolysis bullosa (EB). Also known as butterfly-skin disease, it results in the skin easily blistering and wounding, and can severely impact quality of life. The technology, developed at UCD School of Medicine and UCD Charles Institute for Dermatology, seeks to correct a gene in skin cells and help to overcome the disease. "We have the technology, the platform, the team, the expertise, the company - the only thing we are missing is you," Dr Irene Lara-Sáez told the judges and audience.
Meanwhile, MíNAN Technologies is looking to minimise disruption to the skin, and to patients in general, with precision components, such as microfluidic platforms for analysing blood tests. MíNAN's rapid design and fabrication approach can serve mass manufacturing companies and also plug and play for prototyping, and they are initially targeting diagnostics and nanomedicine, explained Professor Michael Gilchrist in the pitch.
Sustainability was a core theme for many pitches, not least PicoGlaze, which places a nanomaterial between window panes that can be controlled to insulate or cool buildings as needed, and Zipp Mobility, which is building an e-scooter solution on university campuses ahead of moving into urban environments.
On the night, though, the winner was BioSimulytics, a start-up that seeks to predict the most stable form of a molecule based on its structure. Experimenting manually to find the most suitable form of a crystal molecule is time-consuming, explained commercial lead Peter Doyle, so BioSimulytics has developed software to predict the most suitable 'polymorphs' for use in drug development. Their approach could solve a big problem for the pharmaceutical industry, helping to bring more speed, certainty and data quality to the drug development process.
The BioSimulytics team also includes, Professor Niall English, Dr Christian Burnham and Dr Pralok Samanta from UCD School of Chemical and Bioprocess Engineering. As well as winning the 2019 UCD Start-up of the Year Award, the team was presented with a cheque for €10,000 sponsored by AIB, a professional services package to the value of €10,000 sponsored by Bryan Maguire Business Consulting and Deloitte and incubation space at NovaUCD to the value of €12,000.
Dr Sharon O'Kane, who has been on the VentureLaunch judging panel for six years, noted that the closeness-to-market of BioSimulytics set that team apart.
"I think we felt there was a clear route to commercialisation, they had the edge as being most company-ready," she said. "And overall we were struck by the diversity of the pitches, the range of technologies and ideas, it was fantastic."
Blog post written by journalist, Dr Claire O'Connell.
ENDS
11 December 2019
For further information contact Micéal Whelan, Communication and Media Relations Manager, UCD Research and Innovation, University College Dublin, e: miceal.whelan@ucd.ie or t: + 353 1 716 3712.