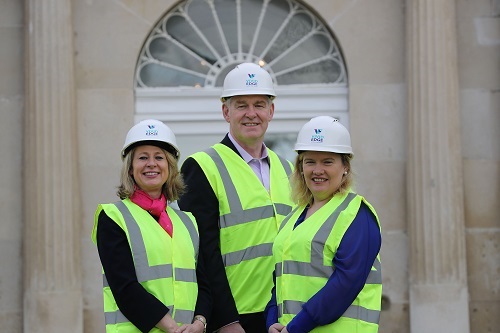 Vivid Edge Shortlisted for Irish Times Innovation Awards
Vivid Edge, a climate action impact company, has today been announced as a shortlisted finalist for the 2021 Irish Times Innovation Awards, in the Sustainability Award category.
The Irish Times Innovation Awards, now in their 12th year, are designed to recognise and reward disruptors from across the island and from every sector of business, from start-ups led by enterprising individuals to multinationals and every scale of organisation in between.
Leaders in their field, the multi-award-winning Vivid Edge has been nominated for delivering turnkey net-zero carbon projects under a long-term service contract. Their model is designed to make it easier and faster for large organisations to reduce carbon footprint and to make a material impact on UN's SDG 13, Climate Action.
Vivid Edge, headquartered at NovaUCD, the Centre for New Ventures and Entrepreneurs at University College Dublin (UCD), is an Enterprise Ireland high potential start-up (HPSU) and CEO Tracy O'Rourke is a Fellow of the Cartier International Women's Initiative for global impact entrepreneurs.
Tracy O'Rourke, CEO of Vivid Edge, said, "We are delighted to be shortlisted in the Sustainability Category of the Irish Times Innovation Awards and to be recognised for our innovation, a simple customer proposition that is underpinned by a novel approach to risk, contract structuring and energy efficiency."
She added, "We believe that much more is possible with collaboration and innovation and we are pleased to see the momentum in this space. Solving the climate challenge requires a different way of looking at the problem. In our case we have tailored the successful aircraft leasing model, based on renting not buying, to the sustainability sector. Purpose is at the heart of our business and we firmly believe a greater impact can be made if it also makes commercial sense."
She concluded "Our customers can accelerate their net zero journey without using their capital while saving costs and improving operational resilience. We take on full installation and performance risk giving them hassle-free projects and peace of mind. We have designed a structure that works well with multinationals and they love our technical know-how, flexibility and can-do attitude! We upgrade offices, data centers and processing facilities with a range of technologies including rooftop solar, heating, cooling, and waste heat recovery."
A total of 15 companies have been shortlisted for The Irish Times Innovation Awards across five categories, sustainability (sponsored by Skillnet Ireland); IT and Fintech (sponsored by Mason Hayes & Curran); life sciences and healthcare (sponsored by Science Foundation Ireland); manufacturing and design (sponsored by Enterprise Ireland); and new frontiers (covering any innovations that do not fall into the other categories), sponsored by UCD Michael Smurfit Graduate Business School.
The awards ceremony will be hosted in early March, with the category winners to be selected by a judging panel chaired by leading entrepreneur and Irish Times columnist Chris Horn, and overall prize going to one of the category winners.
In addition to Vivid Edge, GlasPort Bio and Grant Engineering have also been shortlisted for the Sustainability Category.
ENDS
20 January 2022
For further information contact Micéal Whelan, Communications and Media Relations Manager, NovaUCD, e: miceal.whelan@ucd.ie or Aby Vad, Vivid Edge, e: avad@vividedge.ie.