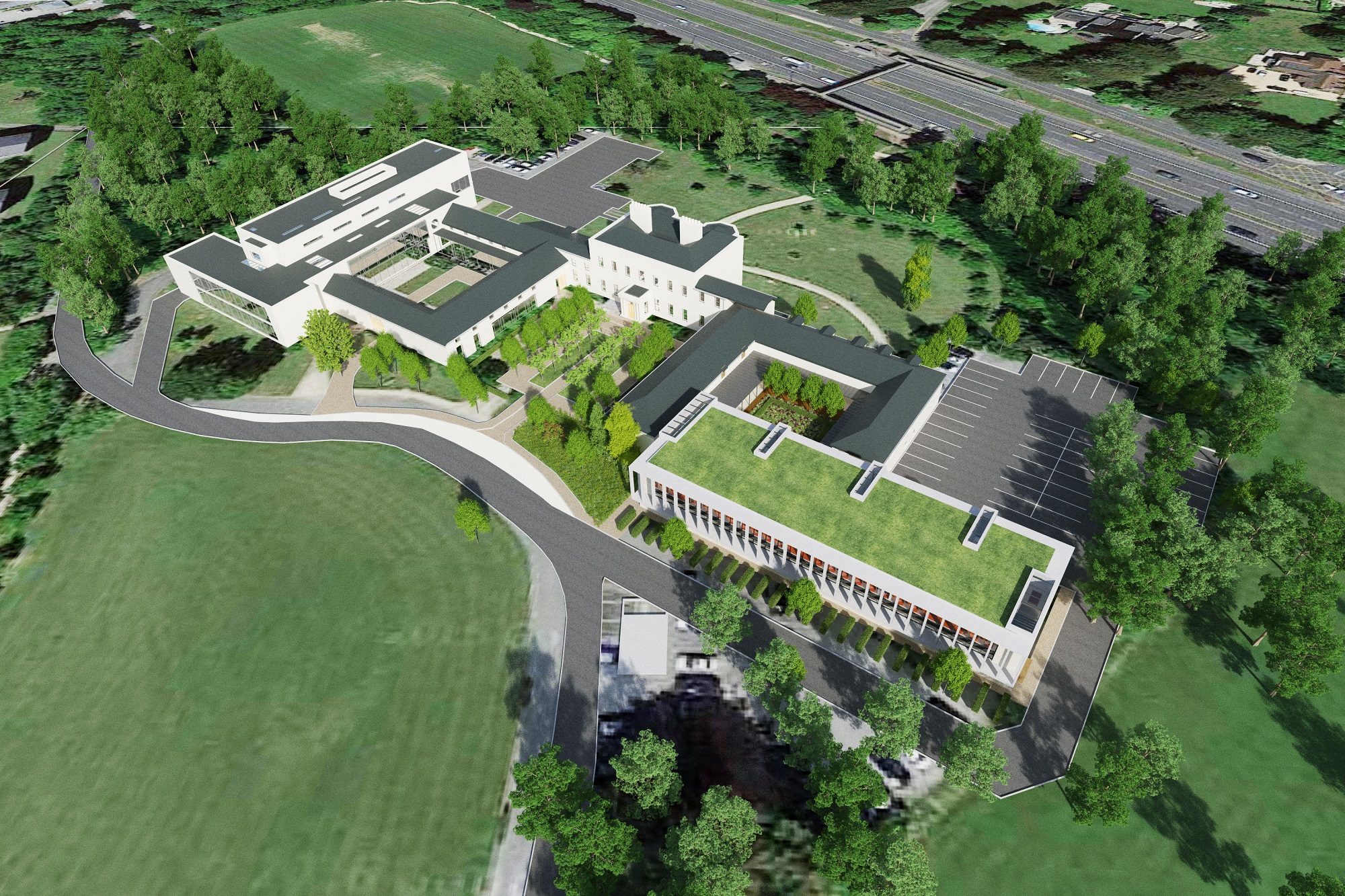 Where Start-Ups Grow and Scale
NovaUCD, the University's centre for new ventures and entrepreneurs, has incubated many success stories from early-stage start-ups to successful exits
"The NovaUCD facility had been running at full capacity for several years and there has been a significant demand from ambitious entrepreneurs who wanted to locate their start-ups here to be part of our ecosystem of experienced mentors, founders, alumni, investors and sponsors who can help them grow their businesses globally," said Tom Flanagan, UCD's Director of Enterprise and Commercialisation in relation to the €6.5m development project to expand the centre which has just been completed.
This twelve-month project, to renovate and extend the hub's eastern courtyard, has resulted in a 50 per cent increase in capacity to house companies and includes a dedicated co-working space, over 20 new business units and labs that together can accommodate up to 30 additional start-ups.
Based on the College's Belfield campus, NovaUCD opened in 2003 and since then has supported over 360 companies and early-stage ventures to grow and scale. The companies which operate in sectors including; AgTech, CleanTech, FinTech, ICT, MedTech and Life Sciences, have raised over €760m in equity funding.
In 2018 the combined annual turnover of the companies supported amounted to over €113m and collectively they employed over 1,040 people directly and an estimated similar number indirectly.
Companies currently, and to date, supported through NovaUCD include; BiancaMed, Carrick Therapeutics, Corlytics, Equal1 Labs, Equinome, GMI, Life Scientific, Logentries, MagGrow, NovoGrid, Nuritas, OncoMark, OxyMem, Terra Solar and Vivid Edge. These companies (some of which are profiled opposite) range from companies at the early-stage of their development, to companies which have secured significant investment and are in the growth phase to companies which have been successfully acquired.
Early-Stage Companies
Equal1 Labs, Ireland's first quantum computing hardware start-up, is developing a new type of quantum computer based on CMOS (Complementary Metal-Oxide Semiconductor). Unlike current quantum computers which require very high costs to operate quantum bits 'frozen' at a temperature of 15mK, the Equal 1 Quantum Processing Unit can operate at higher temperatures and this significantly reduces its size.
The company founded by Dr Dirk Leipold, Mike Asker and Professor R. Bogdan Staszewski is a spin-out from the UCD School of Electrical and Electronic Engineering. Atlantic Bridge has invested in Equal1 through the University Bridge Fund to support the fabrication of the company's first quantum processor chip.
Manna, one of the latest companies to locate at NovaUCD, is planning to deploy custom-developed aerospace grade drones to deliver fast food. The company was founded by Bobby Healy, the former chief technology officer at CarTrawler. Manna plans to start with a limited-scale service in Ireland at the end of this year and is waiting for flight approval from the Irish Aviation Authority. It has announced a partnership with Flipdish, the food ordering software company, to carry out its first deliveries in Dublin. Among the VC firms to have backed Manna are, Atlantic Bridge, Elkstone and Frontline.
Output Sports shrink lab-grade athlete performance analytics into a wearable system so coaches can optimise athletes' performance. Output Sports is an end-to-end system designed to streamline the off-field athlete performance optimisation process. It is capable of testing an athlete's performance profile (strength, power, balance, speed and mobility) and tracks their exercise programmes.
The company, a spin-out from the UCD School of Public Health, Physiotherapy and Sports Science, was founded by Dr Martin O'Reilly, Dr Darragh Whelan, Julian Eberle and Professor Brian Caulfield, based on research carried out at Insight, the SFI Research Centre for Data Analytics.
Companies in Growth Mode
Carrick Therapeutics, a life sciences company, with an ambitious patient focused vision to serve cancer patients around the world with ground-breaking cancer therapies. It is pioneering a portfolio of unique treatments to target driver mechanisms of the most aggressive forms of cancer, tailored to an individual patient's tumour. Carrick Therapeutics has secured $95m from investors including; Arch Venture Partners, Woodford Investment Management, Cambridge Innovation Capital, Google Ventures and Lightstone Ventures. In 2018 company co-founder, Dr Elaine Sullivan, won the EY Emerging Entrepreneur of The YearTM (EOY Ireland) Award. The company recently announced that it is moving into the US market.
OxyMem was co-founded by Wayne Byrne, Professor Eoin Casey and Dr Eoin Syron as a spin-out from the UCD School of Chemical and Bioprocess Engineering. The multi-award winning start-up is a leading innovator in energy efficient wastewater treatment. OxyMem's breakthrough technology, the Membrane-Aerated Biofilm Reactor, addresses the global need for a more energy efficient wastewater treatment.
OxyMem has an impressive list of financial backers including Dow Chemical Company and Saudi Aramco Energy Ventures and has clients in Ireland, UK, Europe, Japan, Middle East, Canada and Brazil and is in the process of growing employee numbers.
Vivid Edge has developed a pioneering 'energy efficiency as a service' model for organisations using large amounts of energy. It provides the capital to enable them upgrade the efficiency of their buildings, beyond their own capital budgets, replacing such expenditure with a simple service fee. It has secured backing of a European energy efficiency fund with an initial €30m facility and has completed projects with multiple organisations, generating a multi-million-euro revenue stream, and has a sales pipeline reaching into Europe, Middle East and Africa.
In 2019 founder and CEO Tracy O'Rourke was one of 21 finalists in the global Cartier Women's Initiative.
Successful Exits/Acquisitions
BiancaMed, was co-founded in 2003 by Dr Philip de Chazal, Dr Conor Hanley and Professor Conor Heneghan as a spin-out from the UCD School of Electrical and Electronic Engineering. It developed a contactless, accurate device for the measurement of sleep and breathing. At the core of BiancaMed's technology was a sensitive motion sensor to detect respiration and movement without being connected to the human body.
BiancaMed had raised significant funding when it was acquired in 2011 by ResMed, a leading developer, manufacturer, and distributor of medical equipment for treating, diagnosing, and managing sleep-disordered breathing and other respiratory disorders. Dr Hanley has recently raised over €40m for his latest venture FIRE1, to develop a remote heart monitoring product.
Equinome, an equine genomics company, was co-founded in 2009 by Professor Emmeline Hill, in partnership with Jim Bolger, the renowned Irish trainer and breeder, as a spin-out from the UCD School of Agriculture and Food Science. The company was established to commercialise research which resulted in the identification of the 'Speed Gene' in Thoroughbred horses and the development of the Equinome Speed Gene Test which predicts the optimum race distance of a Thoroughbred horse. By 2015 Equinome was working with many of the world's leading Thoroughbred training and breeding operations when it was acquired by Plusvital, the Irish equine nutrition company.
Logentries was co-founded in 2010 by Dr Trevor Parsons and Dr Viliam Holub as a spin-out from the UCD School of Computer Science after a decade of joint research with IBM. Based on the simple premise that there was tremendous value to businesses hidden within log data entries, Logentries developed a SaaS based, log management service for collecting and analysing big data and making this data easily accessible to improve IT and business operations. The company secured $11m in funding and was servicing tens of thousands of users in over 100 countries before being acquired by Rapid7 in 2015 for $68m.
Click here If you are interested in finding out more about locating your start-up at NovaUCD.
ENDS
6 September 2019
For more information contact Micéal Whelan, Communications and Media Relations Manager, NovaUCD, UCD Research and Innovation, t: + 353 1 716 3712, e: miceal.whelan@ucd.ie.
This article first appeared in the 2019 Issue of the UCD Connections Magazine.