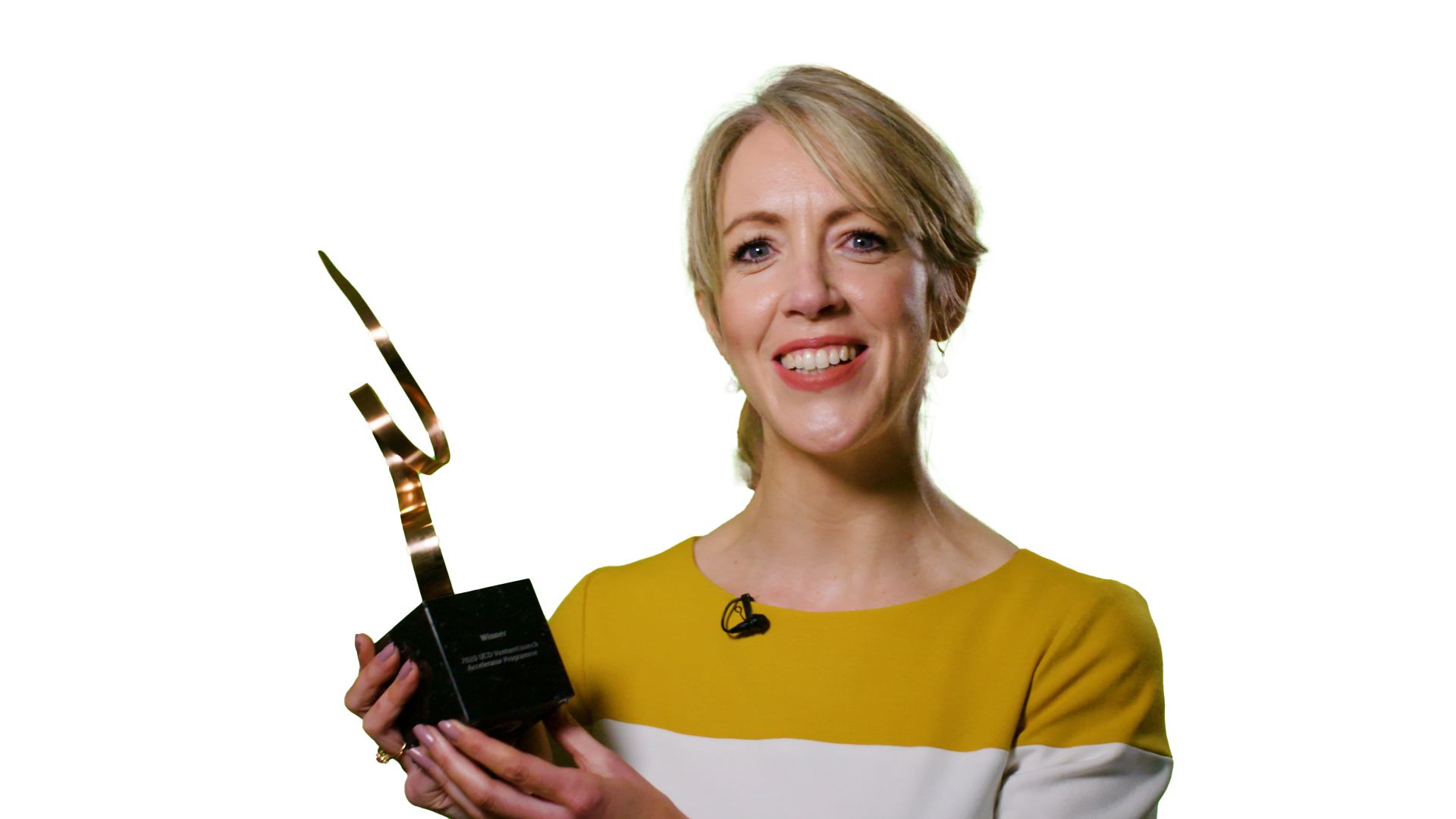 Early-Stage Venture Developing a Novel Urine DNA Test for Aggressive Prostate Cancer Wins UCD's 2020 Start-Up of the Year Award
epiCaPture, an early-stage venture which is developing a novel urine DNA test for aggressive prostate cancer, has won the 2020 University College Dublin (UCD) Start-Up of the Year Award. The epiCaPture test measures six epigenetic biomarkers which are indicative of aggressive disease, using a widely available PCR platform.
epiCaPture won the Award, and a €32,000 prize fund, after being declared overall winner of the 2020 UCD VentureLaunch Accelerator Programme, which is run by NovaUCD. The aim of the annual Programme, which this year took place virtually, is to support the creation and launch of sustainable and profitable new start-ups emerging from the University.
The epiCaPture test has potential as a non-invasive, early-detection and screening test to augment the current PSA blood test for the early-detection of aggressive prostate cancer. A second application is as a repeated use monitoring tool for men with low-grade disease, to identify tumour progression.
To find out more about epiCaPture watch this short video.
The members of the epiCaPture team, a start-up emerging from the UCD School of Biology and Environmental Science are, Dr Antoinette Perry, Asia Jordan, Adele Connor and Ross Nelson, along with Edward Simons, a chartered accountant and former investment banker.
Dr Antoinette Perry, UCD School of Biology and Environmental Science said, "We are delighted and honoured to have won the 2020 UCD Start-up of the Year Award which is testament to the research dedication and hard work of the epiCaPture team over the last number of years."
"By selectively detecting aggressive prostate cancer disease, epiCaPture informs on the need to biopsy and thus could have a significant societal and economic impact by eliminating unnecessary, costly and invasive procedures for the majority of men with the disease.
epiCaPture performance thus far looks really promising. We're currently at the stage of validating the results in an independent cohort, and we anticipate results by mid next year."
She added, "I would like to thank all the patients in Ireland and abroad who very kindly donated a urine sample. Without their participation, none of this work would be possible. I would also like to acknowledge grant funding from Enterprise Ireland, the Irish Cancer Society, Movember, Science Foundation Ireland and the US Prostate Cancer Foundation, which has enabled this research."
She concluded, "I would also like to acknowledge the great encouragement provided by NovaUCD, the VentureLaunch programme facilitators, and all of the other VentureLaunch participants through their invaluable feedback and support during the programme."
The main objective of the UCD VentureLaunch Accelerator Programme is to equip participants with the knowledge, skills and understanding that will be required to work as part of a team leading a new commercial venture. On completion of the programme the expectation is that participating new ventures will have developed a commercially viable business plan.
The programme consists of eight (8) workshops delivered over a 2-month period from October to November. The Business Model Canvas approach to start-up development forms the basis of the programme with each session consisting of a mix of taught content and interactive workshops delivered by external experts as well as involving talks from entrepreneurs. Participants also gain expert mentoring on marketing, finance and funding, sales and pitching to investors.
Tom Flanagan, Director of Enterprise and Commercialisation, NovaUCD said, "It is great to be able to support our UCD research community to accelerate the creation of exciting new start-ups through our VentureLaunch programme, which of course was held online this year."
He added, "I would like to congratulate the epiCaPture team on winning this year's programme and I wish them, and all the programme participants, every commercial success, here in Ireland and internationally, in the years ahead."
In addition to the 2020 UCD Start-up of the Year Award epiCaPture receives a cheque for €10,000 sponsored by AIB, a professional services package to the value of €10,000 sponsored by Bryan Maguire Business Consulting and Deloitte and incubation space at NovaUCD to the value of €12,000.
The 2020 UCD VentureLaunch Accelerator Programme evaluation panel, which selected the overall winner following pitches by the five finalists, was chaired by Dr Helen McBreen, Investment Director, Atlantic Bridge. The other members of the panel were; Denis Dudley, AIB; Caroline Gaynor, Lightstone Ventures; Dr Sean Baker, NDRC and a NovaUCD Entrepreneur-in-Residence; Dr Sharon O'Kane, LivaNova and a NovaUCD Entrepreneur-in-Residence, and Conor Mills, ACT Venture Capital.
The other participants on this year's programme were, AquaB Nanobubble Innovations Ltd, Joyst Instruments Ltd, recsyslabs and seamlessCARE.
epiCaPture, along with AquaB, recsyslabs and seamlessCARE, are currently being supported through the Enterprise Ireland Commercialisation Fund.
#VentureLaunch20
ENDS
2 December 2020
For further information contact Micéal Whelan, Communications and Media Relations Manager, UCD Research and Innovation, e: miceal.whelan@ucd.ie or t: +353 1 716 3712.
Editors Notes
The other participants on the 2020 UCD VentureLaunch Accelerator Programme, in addition to epiCaPture, are profiled below.
AquaB Nanobubble Innovations Ltd is commercialising a breakthrough technology to generate nanobubbles of different gases in aqueous solution. This technology has multiple commercial applications in a wide range of sectors including wastewater treatment, gas storage, food, biopharma, brewing, disinfection, agriculture and food. The company was founded by Professor Niall English and Dr Mohammad Reza Ghaani as a spin-out from the UCD School of Chemical and Bioprocess Engineering.
Joyst Instruments Ltd is changing how music is made. Joyst's instruments unleash new creative possibilities by deploying precision analogue joysticks for note activation, allowing unprecedented pitch-bending and note articulation effects. With easy-to-learn note layouts, Joyst is putting unlimited expressive potential in the hands of all musicians. The founders of Joyst are, Philip Snell, William Langrell and Edward Byrne, who have just graduated from UCD ME programmes, and Dr Paul Cuffe, UCD School of Electrical and Electronic Engineering.
recsyslabs is developing artificial intelligence (AI) technology to connect readers to personalized content that is worth paying for. recsyslabs' technology provides publishers with an alternative revenue stream and allows them to automatically identify readers' segments, based on their interests, and generates one newsletter, with different articles or different order per segment. The technology is easy to integrate, explains the reasons behind the recommendations and does not require nor collect personal identifiable information, making it fully compliant with US and European privacy regulations. The members of the recsyslabs team are, Dr Ernesto Diaz-Aviles, Dr Claudia Orellana-Rodriguez and Dr Igor Brigadir, UCD School of Computer Science. https://recsyslabs.com/
seamlessCARE is developing four application programming interfaces (APIs) to improve life for people with intellectual disability, dementia and a range of complex needs. The applications are built on the HL7 Fast Healthcare Interoperability Resources (FHIR) framework to ensure interoperability and regulatory compliance. They promote safety, enhance communications, increase efficiency and improve the delivery of care. The seamlessCARE team includes, Dr Aviva Cohen, UCD School of Mechanical and Materials Engineering, Ian Kennedy and Dr Çağrı Çubukçu.
At NovaUCD, the hub for new ventures and entrepreneurs at University College Dublin, we nurture and support new high-tech companies as part of UCD's mission. At NovaUCD we provide purpose-built, state-of-the-art incubation facilities alongside a comprehensive business support programme for client companies along with a series of programmes, such as the UCD VentureLaunch Accelerator Programme, to assist entrepreneurs establishing start-ups. NovaUCD has been funded through a unique public-private partnership that includes AIB Bank, Arthur Cox, Deloitte, Enterprise Ireland, Ericsson, Goodbody Stockbrokers, UCD and Xilinx. www.novaucd.ie