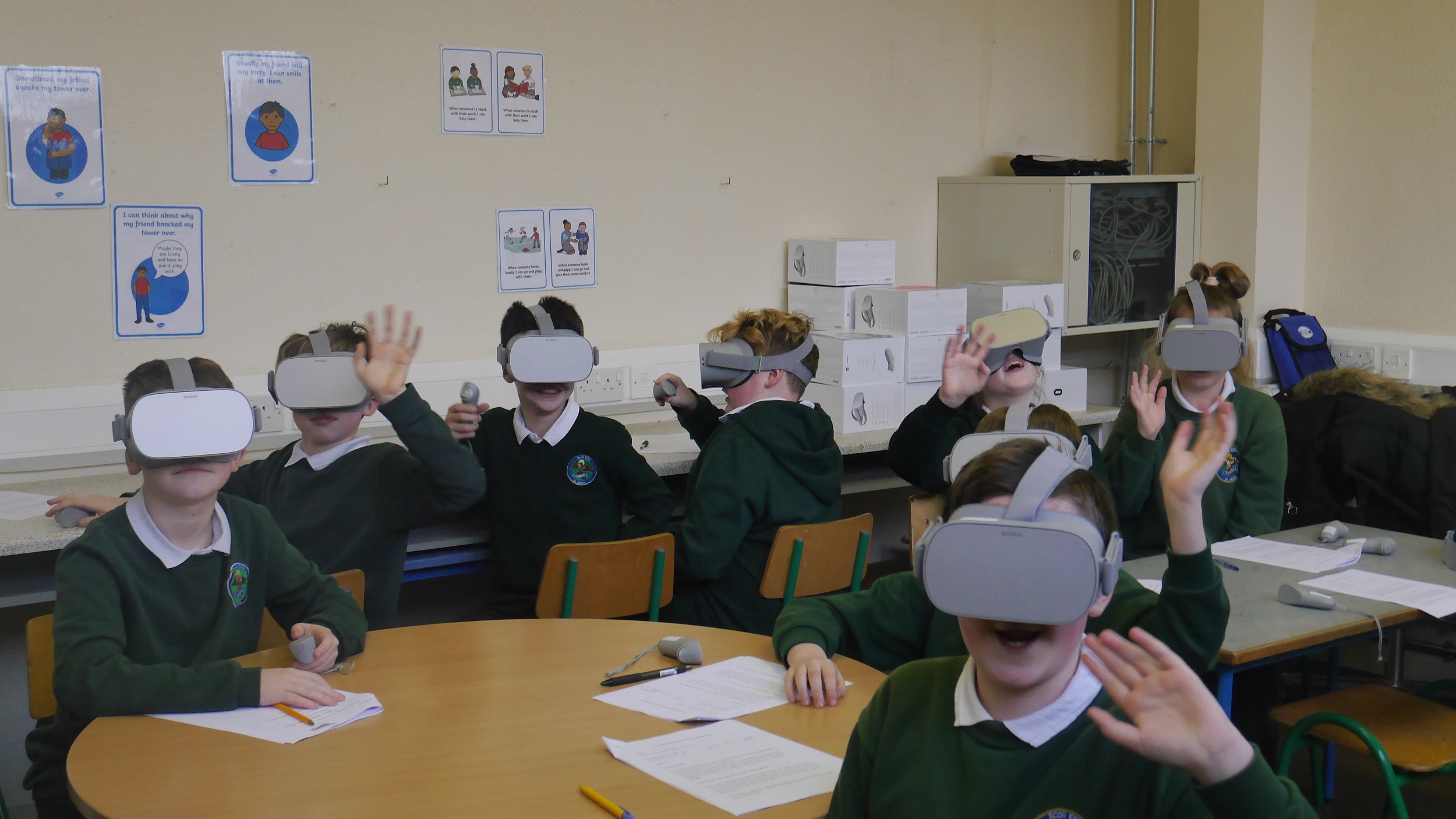 Zeeko Develops Novel Virtual Reality Training Lesson for Primary School Children to Address Issue of Bullying
Zeeko, an Irish EdTech company, in its 2018 Trend Report, which involved a survey of over 35,800 children, found that between 10% and 13% of primary school children in Ireland reported being cyberbullied and 20% to 30% reported witnessing cyberbullying.
Coinciding with Safer Internet Day Zeeko has today announced that it has developed a novel virtual reality (VR) training lesson, which it plans to roll-out to primary schools across Ireland, to address the issue of bullying including cyberbullying.
Aimed at 5th and 6th class primary school children, ABC_VR (Anti-Bullying Course Virtual Reality) is a simulation training lesson that transports students into a bullying situation.
The storyline of the lesson involves a young person, dealing face-to-face with bullying in a school environment. Students virtually experience bullying from the perspective of a victim, a bully and a bystander through VR headsets. The aim of the lesson is to help students gain a better understanding of what bullying feels like for the different people involved and to improve their empathy skills.
At the end of the ABC_VR lesson the participating students complete a worksheet which asks a number of questions about bullying and their experiences which are returned to Zeeko. Zeeko then prepares a summary report which is sent to the school.
Zeeko, located at NovaUCD, regularly hosts internet safety workshops in primary and secondary schools across Ireland, to help young people to improve their digital literacy skills.
Through ABC_VR Zeeko aims to breathe new life into bullying awareness education and make it more informative and engaging for children. Using virtual reality technology can help children understand the emotional pain that is attached to bullying by placing them directly into a similar situation.
Following a recent trial of ABC_VR in St. John's National School, Ballybrack, Dublin, Joe Kenny, CEO, Zeeko said, "Children are taught from a young age that bullying is wrong but unfortunately it still remains a problem. At Zeeko we believe that technology creates opportunities and that is why we have developed a simulation lesson using VR technology to allow children to safely experience bullying from 3 different perspectives, to increase their empathy and their positive behaviours."
He added, "The feedback from our recent trial at St. John's National School was very positive from students and teachers alike and we now plan to roll out this version of ABC_VR to primary schools across Ireland and in the UK."
He concluded, "Zeeko believes in harnessing the power of technology to improve the lives of young people. The children of Ireland are digital natives and are already using 3D and VR devices for gaming and entertainment. It is now time that we start using technology to increase their engagement in the classroom, increase their empathy and provide them with valuable skills."
For further information on ABC_VR, or to book lessons for your school, contact the Zeeko team via info@zeeko.ie.
Safer Internet Day is an EU initiative and aims to educate and raise awareness about protecting children online, so that they can enjoy responsibly the benefits of the internet, without compromising their safety and privacy. It is promoted in Ireland by the Webwise internet safety initiative of the Professional Development Service for Teachers (PDST).
ENDS
5 February 2019
For further information contact Micéal Whelan, Communications Manager, UCD Research and Innovation, e: miceal.whelan@ucd.ie or t: +353 1 716 3712 or Joe Kenny, CEO, Zeeko, t: +353 87 901 9857 or e: joe@zeeko.ie.
Editors Notes
Zeeko, a European Union Horizon 2020 funded company, is headquartered at NovaUCD, the Centre for New Ventures and Entrepreneurs at University College Dublin. The company is founded by Joe Kenny in 2013. Zeeko works with parents, teachers and children to promote digital health and internet safety among primary and secondary school children. www.zeeko.ie
Zeeko's 2018 Trend Report entitled 'Children's online behaviours in Irish Primary and Secondary Schools, (2016-2018) is available via https://zeeko.ie/wp-content/uploads/2018/06/ZEEKO-TREND-REPORT-.pdf
At NovaUCD, the hub for new ventures and entrepreneurs at University College Dublin, we nurture and support new high-tech and knowledge-intensive companies as part of UCD's mission. At NovaUCD we provide purpose-built, state-of-the-art incubation facilities alongside a comprehensive business support programme for client companies such as Zeeko. NovaUCD has been funded through a unique public-private partnership that includes AIB Bank, Arthur Cox, Deloitte, Enterprise Ireland, Ericsson, Goodbody Stockbrokers, UCD and Xilinx. www.ucd.ie/innovation