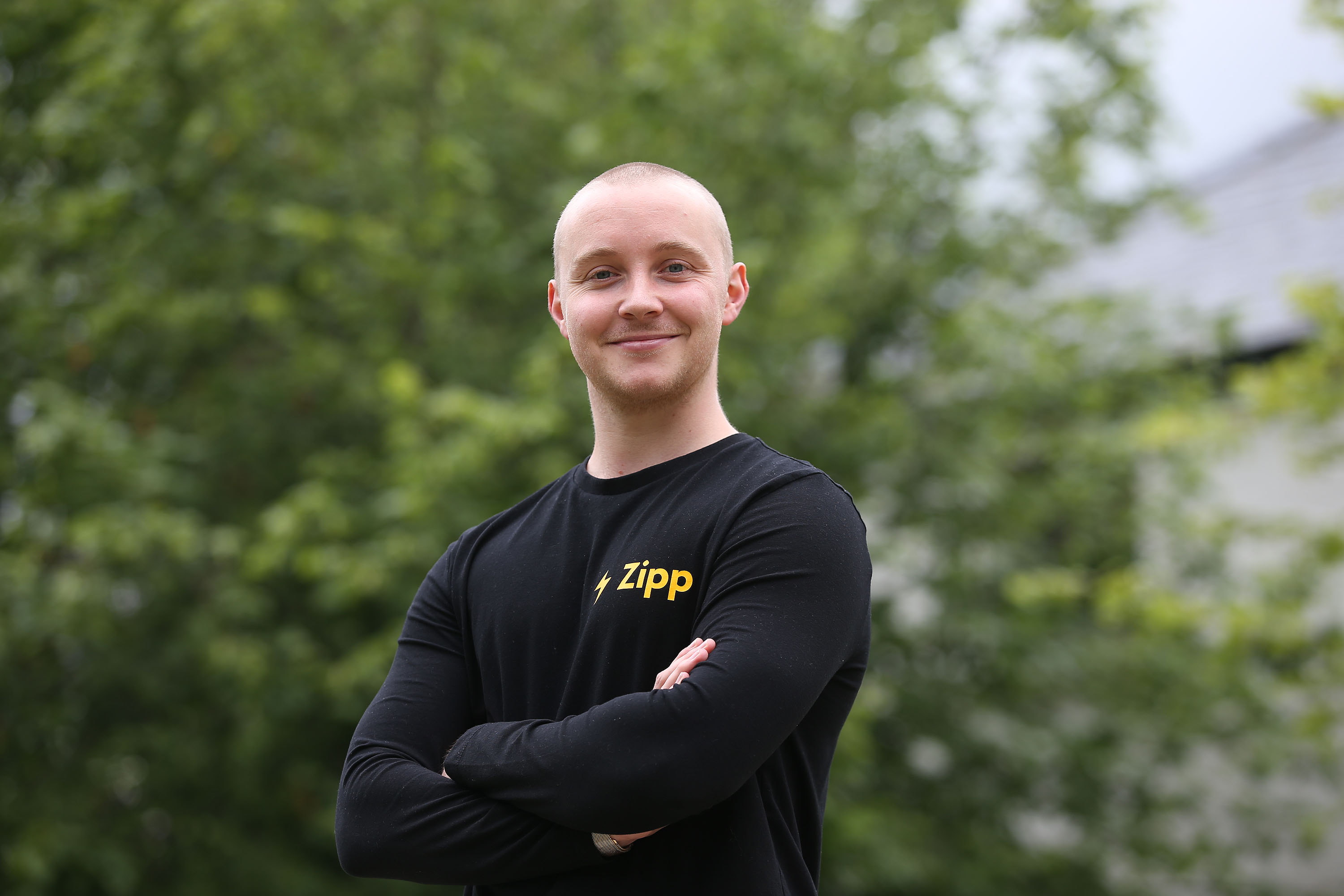 Zipp Mobility Secures €500k Investment
- Investors include Brian O'Driscoll, the former captain of Leinster, Ireland and British and Irish Lions rugby team
- Company ramping up to imminent launch of e-scooter trials in the UK
Zipp Mobility the Irish micromobility start-up, announced today that it has secured a €500,000 investment as it ramps up plans to operate several shared e-scooter trials in the UK.
Investors include Brian O'Driscoll, the former captain of Leinster, Ireland and British and Irish Lions rugby teams, along with a New York based investor.
This brings Zipp's investment to date to over €1 million which will be used to fund Zipp's upcoming UK shared e-scooter launches. The investment comes just a week after the UK Department for Transport (DfT) approved Zipp Mobility's e-scooter for use in these trials.
Zipp Mobility, founded by Charlie Gleeson in 2019, is headquartered at NovaUCD, the Centre for New Ventures and Entrepreneurs at University College Dublin (UCD). The company is also an Enterprise Ireland High-Potential Start-Up (HPSU) client company.
Gleeson noted, "This new funding puts Zipp in a really strong position to launch trials in the UK. These are exciting times for the Zipp Mobility team and this backing is a great mark of the momentum we are enjoying as a company."
Earlier this year the UK government announced plans to accelerate trials of rented e-scooter schemes as part of its strategy to explore less congested and greener methods of urban transport in response to the COVID-19 pandemic. All UK regions are now permitted to launch e-scooter sharing schemes, in partnership with scooter firms, such as Zipp Mobility.
The Zipp Mobility e-scooter has been carefully designed with safety in mind. It features an aircraft-grade aluminium frame, 10-inch airless tyres, a swappable battery, dual braking, a wide base and a low centre of gravity. The scooters are also equipped with nano-septic handlebar wraps that reduce the risk of COVID-19 transmission by 99.98%.
The Zipp Mobility e-scooter has a useful lifetime of over two years, compared to the estimated industry average of just three months. Rigorous maintenance through local on-the-ground teams will ensure this extended lifespan. The start-up further commits to green operations through its 'end-of-life' plan, recycling and re-using all parts when scooters do fall beyond repair. In addition, Zipp's electric charging fleet and swappable battery is 10 times more efficient than the widely-used gig economy model.
Charlie Gleeson graduated from the UCD Lochlann Quinn School of Business in 2019. In the same year he also completed NovaUCD's mentoring programme for student entrepreneurs and the UCD VentureLaunch Accelerator Programme run by NovaUCD for early-stage start-up companies.
ENDS
2 September 2020
For further information contact Micéal Whelan, Communications and Media Relations Manager, UCD Research and Innovation, NovaUCD, e: miceal.whelan@ucd.ie, t: + 353 1 716 3712.
Editors Notes
Zipp Mobility is an Irish e-scooter operator bringing a more sustainable scooter sharing model to cities in the UK, Ireland & further afield. www.zippmobility.com
At NovaUCD, the hub for new ventures and entrepreneurs at University College Dublin, we nurture and support new high-tech companies as part of UCD's mission. At NovaUCD we provide purpose-built, state-of-the-art incubation facilities alongside a comprehensive business support programme for client companies such as Zipp Mobility. NovaUCD has been funded through a unique public-private partnership that includes AIB Bank, Arthur Cox, Deloitte, Enterprise Ireland, Ericsson, Goodbody Stockbrokers, UCD and Xilinx. www.novaucd.ie