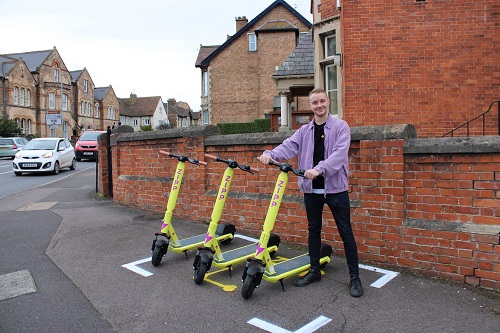 Zipp Mobility Closes a €1.3 million Funding Round to Support e-Scooter Expansion Plans
- Company to grow team to 35 people by year end
Zipp Mobility, the Irish shared micromobility operator, today announced that it has closed a €1.3 million funding round. The company has secured a total of €500k from two prominent angel investors, including Barry Maloney, €250k from Enterprise Ireland and raised €562k through a crowdfunding campaign on the Spark Crowdfunding platform.
Earlier this year Barry Maloney was appointed the Chairman of Workhuman, the HR technology company, one of a select group of Irish companies to achieve unicorn status. Originally with Benchmark Capital Europe, Barry Maloney was a founding partner of Balderton Capital, one of Europe's largest early-stage venture capital firms. Prior to founding Balderton Capital in 2000, he spent five years as the CEO of Esat Digifone, Ireland's second largest mobile operator, which was acquired by British Telecom.
Zipp Mobility has now raised over €2 million in funding and a number of high-profile private investors, including former Irish rugby international Brian O'Driscoll, have already invested in the company.
The company is currently operating e-scooter schemes in 8 cities across Poland (3) and the UK (5). It now plans to significantly increase the number of e-scooters it operates in the coming months as it prepares to roll-out its shared e-scooter service across Ireland - pending e-scooter legislative approval – expand current operations and launch in additional European countries.
The company currently employs a staff of 25 and expects to grow the team to 35 by the end of 2021.
As a homegrown Irish start-up, Zipp is already in close discussions with a number of local authorities in advance of the expected approval by the Dáil later this year of the Road Traffic (Miscellaneous Provisions) Bill which will allow for the regulation of e-scooters on Irish roads.
Zipp Mobility which was founded in 2019 by Charlie Gleeson is headquartered at NovaUCD, the Centre for New Ventures and Entrepreneurs at University College Dublin.
Charlie Gleeson, CEO and Founder, Zipp Mobility said, "We have experienced great momentum in the last 12 months, showcasing our service to hundreds of thousands of people across the UK and mainland Europe. We are now excited to grow our European position, following our latest funding round, by continuing to offer sustainable transport alternatives to millions of people across the continent."
He added, "Over the last two years we have been in discussions with Irish local authorities, and we have been sharing our international experience with them to ensure that scooter-sharing schemes are rolled out safely and responsibly once e-scooters are legalised in Ireland."
Barry Maloney said, "I am delighted to invest in Zipp Mobility. Charlie epitomises the kind of entrepreneur I am delighted to be supportive of."
Since last November Zipp Mobility's UK customers have completed over 150,000 journeys and spent over 1 million minutes on their scooters, resulting in approximately a 70-tonne reduction in carbon emissions.
Zipp e-scooter features an aircraft-grade aluminium frame, 10-inch airless tyres, a swappable battery, dual braking, a wide base and a low centre of gravity. Zipp also maintain a policy of only using zero-emission vehicles (electric vans and cargo bikes) to manage their operations.
To ensure safety, Zipp also uses geofencing, a virtual perimeter for a real-world geographic area, meaning that e-scooters will not work outside of designated areas and slowdown in designated 'slow speed zones'. Scooters must also be parked specially designated "parking bays" to prevent obstructions in the city. Each e-scooter has a lifetime of more than two years, compared with the estimated industry average for shared scooters of just 18 months.
Flynn O'Driscoll provided legal advice to Zipp Mobility on this funding round.
ENDS
12 August 2021
For further information contact Micéal Whelan, Communications and Media Relations Manager, NovaUCD, e: miceal.whelan@ucd.ie.
Editors Notes
Zipp Mobility is Ireland's leading micromobility provider bringing a more sustainable scooter sharing model to cities in the UK, Ireland and further afield. www.zippmobility.com

At NovaUCD, the hub for new ventures and entrepreneurs at University College Dublin, we nurture and support new high-tech and knowledge-intensive companies as part of UCD's mission. At NovaUCD we provide purpose-built, state-of-the-art incubation facilities alongside a comprehensive business support programme for client companies such as Zipp Mobility. NovaUCD has been funded through a unique public-private partnership that includes AIB Bank, Arthur Cox, Deloitte, Enterprise Ireland, Ericsson, Goodbody Stockbrokers, UCD and Xilinx. www.novaucd.ie