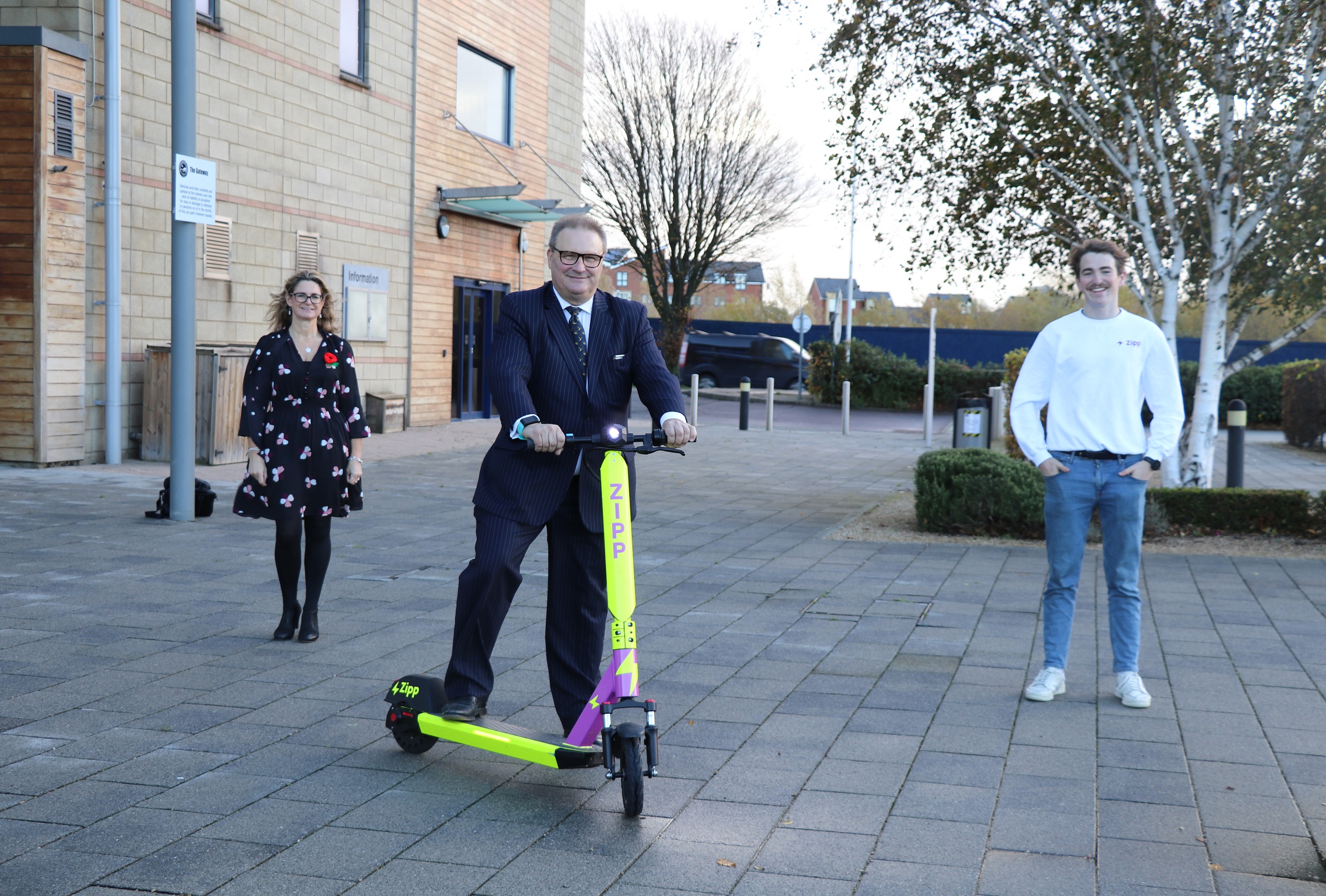 Zipp Mobility Commences e-Scooters Trials in Two Buckinghamshire Towns
- Company now operating in three locations across the UK
Zipp Mobility, the Irish micromobility start-up, today announced that it has commenced operating e-Scooter trials in two Buckinghamshire towns. The company will be operating the trials, which have been approved by the UK Department for Transport (DfT), over the next 12-months, in Aylesbury and High Wycombe, in co-operation with Buckinghamshire Council.
Zipp Mobility will be operating an initial fleet of 25 e-scooters in both Aylesbury and High Wycombe, with plans to increase the fleet size to 300 scooters over the next two months. The company has also established its operations in High Wycombe to cover both trials and is creating seven (7) new local jobs.
Zipp Mobility is now operating e-scooter trials in three locations across the UK, including in Taunton, Somerset, in addition to the two Buckinghamshire towns.
The Buckinghamshire trials follow popular routes through both towns and special 'geofencing' technology prevent them operating outside of set areas. Special 'parking zones' are also marked out at popular points to make pick up and drop off easier and to reduce the incidence of 'scooter littering'.
The trials provide those who still need to travel through the current lockdown in England with an alternative, convenient and 'green' way of getting around. They will also help people cope with the reduced public transport capacity available and allow for better social distancing when making journeys.
Zipp Mobility, founded by Charlie Gleeson in 2019, is headquartered at NovaUCD, the Centre for New Ventures and Entrepreneurs at University College Dublin. The company is also an Enterprise Ireland High-Potential Start-Up company.
Will O'Brien, Vice-President of Growth and Government Affairs, Zipp Mobility said, "There's been a lot of careful planning and organisation with Buckinghamshire Council and local stakeholders particularly on safety and of course enhanced cleaning and sanitisation. We are delighted to support the Council with our fleet of state-of-the-art scooters and, as things develop, we'll be looking for feedback from users so we can bring additional improvements in during the trial period."
Buckinghamshire Council Cabinet Member for Sports and Leisure, Clive Harriss, said, "During lockdown, people must adhere to the rules and stay at home if at all possible, that's the safest place for everyone and the best way to reduce the spread of the virus. That said, we know some people may have no choice but to make local trips like getting to and from work for example. E-scooters give people an option to make those journeys in a different and easier way, particularly with less traffic on the roads during the current lockdown period."
The Zipp Mobility e-scooter designed in California, specifically for the rental market, has also been designed with safety in mind. It features an aircraft-grade aluminium frame, 10-inch airless tyres, a swappable battery, dual braking, a wide base and a low centre of gravity. The scooters are also equipped with anti-viral handlebar wraps that kill 99.98% of coronaviruses to help eliminate COVID-19 transmission risk.
With full UK Government backing for the two trials, UK Transport Minister Rachel Maclean MP said, "The trials of rental e-scooters starting in Buckinghamshire could offer a socially distanced way of getting from A to B for key workers and those making essential journeys."
"Learning from trials already taking place, Buckinghamshire's will see strict safety measures introduced, including license verification and responsible parking incentives, while also helping us better understand any impacts on public spaces."
In order to ride a Zipp e-scooter, a person will need to be over 16 and at the very least hold a provisional driving licence. An ID check will also be undertaken before a rider can hire a scooter. Rental costs for the e-scooters are a £1 unlock fee and a charge of 15p per minute.
The scooters must be booked and paid for via the Zipp Mobility app. People interested in renting the e-scooters must also complete the mandatory online training.
Commenting on the Irish Government's plans to legislate for e-Scooters in 2021, Charlie Gleeson, CEO and Founder Zipp Mobility, said, "We are very pleased with the Minister's commitment to legislate for e-scooters next year. We plan to share our learnings from the UK to help shape this new piece of legislation. As an Irish company, we are really excited to bring our service home."
ENDS
19 November 2020
For further information contact Micéal Whelan, Communications and Media Relations Manager, UCD Research and Innovation, NovaUCD, e: miceal.whelan@ucd.ie, t: + 353 1 716 3712.
Editors Notes
Zipp Mobility is an Irish e-scooter operator bringing a more sustainable scooter sharing model to cities in the UK, Ireland and further afield. The Zipp Mobility e-scooter has a useful lifetime of over two years, compared to the estimated industry average of just three months. Rigorous maintenance through local on-the-ground teams will ensure this extended lifespan. The start-up further commits to green operations through its 'end-of-life' plan, recycling and re-using all parts when scooters do fall beyond repair. In addition, Zipp's all-electric charging fleet and use of swappable batteries makes them 10 times more energy-efficient than the widely-used gig economy model. www.zippmobility.com
At NovaUCD, the hub for new ventures and entrepreneurs at University College Dublin, we nurture and support new high-tech companies as part of UCD's mission. At NovaUCD we provide purpose-built, state-of-the-art incubation facilities alongside a comprehensive business support programme for client companies such as Zipp Mobility. NovaUCD has been funded through a unique public-private partnership that includes AIB Bank, Arthur Cox, Deloitte, Enterprise Ireland, Ericsson, Goodbody Stockbrokers, UCD and Xilinx. www.novaucd.ie