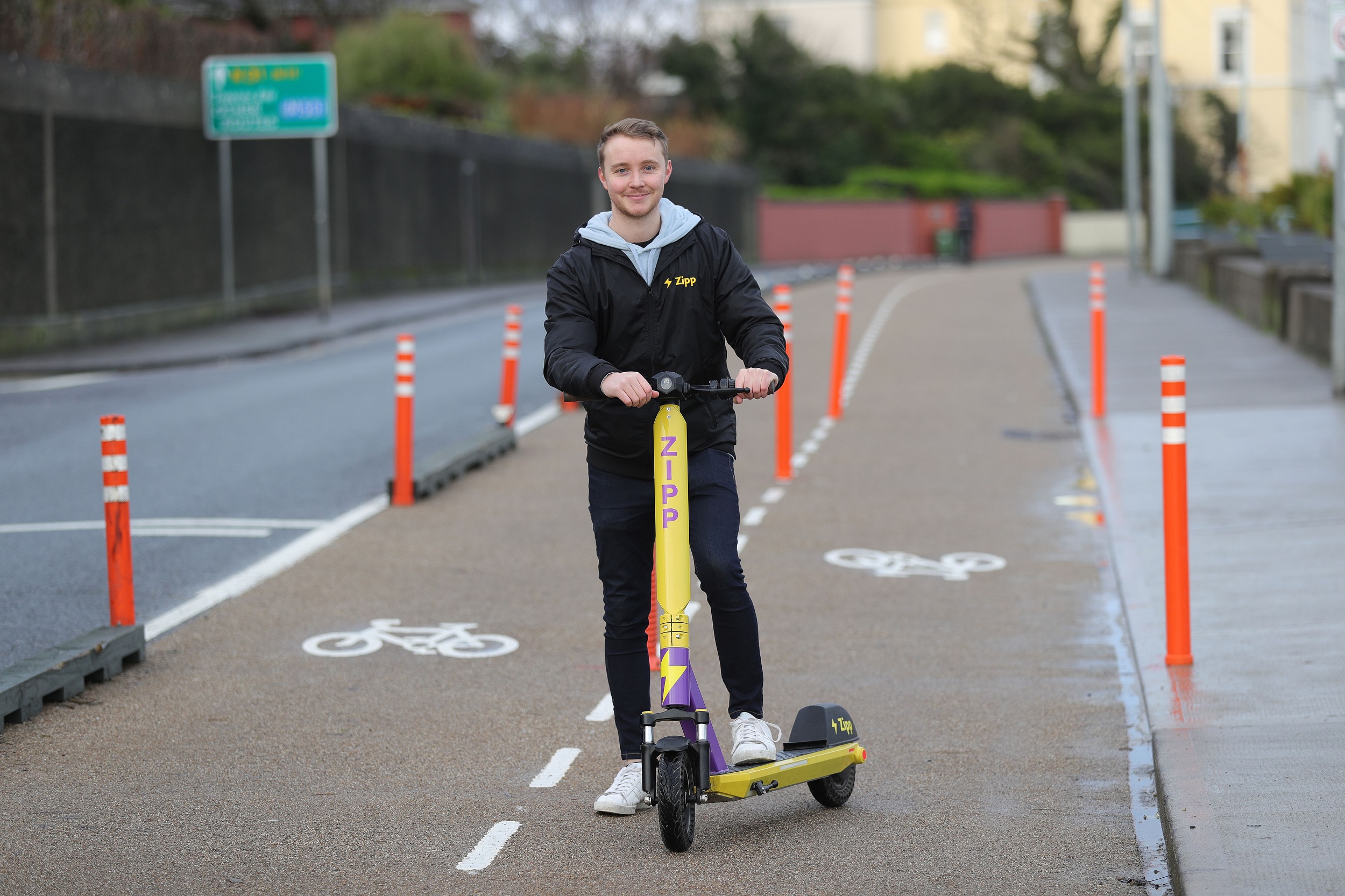 Zipp Mobility Plans to Create 30 New Jobs
- Four additional launches planned in coming months including first public shared e-scooter scheme on the island of Ireland
Zipp Mobility, the Irish micromobility start-up, today announced that it plans to create at least 30 additional jobs in the coming year as it is set to launch e-scooter services across Ireland once new e-scooter legislation is passed into law.
Today's announcement follows on from a successful year for the company in which it secured €1.1 million in seed funding, including €250,000 from Enterprise Ireland, launched e-scooter operations in three (3) UK locations (Aylesbury, High Wycombe and Taunton) and grew to a staff of 20 in Ireland and in the UK.
The company is currently operating a fleet of 450 e-scooters in the UK which it expects to increase to 600 units in the coming months. In the last two months Zipp Mobility customers have completed over 30,000 journeys and travelled over 85,000 km, using the company's e-scooters.
Zipp Mobility, which was founded in 2019 by Charlie Gleeson, is headquartered at NovaUCD, the Centre for New Ventures and Entrepreneurs at University College Dublin (UCD), with UK offices in Buckinghamshire and Somerset.
Charlie Gleeson, CEO and Founder, Zipp Mobility said, "This last year has been a very successful one for the company and we are currently operating in more UK locations than some of the bigger industry players which is a great achievement for a young Irish start-up such as Zipp. We look forward to an even more exciting year ahead and we already have four additional launches lined-up for the coming months, including the first public shared e-scooter scheme on the island of Ireland."
"With new e-scooter legislation set to be passed in Ireland early this year our plan for 2021 includes completing a Series A funding round and launching our service across the country creating at least 30 new jobs in the process."
He added, "E-scooters offer a cleaner, low carbon alternative to cars and provide customers with a green alternative to getting around. We estimate that our customers, who travelled the equivalent of twice around the circumference of the Earth in the last two months, replaced approximately 9,000 car journeys and removed around 7 tonnes of carbon from the atmosphere, which are very encouraging statistics."
He concluded, "Our overall vision for Zipp is 'mobility done right' and our aim for the year ahead is to lead the Irish e-scooter-sharing market and expand our operations internationally."
Since the onset of the pandemic, all of Zipp's e-scooters have been equipped with anti-viral handlebar wraps that kill 99.98% of coronaviruses to help eliminate COVID-19 transmission risk. Zipp has also implemented a strict daily disinfection regime for its e-scooters.
Zipp's commitment to "mobility done right" includes the company running all of its operations in-house with no outsourcing. The company also only uses electric vehicles to manage its fleet and have optimised operations to be up to 10 times more energy-efficient than their competitors. Zipp is also committed to green operations through its 'end-of-life' plan, recycling and re-using all parts when the e-scooters fall beyond repair.
ENDS
14 January 2021
For further information contact Micéal Whelan, Communications and Media Relations Manager, UCD Research and Innovation, NovaUCD, e: miceal.whelan@ucd.ie, t: + 353 1 716 3712.
Editors Notes
Zipp Mobility is an Irish e-scooter operator bringing a more sustainable e-scooter sharing model to cities in the UK, Ireland and further afield. www.zippmobility.com
At NovaUCD, the hub for new ventures and entrepreneurs at University College Dublin, we nurture and support new high-tech and knowledge-intensive companies as part of UCD's mission. At NovaUCD we provide purpose-built, state-of-the-art incubation facilities alongside a comprehensive business support programme for client companies such as Zipp Mobility. NovaUCD has been funded through a unique public-private partnership that includes AIB Bank, Arthur Cox, Deloitte, Enterprise Ireland, Ericsson, Goodbody Stockbrokers, UCD and Xilinx. www.novaucd.ie