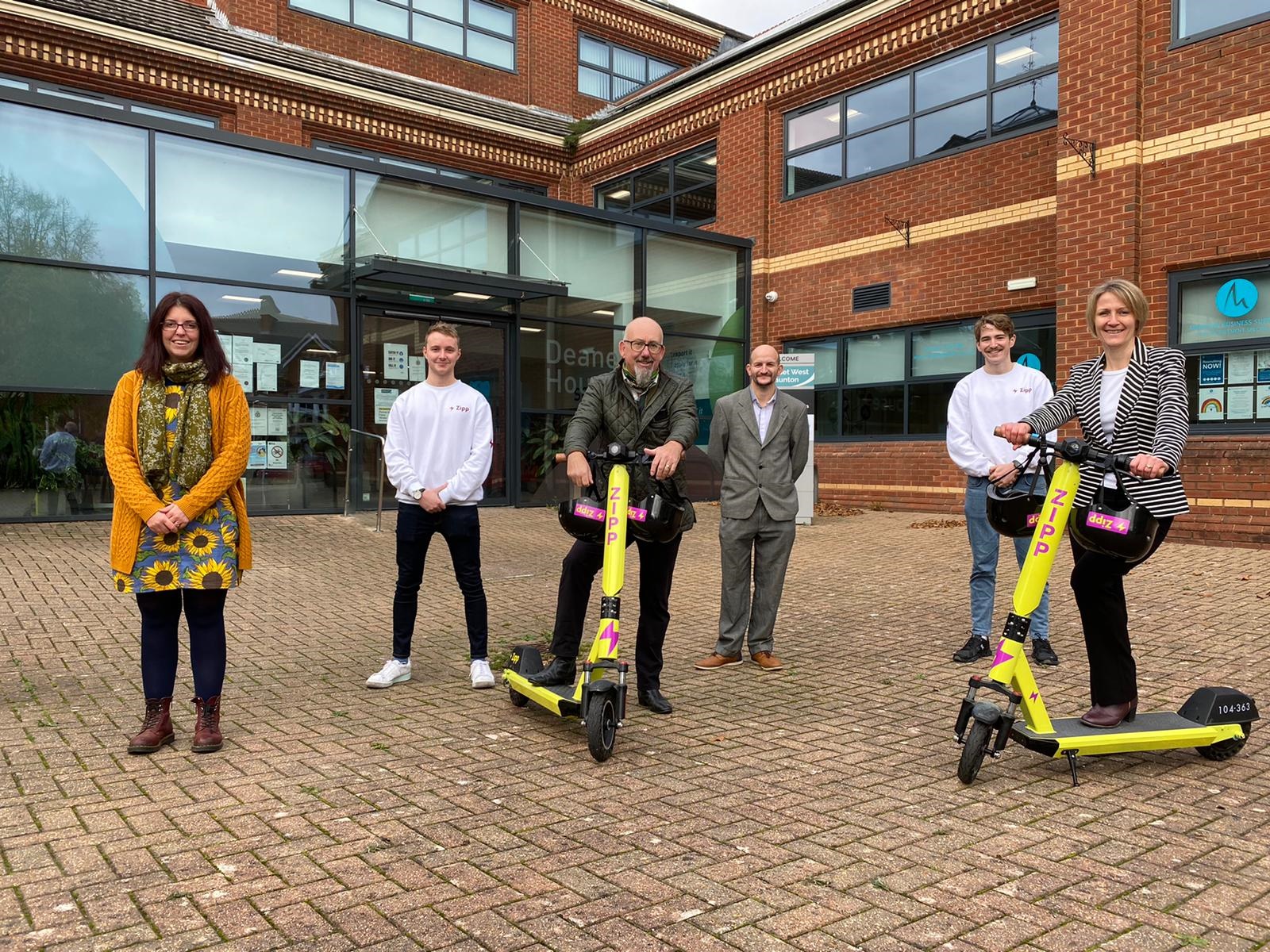 Over 1,000 e-Scooter Journeys Completed During Zipp Mobility's First Week of Operations in Taunton, UK
Zipp Mobility, the Irish micromobility start-up, today announced that over 1,000 journeys have been completed during the company's first full week of operating an e-scooter trial in Taunton, Somerset, UK.
In addition the company also announced that 1,211 new users signed-up during the first week to use Zipp Mobility's e-Scooters in Taunton bringing the total number of registered users to 1,607.
Zipp Mobility is operating a 12-month trial in Taunton with Somerset West and Taunton (SWT) Council which will remain operational throughout the current UK lockdown following confirmation received by the Council from the UK Department for Transport (DfT).
The Zipp Mobility e-scooters have anti-viral handlebar wraps that kill 99.98% of viruses and can help eliminate COVID-19 transmission risk. They are also are cleaned daily by the local team based at the new Zipp Mobility warehouse in Taunton.
Zipp Mobility, founded by Charlie Gleeson in 2019, is headquartered at NovaUCD, the Centre for New Ventures and Entrepreneurs at University College Dublin. The company is also an Enterprise Ireland High-Potential Start-Up client company.
Charlie Gleeson, CEO, Zipp Mobility said, "We are over the moon with the ridership levels we have seen in Taunton so far. They prove to us how beneficial a shared e-scooter scheme is to the local community and we are excited and optimistic to see how this trial turns out over the next 12 months. We are always looking to continuously improve our operations at Zipp so I am confident it will go from strength to strength."
Cllr Peter Pilkington, Executive Member for Climate, SWT Council said, "I am delighted that the DfT has confirmed that trials can continue through this period of national restrictions. E-scooters are the perfect way to travel for those who need to access work and essential services or supplies at this difficult time."
He added, "I am really encouraged by the success of this scheme so far and would like to thank everyone who has used a scooter to date and returned them neatly to a designated parking bay."
Additional operational statistics from the period 1 to 8 November 2020 are;
607 users completed the 1,019 rides
Total miles travelled was 2,727
The average journey length 2.68 miles
The average trip duration was 34 minutes
Time total spent on scooters was 577 hours 44 minutes.
The trial in Taunton is geofenced which means the e-scooters will only work inside permitted areas. The maximum speed limited for this trial has been limited to 13.5 mph, and there are slower zones within the trial area.
E-scooters are only permitted on roads, cycle lanes and cycle tracks only. Zipp is adding registration numbers to each e-scooter to assist with the reporting of misuse, they are also adding information cards to each scooter with instructions for use.
E-scooters are classed as a motor vehicle and can only be used by people over 16 with a provisional or full driving licence. Anyone using a scooter who is under this age or does not have a driving licence will be breaking the law and could be fined or receive points on their licence, this includes parents who register and give the scooter to a child to ride.
Richard McKiernan, Traffic Management Officer at Avon and Somerset Police, said, "Please remember that only e-scooters rented as part of the trial are legal to use on the road; the use of privately owned e-scooters in public places remains unlawful."
Caption for image above: Pictured (l-r) in Taunton are; Cllr Federica Smith-Roberts, Leader of Somerset West and Taunton (SWT) Council; Charlie Gleeson, CEO, Zipp Mobility; Cllr Peter Pilkington, Executive Member for Climate, SWT Council; Barry Hawkins, Project Manager for Climate Change, SWT Council; Will O'Brien, Vice-President of Growth and Government Affairs, Zipp Mobility; and Sue Tomlinson, Programme Manager for Climate Change, SWT Council. (Craig Stone, SWT Council).
ENDS
13 November 2020
For further information contact Micéal Whelan, Communications and Media Relations Manager, UCD Research and Innovation, NovaUCD, e: miceal.whelan@ucd.ie, t: + 353 1 716 3712 or Becky Howat, Communications and Engagement, Somerset West and Taunton Council, e: r.howat@somersetwestandtaunton.gov.uk.
Editors Notes
Zipp Mobility is an Irish e-scooter operator bringing a more sustainable scooter sharing model to cities in the UK, Ireland and further afield. The Zipp Mobility e-scooter has a useful lifetime of over two years, compared to the estimated industry average of just three months. Rigorous maintenance through local on-the-ground teams will ensure this extended lifespan. The start-up further commits to green operations through its 'end-of-life' plan, recycling and re-using all parts when scooters do fall beyond repair. In addition, Zipp's all-electric charging fleet and use of swappable batteries makes them 10 times more energy-efficient than the widely-used gig economy model. www.zippmobility.com
Further information on Somerset West and Taunton Council is available via https://www.somersetwestandtaunton.gov.uk/
SWT Council has a Frequently Asked Questions section available via https://www.somersetwestandtaunton.gov.uk/climate-emergency/escooter-trials/
Further information on the UK Government e-scooter trial scheme can be found via https://www.gov.uk/guidance/e-scooter-trials-guidance-for-users