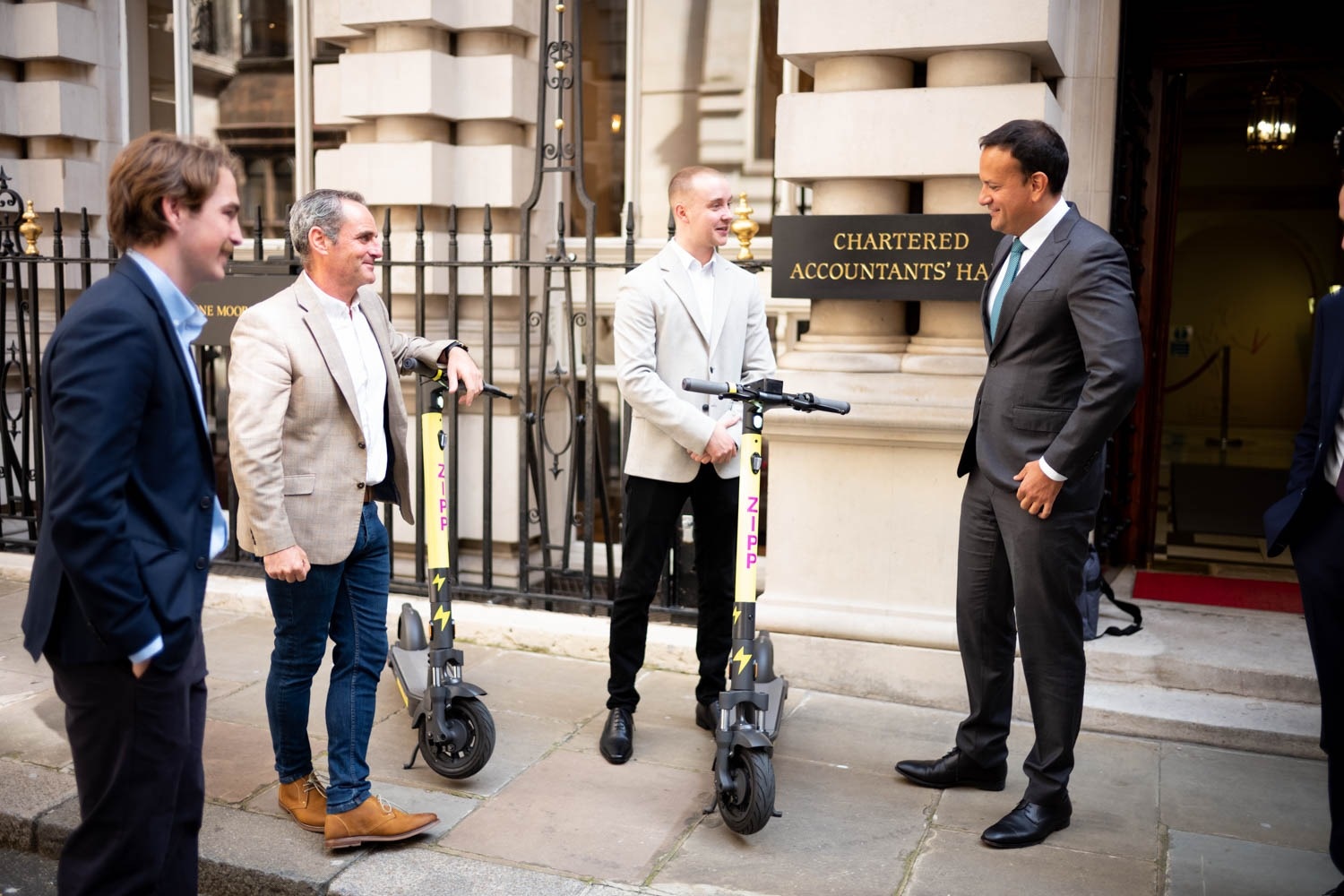 Zipp Mobility Participates in Enterprise Ireland's Trade Mission to the UK
Zipp Mobility the Irish micromobility start-up headquartered at NovaUCD, has today taken part in Enterprise Ireland's trade mission to the UK led by An Tánaiste Leo Varadkar TD, Minister for Enterprise, Trade and Employment. The focus of this trade mission is to boost trade collaboration between both countries and is part of a three-country trade mission which also includes France and Germany.
An Tánaiste Leo Varadkar TD said, "Ireland and Britain will always have a close relationship. Our two countries are interlinked in myriad different ways, and we will be looking to strengthen those ties as we emerge from the pandemic and face into future challenges, such as climate change and digitalisation. Irish companies have created over 125,000 in Britain."
As the UK prepares to host COP26 in Glasgow later this year, the focus on collaborating for a greener, more sustainable future is more important than ever. In this shared agenda for a greener future, Irish companies are helping partners across the world to be ready for a green future.
Zipp Mobility, along with ESB Energy, which also participated on the trade mission, form part of a cluster of Irish companies with sustainable transport solutions aligning with UK Government's net zero goals 2050.
In 2020 Zipp Mobility was approved by the Department for Transport (DfT) to participate in e-scooter trial schemes across the UK. Zipp Mobility is committed to scale-up in the UK following the contract award to operate e-scooter trial schemes in 5 UK locations across Aylesbury, High Wycombe, Princes Risborough in Buckinghamshire, and Taunton and Minehead in Somerset.
Zipp's UK customers have already completed over 150,000 journeys, spent over two million minutes on their e-scooters travelling over 250,000 miles, which has contributed to avoiding an estimated over 30-tonnes of carbon emissions.
Zipp, which was founded by Charlie Gleeson in 2019, has now raised €2.1 million in funding. Investors include Brian O'Driscoll, the former international Irish rugby player, Barry Maloney, Chairman of Workhuman, the HR technology company, one of a select group of Irish companies to achieve unicorn status, and Enterprise Ireland. The company have also been expanding its footprint across Europe, most recently introducing its e-scooters in Poland.
Charlie Gleeson, CEO and founder, Zipp Mobility said, "We are delighted with the success to date of our e-scooter operations in 5 locations across the UK. It is fantastic to see our customers embracing e-scooters as a sustainable transport option."
"Our goal for next year is to expand our UK operations by securing additional licences and offer our 'mobility done right' service to more and more customers across the UK. In addition to expanding operations in mainland Europe we especially look forward to introducing our service back home to customers in Ireland once e-scooter legislation is passed. With these expansion plans we expect to create at least 10 new jobs by the end of this year."
He added, "I would like to take this opportunity to thank Enterprise Ireland for their ongoing support, not only here in the UK and in Ireland, but also in Poland, and we look forward to working with Enterprise Ireland's teams across Europe as we expand our operations in the near future."
Leo Clancy, CEO, Enterprise Ireland said, "Our long-standing business relationship with the UK is built on the shared values that exists between both countries, as well as our pro-enterprise and pro-competition business environments. The deals announced on this trade mission will see more jobs created in the UK, even closer links between our two business communities, and advancing innovation to solve the challenges of the world today."
"With our team of Market Advisors working across the UK, Enterprise Ireland is helping both Irish and British companies to find collaborations that solve the challenges they face to create opportunities for further growth, greater competitive advantage in the global marketplace, and to create and sustain jobs," he added.
Further details on An Tánaiste's visit to the UK available via https://www.gov.ie/en/press-release/7cec4-business-collaboration-boost-in-first-irish-trade-mission-to-the-uk-as-economies-emerge-from-pandemic-led-by-tanaiste-leo-varadkar/
ENDS
6 September 2021
For further information contact Micéal Whelan, Communications and Media Relations Manager, UCD Research and Innovation, NovaUCD, e: miceal.whelan@ucd.ie.
Editors Notes
Zipp Mobility is Ireland's leading micromobility provider bringing a more sustainable scooter sharing model to cities in the UK, Ireland and further afield. www.zippmobility.com

At NovaUCD, the hub for new ventures and entrepreneurs at University College Dublin, we nurture and support new high-tech and knowledge-intensive companies as part of UCD's mission. At NovaUCD we provide purpose-built, state-of-the-art incubation facilities alongside a comprehensive business support programme for client companies such as Zipp Mobility. NovaUCD has been funded through a unique public-private partnership that includes AIB Bank, Arthur Cox, Deloitte, Enterprise Ireland, Ericsson, Goodbody Stockbrokers, UCD and Xilinx. www.novaucd.ie
Enterprise Ireland is the Irish Government's trade and innovation agency and ranked first in the world of VC investors. Enterprise Ireland is responsible for the development and growth of Irish companies in global markets. We invest in the most innovative Irish companies through all stages of their growth and connect them to international customers across multiple industries. Our goal is to build successful, long-term business relationships between international companies and Irish partners. With 40 offices worldwide (including London and Manchester in the UK), Enterprise Ireland's teams of industry experts consult with international businesses to understand and solve their business needs. www.enterprise-ireland.ie