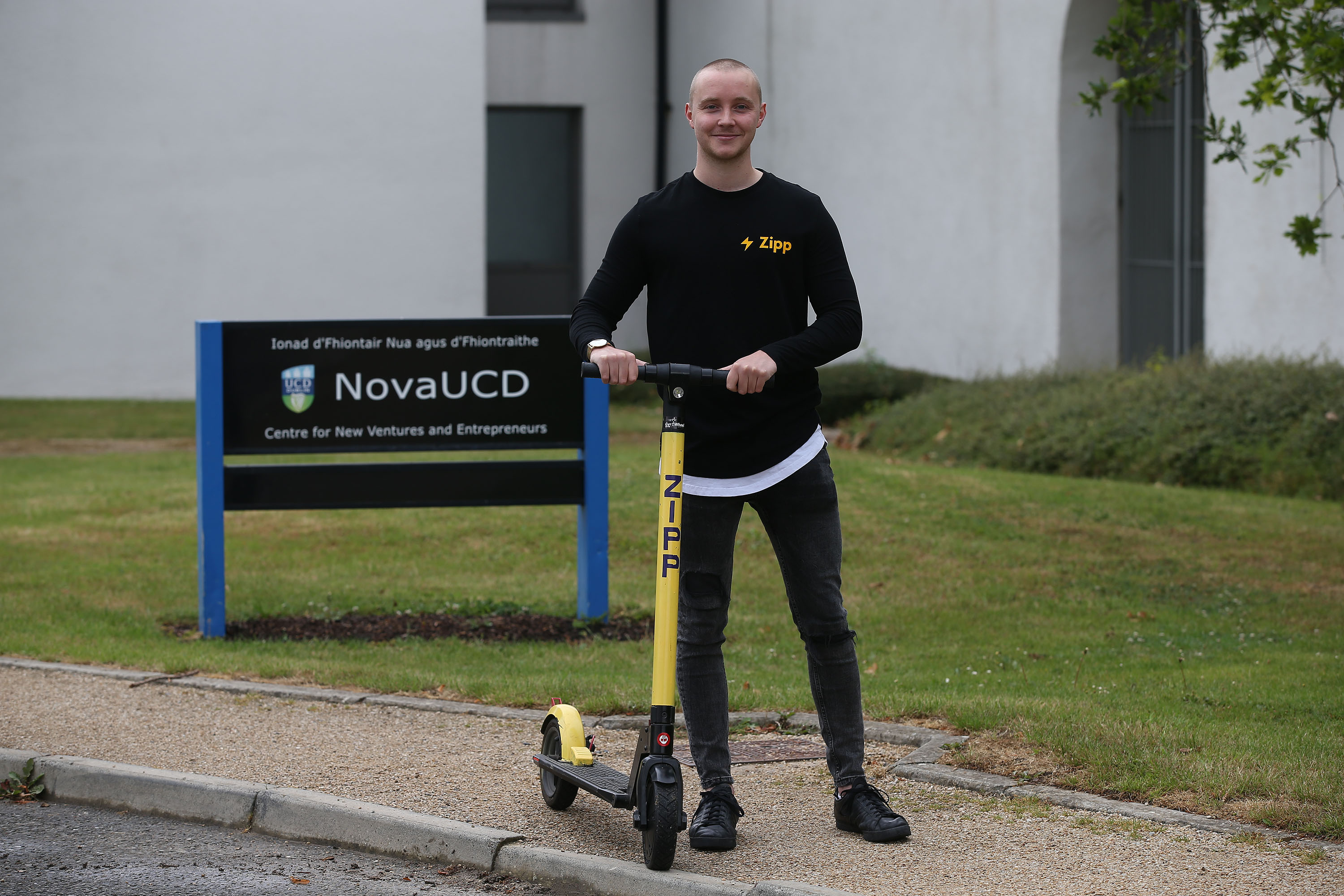 Zipp Mobility Secures €300k Seed Investment to Target UK e-Scooter Market
Zipp Mobility, the Irish dockless e-scooter start-up, today announced that it has closed a €300,000 seed investment round and expanded its team to target the UK e-scooter market.
The seed funding round was led by a London-based VC and private angel investors.
Last month, the UK government announced plans to accelerate city trials of rented e-scooter schemes to any region of the country that wants to operate these schemes in partnership with scooter firms.
Such trials were originally planned for June 2021 and only in 4 local authority regions; Portsmouth and Southampton, the West of England Combined Authority, Derby and Nottingham, and the West Midlands.
Now all UK regions are permitted to launch e-scooter sharing schemes, in their cities, as part of the UK government's plans to explore less congested and greener methods of urban transport in response to the COVID-19 pandemic.
Zipp Mobility, founded by Charlie Gleeson in 2019, is headquartered at NovaUCD, the Centre for New Ventures and Entrepreneurs at University College Dublin (UCD).
The company positions itself as an innovative solution to the 'last mile' problem, acting as the link between public transport stops and a commuter's final destination.
Charlie Gleeson said, "We had originally planned to trial our e-scooters with students on Irish university campuses, including UCD, earlier this year, but then COVID-19 arrived. Following on from the recent announcement by the UK government to bring forward and expand their e-scooter trials country-wide, we have now pivoted to focus on the UK market."
In order to capitalise on these emerging opportunities, Gleeson has been focused on growing the Zipp team. Newly onboard is David Maloney who brings more than twenty years of experience in business development at IBM. Other new hires include; William O'Brien, Head of Growth and Government Affairs, and Ben Duffy, Financial Analyst, both recent graduates of UCD Lochlann Quinn School of Business.
He added, "We are delighted to have secured this seed funding which has enabled us to expand our team to 6 people. Our team is now focused on securing e-scooter licences to provide affordable and less congested micro-mobility alternatives in cities across the UK during the COVID-19 pandemic and beyond."
The Zipp Mobility concept is straightforward; customers simply download the Zipp Mobility App, use the GPS locator to find their nearest scooter, and scan the QR code to unlock and ride.
Having observed the challenges faced by other micro-mobility start-ups, namely scooter churn, Zipp Mobility has ensured that their scooters are substantial models, designed to withstand the wear and tear of frequent use.
The scooters will be equipped with swappable batteries, that can be easily changed when necessary. The company will also operate a 'centralising charging model', creating full time employment while avoiding ethical issues associated with the gig-economy.
Charlie Gleeson concluded, "While our current focus is on the UK market, Irish university campuses are particularly attractive locations in which Zipp Mobility can build a strong customer base. Tapping into such a concentrated pool of young people is fertile ground for proving e-scooter demand on a wider scale. It will also serve as a medium of convincing Irish government bodies of the viability and safety of the service. Plans to trial on campuses are currently in development."
"In addition I warmly welcome the commitment to legislate for e-scooters as highlighted in the recently published programme for government document. I hope this legislation will be introduced as soon as possible within the lifetime of the next government."
Zipp Mobility is an Enterprise Ireland High-Potential Start-Up (HPSU) client company.
Gleeson (24) is a recent graduate from the UCD Lochlann Quinn School of Business. In 2019 he completed NovaUCD's mentoring programme for student entrepreneurs and the UCD VentureLaunch Accelerator Programme run by NovaUCD for early-stage start-up companies.
ENDS
18 June 2020
For further information contact Micéal Whelan, Communications and Media Relations Manager, UCD Research and Innovation, NovaUCD, e: miceal.whelan@ucd.ie, t: + 353 1 716 3712.
Editors Notes
Zipp is a dockless scooter rental company launching in the UK and Ireland in 2020. Our mission is to reduce congestion and greenhouse gas emissions by providing affordable micro-mobility alternatives that enhance the quality of life of communities across the world. https://zippmobility.com/
At NovaUCD, the hub for new ventures and entrepreneurs at University College Dublin, we nurture and support new high-tech companies as part of UCD's mission. At NovaUCD we provide purpose-built, state-of-the-art incubation facilities alongside a comprehensive business support programme for client companies such as Zipp Mobility. NovaUCD has been funded through a unique public-private partnership that includes AIB Bank, Arthur Cox, Deloitte, Enterprise Ireland, Ericsson, Goodbody Stockbrokers, UCD and Xilinx. www.novaucd.ie