Conor K. Ward | 23rd June 1930 - 18th July 2021
Conor K. Ward, BA, BD, STL, PhD (Liverpool)
Born 23rd June 1930; died 18th July 2021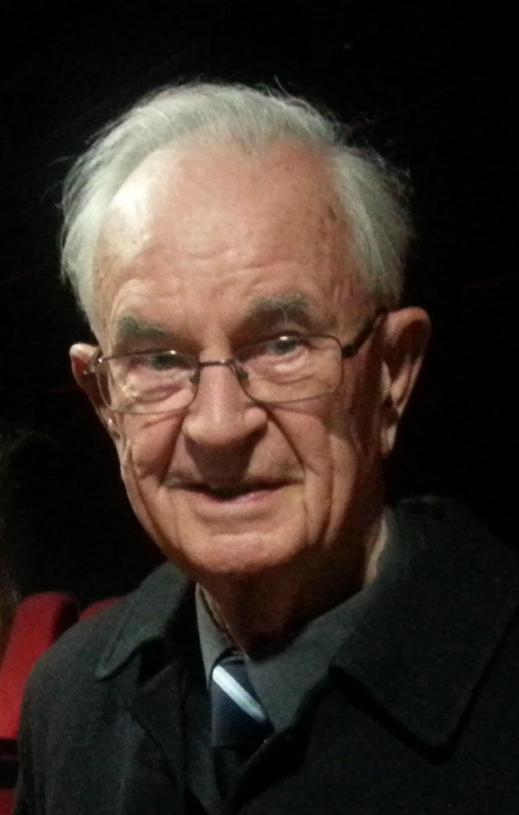 The death has occurred of Monsignor Conor K. Ward, former Professor of Social Science at University College Dublin. Gentleness and kindness were the words most frequently used at his funeral Mass at St Brigid's Church Cabinteely, where Archbishop Dermot Farrell recalled Conor Ward's contribution to the sociology of religion, his academic career and his contribution to the development of the University of Bethlehem.
Professor Ward was born in 1930, the eldest of five children, in Rush in Co. Dublin, to Thomas and Kathleen Ward (née Monks). His father was a civil servant and had degrees in agriculture and science. He died in 1941 a few months before Conor's 11th birthday. His mother Kathleen, with help from extended family ensured that Conor and his siblings availed of every opportunity to pursue educational aspirations. A younger brother Tom died in a football accident in 1954.
Conor won scholarships to secondary school (St Macartan's, Monaghan) and to university. At University College Dublin, he took the BA Degree in Philosophy and Politics in 1950. Ordained priest in 1953, he was a student at the Pontifical University, Rome from 1950 to 1954 and gained the degrees of BD and STL, both with First Class Honours. After ordination, he held a number of chaplaincies for two years. Hoping to be appointed to serve in a parish in a deprived area, he was, instead, sent by Archbishop John McQuaid to study Sociology at the University of Liverpool. He was awarded a PhD Degree 1959. His PhD thesis formed the basis of a book, Priests and People, which was innovative in the development of Sociology of Religion as an academic speciality.
He was appointed as a lecturer in the Department of Social Science in University College Dublin where he spent thirty-two years working tirelessly in building up the Social Science Department. He transformed the teaching of Sociology in University College Dublin, establishing it on a firm empirical and theoretical basis. With colleagues he established the Social Science Research Centre in 1961, which developed a substantial policy-oriented research programme. Among the Research Projects, directed by Conor Ward were: Manpower in a Developing Community (1967) for the Department of Labour; New Homes (1968) for An Foras Forbartha; and New Homes for Old (1969) for the Irish National Productivity Committee. In addition to their substantive significance these research projects provided valuable training for young Social Science graduates many of whom became distinguished researchers and academics. The Drogheda Manpower Study, in particular, was a ground-breaking achievement in the Ireland of its day as it was widely believed at that time that such survey methods would not work in Ireland. This study proved them wrong and has led to a strong 'industry' of social and market research which have contributed to the modernisation of Irish society. His strong emphasis on empiricism influenced a generation of social scientists.
In addition to his contribution to teaching and research Professor Ward took on a range of administrative and leadership roles and served on a wide range of advisory committees. He was a member of the President's Committee which prepared the UCD Development Plan in 1986. He was Dean of the Faculty of Philosophy and Sociology at UCD 1988-1991.In the wider community Professor Ward made many important contributions. He was chairman of the Dublin Institute of Adult Education in Mountjoy Square for many years. He served on the Executive Committee of the Economic and Social Research Institute, on the Committee for Economic and Social Science of the Royal Irish Academy, on the Irish Council of Churches/Roman Catholic Joint Group for the Study of Social Problems, and on the Board of the first Irish/EC Combat Poverty Programme.
Abroad, Professor Ward was very much involved in the EC as expert and rapporteur to the Economic and Social Committee, and as an Irish adviser on the FAST/Monitor Programme (DG XII) for which he coordinated the Research Project, World and Local Technologies. His contribution, together with that of the late Tomás Roseingrave, was especially influential in securing EU funding for international collaborative social research. This research has contributed to the development of the social and policy sciences.
He was also an active participant in the International Social Survey Programme which carries out comparative social research projects (currently) in 42 countries. He negotiated Ireland's participation in this programme which in its early years was funded by the late Prof Andrew Greeley, an Irish American priest sociologist who shared his commitment to the use of empirical studies to help understand social issues.
Professor Ward was the first coordinator of the UCD-EC Bethlehem University project on the West Bank working with fellow UCD scientist, Dr. Colette Dowling. This was a highly important development for this institution, as attested in the special award he received and in the citation which reads: 'For many years now you have visited us at least twice yearly. You used your Irish wit, wisdom and academic experience to encourage and prod us along the way of improvements. You have also formed deep friendships here....'. Although founded as a Catholic University in 1973 Bethlehem catered for Palestinian nationals of all creeds and was frequently subject to closures by Israeli forces. These often coincided with the arrival of the Irish coordinators.
For many years he spent almost all his waking hours in UCD. He had a strong collegial spirit and saw the value of cooperation and coordination in many fields. He established cooperative teaching arrangements with the faculty of Commerce, which enabled Social Science students to study industrial relations as part of their B.Soc.Sc. degree and provided teaching in Survey Methods to Business Studies students. He encouraged innovation both in departmental structures and academic disciplines. In the case of his own original Department of Social Science, he facilitated its division into two separate Departments (now termed Schools) of Sociology and Social Policy and Social Work. He played a key role in facilitating the development of the discipline of Equality Studies led by one of his own graduates, Professor Kathleen Lynch. This new field has since been replicated in universities internationally. He was also supportive of other new developments such as Women's Studies and was very supportive of women staff.
For many years Imogen Stuart's sculpture of Pangur Bán was positioned beside the stairway which led to Conor's office at UCD. He viewed himself as a link in the chain of Irish intellectual priests and loved to quote the poem in its English translation:
I and Pangur Bán, my cat,
'Tis a like task we are at
Hunting mice is his delight
Hunting words, I sit all night.
Conor Ward was a member of a cohort of intellectual priests from the archdiocese of Dublin who contributed to the shaping of modern Ireland. His distinguished contribution to development of the Social Sciences disciplines and to the application of this knowledge in the service of society ranks with that of the Radharc team which helped shape Irish television and others who worked as adult education innovators.
In the early years of his retirement, he was appointed to the parishes of Clonskeagh and Cabinteely. His ties with Bethlehem led him to study sacred places and he led pilgrimages to the Holy Land and Cappadocia which were greatly appreciated by parishioners, some of whom travelled on every trip!
Conor Ward was predeceased by his parents, brothers, Tom and Iral and sister Evelyn. He is survived by his sister, Emer (O'Mahoney), brothers-in-law, Malachi and Dermot, sister-in-law, Madge, nieces, nephews, grandnieces and grandnephews.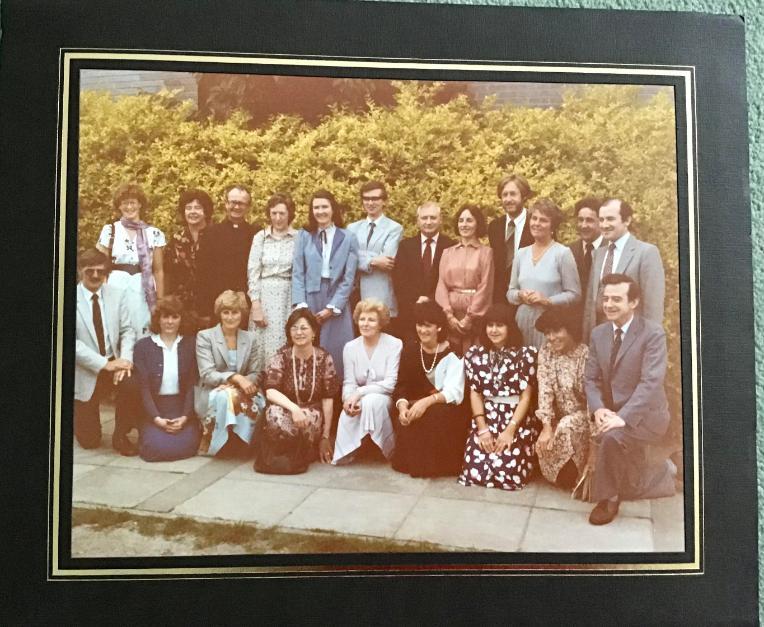 Conor Ward (back row, third from left) with colleagues from the UCD Department of Social Science on Belfield campus in 1984
Comments and memories from Conor Ward's former students at UCD
I was a student in UCD in the 70's. I remember being called to Conor's office for feedback on an essay, absolutely terrified of what I would hear but he was so supportive, constructive and kind to a nervous first year student. It always felt that students were at the heart of his role in UCD, now we would call it student centered.Conor also seemed to remember students long after they left the university. A few years after I graduated, he gave me my first opportunity to work in UCD as a Sociology tutor. He had a way of being inclusive and positive and as I got to know him as a colleague I began to understand that these were not just personality traits but they were part of his view of the world and he worked towards a world that valued and included everyone.
Dr Hilda Loughran
Associate Professor, Fellow in Teaching and Academic Development, School of Social Policy, Social Work and Social Justice, UCD
----------
I was very sorry to hear about the death of Conor Ward. He was an inspirational figure to me as an undergraduate in Social Science and when I did my Master's Degree in the early 1970s. He was a kind, generous and encouraging man. He was a teacher, mentor and friend. He did a lot to promote the importance of social research in the Department. I learned a lot from him and remain grateful to him for what I received.
Margaret Sheehan
----------
I remember him as a gentle and thoughtful Head of School when I was there in 1981-84 when I graduated with a B.Soc.Sc
RIP
Una Redmond
----------
I studied for my primary degree in Social Science at UCD 1968-1971, and my tutor was Prof Ward. My main subject was Sociology, and my contact with Prof Ward involved Social Research primarily. I thoroughly respected Prof Ward, and valued the very focused sessions I had available to me at the time. He was always friendly with a ready smile, and always very effective and efficient in getting to the nexus of the work in hand. I always considered him credible and professional, one from whom I could learn substantially. He was also good at handling question & answer tutorials, meetings I made certain to prepare well for, and thinking things through as far as possible in advance. With Sociology, this was always a challenge, as it is in the area of the Humanities, and not "pure science" so to speak. Sociology was rather a "new subject" at that time, spanning a broad sweep of relevant areas of other subjects, and developing rapidly. One had to read broadly, and still distill that which could truly belong to Sociology. Specifically, social research had to be measureable and verifiable; correlations had to be identified that were truly "causative correlations"; clarity on statistical significance, and confidence levels in research had to be reached. Prof. Ward extracted clarity out of all of this for us.
An honorable, upright person, worthy of our respect, and remembered with affection.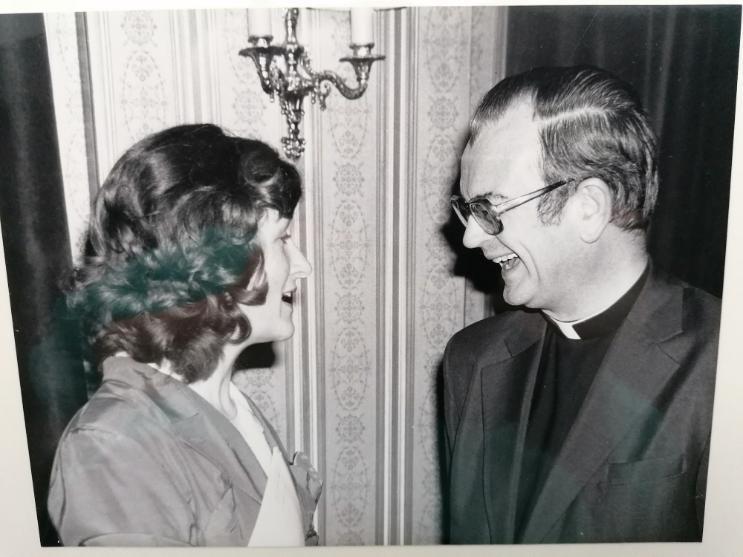 Carmel Buttimer with Conor Ward at a class reunion (photo credit: Carmel Buttimer)
----------
I started in Social Science in UCD in 1973. I was the first student to go directly after Leaving cert from my old Alma Mater St Macartans College Monaghan. This was the same school Conor attended as did the late Des McCluskey. Both gave me a warm welcome when I arrived. My memory of Conor was his warm gentle presence. Go bhfanfaidh se i suaimhneas.
Christopher Sheridan, Class of 1976.
----------
So sorry to hear of Dr Ward's passing. He was a very kind and gentle man. I studied Social Science from 1980 to 1983, and he was Head at the time. He later helped me apply for a sociology scholarship to study in Copenhagen.
Condolences to his family and friends.
Carmel Ennis
----------
Dr Conor Ward I remember well. He was just appointed to the college when I was doing a B.Soc.Sc. A refreshing, vibrant lecturer one would not forget. Solas na bhflaitheas air agus go gcumhdai na haingle é.
Aoife Ni Thiarnaigh
----------
When I was a master's student in his Department, Conor took the time to advise me to do a PhD outside Ireland and explained how I might obtain funding. When I opted to undertake doctoral studies at Oxford University Conor made introductions that opened doors. I owe him a great deal and extend my sympathy to his family and former colleagues.
Bill Roche, Social Science graduating class of 1977
----------
I am very sad to hear about the passing of Conor. May his gentle soul rest in peace.
I am very grateful to Conor for several reasons.
The first is that he was a wonderful mentor and friend to me and helped to sow the seed for loving research which has continued today.
However, I am really grateful to him as he was instrumental in me working in All Hallows College both part time and full-time over 23 happy years.
In the early 90's Sr Moya Curran (RIP) set up an innovative degree programme for Pastoral Leadership in All Hallows College. She contacted her friend Conor in UCD and asked if he could provide a lecturer in Sociology in the new programme. This then developed into Research for the students' Masters Degree which then developed into PhD degrees when All Hallows became a College of DCU.
At the 10 year anniversary celebration of the first cohort of Pastoral Leadership degree students, Sr, Moya gave a speech where she told everyone in attendance that I had arrived in All Hallows Staff due to a mistake!!! This was the first time I had heard this! Apparently Conor told Sr Moya that he would recommend a person called Fitzpatrick. As you may remember, both Maire (Ni Ghiolla Phadraig) and myself (married name Fitzpatrick) were classmates and friends (both in Social Research) and so due to some confusion I was the lucky Fitzpatrick to arrive in All Hallows.
I will remain eternally grateful to Conor for those great 23 years.
Marjorie Fitzpatrick PhD
----------
It was with great sadness that I learnt of the recent passing of Monsignor Conor Ward. I first met Conor when I was a social science student in the 1970s. Conor was a wonderful professor. He had a sensitive and warm approach to people. He was so calm and unflappable and exuded kindness and gentleness. He took a personal and keen interest in the students' welfare and progress and was always available to offer guidance and support.
Conor had all the attributes of a wonderful mentor. He was a great listener, was knowledgeable, willing to give candid feedback and open to using his contacts when needed. I will always value the guidance that he gave me when it came to considering postgraduate options and the keen interest that he took in my progress. I owe him so much in terms of my career progression over the years.
In more recent years, Conor involved me in his development work with Bethlehem University. For me, the time - albeit short - spent in Bethlehem University was one of the most rewarding periods of my academic career. It was clear from talking to the people in the University just how much Conor invested in helping the University fulfil its mission in what were very difficult circumstances.
Conor will be sadly missed by all those who were lucky enough to have come under his wing. He was many things but, above all else, he was a lovely man. May he rest in peace.
Geraldine O'Brien
If you are a former UCD student and would like to join the Alumni Network, you can do so here.
UCD School of Sociology
Newman Building (Room D401), University College Dublin, Belfield, Dublin 4, Ireland. T:
+353 1 716 8263