Prof Siniša Malešević | Grounded Nationalisms | Runner-up (honourable mention) in the 2020 Stein Rokkan Award
Grounded Nationalisms is runner-up (honourable mention) in the 2020 Stein Rokkan Award
31/7/2020
UCD Sociology's Prof Siniša Malešević's Grounded Nationalisms has been awarded runner-up (honourable mention) in the 2020 Stein Rokkan Award. The overall prize was awarded to The Wealth Effect: How the Great Expectations of the Middle Class Have Changed the Politics of Banking Crises by Prof. Jeffrey M. Chwieroth of the LSE.
The annual Stein Rokkan Prize for Comparative Social Science Research is presented by the International Science Council (ISC), the University of Bergen and theEuropean Consortium for Political Research (ECPR). The prize is open to works in comparative studies from all social science disciplines. It is given to a submission deemed by the Jury to be a substantial and original contribution in comparative social science research.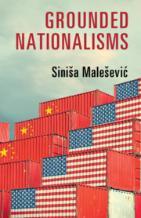 Grounded Natoinalisms: A Sociological Analysis was published in 2019 by Cambridge University Press.
Book description:
Globalisation is not the enemy of nationalism; instead, as this book shows, the two forces have developed together through modern history. Malešević challenges dominant views which see nationalism as a declining social force. He explains why the recent escalations of populist nationalism throughout the world do not represent a social anomaly but are, in fact, a historical norm. By focusing on ever-increasing organisational capacity, greater ideological penetration and networks of micro-solidarity, Malešević shows how and why nationalism has become deeply grounded in the everyday life of modern human beings. The author explores the social dynamics of these grounded nationalisms via an analysis of varied contexts, from Ireland to the Balkans. His findings show that increased ideological diffusion and the rising coercive capacities of states and other organisations have enabled nationalism to expand and establish itself as the dominant operative ideology of modernity.
UCD School of Sociology
Newman Building (Room D401), University College Dublin, Belfield, Dublin 4, Ireland. T:
+353 1 716 8263