UCD Exhibition Garden at this years Bloom Festival
The innovative exhibit garden is titled 'UCD History of the Irish Diet in Plants'. It brings to life the story of the Irish diet from the early Irish settlers to the introduction of farming, how tastes changed with the entry of imported foods, the impact of industrialisation, and the implications of the modern expansive diet.
The garden is divided into five sections based on societal developments that led to dramatic changes in the Irish diet. The chosen plants in each section primarily reflect evidence from archaeological science, highlighting the ever changing diet in Ireland since ancient times.
There are five sections to this garden which takes through a journey from early settlers, through to the first farmers, to the early medieval period, the industrial society and finally right up to the modern day 21st century.
The garden includes pastureland to represent grass-fed animals (cattle, sheep and pigs), and ponds to depict early dependence on lakes for fish and plants. The garden is also filled with fruits, vegetables and cereals.
The earlier sections contain food plants that would now be largely considered as weeds, such as fat-hen and nettles, along with early cereals and plants that were important in foraging.
The later sections include fruit and vegetables that we see in our modern Irish supermarkets today.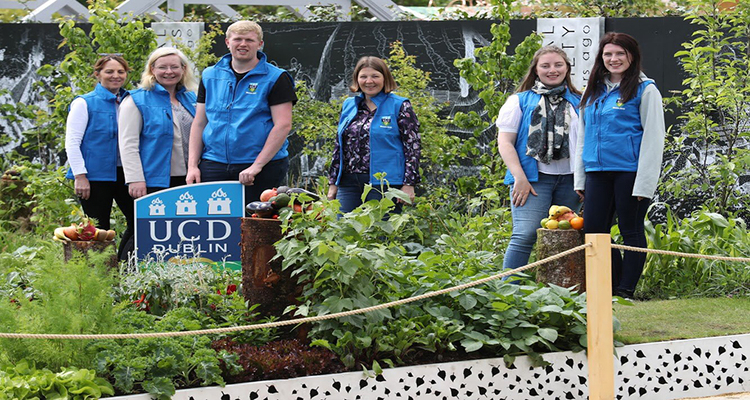 Pictured here are UCD students in Lanscape architecture, John McCord, Ciaran Rooney, Hannah Johnston and Niamh Conlan who designed the exhibit alongside Dr Caroline Elliott-Kingston from the UCD School of Agriculture and Food Science, and Dr Meriel McClatchie from the UCD School of Archaeology.
One of the main goals in creating the garden, according to the team from UCD, was to enage in conversation around the implications of the transition from local to global as well these changes have influenced the Irish diet especially in recent centuries. The team note that one of the biggest changes to the Irish diet has undoubtedly been the fact that while most of our early food was locally grown and sourced, the modern diet consists largely of imported produce. This means we are consuming much more sugar and processed foods compared to the fresh, home-grown local produce our ancestors would have eaten. This leads us in to the main question we must ask ourselves which is whether we are in fact any healthier on this modern global diet?
The team from UCD added that: "UCD is the leading national research centre for the archaeology of food and for modern agriculture and horticulture".
Bloom 2019, the celebrated floral, food and family festival organised by Bord Bia, featured 22 show gardens, 14 postcard gardens, 25 plant nurseries and over 100 Irish food and drink producers.
The festival which took up an 70-acres at Phoenix Park was open to the public from Thursday the 30th of May to Monday, 3rd June.