Computer Science Research and the COVID -19 Pandemic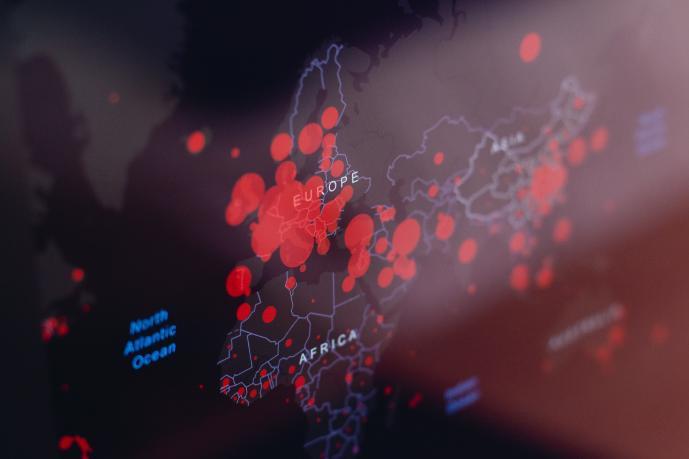 Photo by KOBU Agency on Unsplash
When the COVID-19 pandemic began to spread, universities and research institutes all over the world mobilised to direct their efforts to finding a cure for the illness and to mitigate its effects. As societies closed down to prevent the spread of COVID-19, associated problems surfaced and became the focus of scientific efforts as well. Now that many countries are 'opening up' again, without a verified therapy or vaccine for the disease, new research is needed to accommodate a safe return to economic and social activity. During each of these phases, Computer Science Research has played a considerable role. Below some of our colleagues discuss their research discipline and the role that it has played and will continue to play in addressing this pandemic and related phenomena.
Computational Biology

All modern biology is to some extent dependent on computers and SARS-CoV-2 biology is no different. For example, whenever a genome is sequenced computers are used to assemble the genome and make sense of the resulting data. The first SARS-CoV-2 virus genomes from Irish patients were sequenced and assembled in UCD. Computational analyses of these genomes revealed that one of first strains in Irish patients was identical to those found in Wuhan, while other early strains in Irish patients were more similar to a group of strains found elsewhere in Europe, and these came from patients with a history of travel to Northern Italy. Computational approaches are also being used to try and identify existing drugs that might be repurposed to help fight SARS-CoV-2 infection. Perhaps less exciting, but no less important, than the computational tools for analysing genomes and finding new drugs is the extensive computational infrastructure that helps share data (e.g. genomes, protein structures, scientific publications) among researchers. For example the COVID-19 Data Portal has been set up as a pan-European effort to rapidly share information among researchers worldwide.

Software Engineering

Governments and public health authorities around the world are working on contact tracing app solutions to help curb the spread of COVID-19 pandemic. These would record the interactions of an infected person in the days prior to their development of symptoms, and help authorities to instruct these people to self isolate for a period of time. To work effectively people would need to share their location information and their health status with a centralized database. These kinds of information are high on the list of concerns that people normally have around their privacy. As a result many users will not agree to use these apps in sufficient numbers to be useful.
There are other apps and devices that can be used to keep strict social distance and some of these are already on the market. These might work without collecting or transferring any sensitive data. It is possible that newer technologies like Blockchain could help keep high standards of privacy. It will be the job of researchers to not only create these technologies that are in line with people's need for privacy, but also to assess and critique each other's work to make sure that these technologies are transparent in their collection or use of data. This is our best chance to allay the fears of the general public and encourage enough people to use these technologies such that they can start to be effective.

Computer Science Ethics

While most of us are clear as to the benefits of applying computational tools to the search for diagnostics and mitigating the spread of COVID–19, we need to remember that any computational solution to matters of a social nature, even a pandemic, need the utmost caution. All COVID–19 related work has societal implications and the potential to directly impact individual people. For example, digital contact tracing solutions pose fundamental privacy rights and open the door for potentially irreversible surveillance systems; predictive systems used on COVID–19 patients raise serious concerns including racial bias. Historically, algorithmic prediction in the medical sciences has suffered from lack of understanding of how seemingly 'neutral' metrics are racially biased, and the resulting technology has carried this bias through, and in some cases compounded it. Researchers need to constantly look for signs that their solutions might be echoing or magnifying social problems such as inequality and strive to acknowledge this and minimise its effects.
While computer scientists may be eager to contribute, work that is unaware of social and ethical ramifications could do more harm than good. The social world is immensely complex, often defying simple solutions. Although technological solutions might appear as magical shortcuts, it is crucial to remember technology is not a substitute for a well-functioning national health system or human expertise. Furthermore, not all problems have technological solutions and the more we veer into the social sphere, the truer this becomes. Well-balanced computational research considers its societal implications and who is likely to be negatively impacted, as well as being clear about what the technology can and cannot do.

Geospatial Research

Gavin McArdle and Michela Bertolotto
Epidemics and pandemics are spatial and temporal in nature as the spread of the disease occurs within a geographic space and time. Geospatial and Spatio-Temporal research concerns the development and application of computational techniques to store, process, analyse and report the relationships that exist in spatial and temporal datasets. The task is complex as it requires both the temporal and spatial correlations to be accounted for. Any technologies introduced to help with pandemic understanding and response needs to account for space and time.
Given the current COVID-19 pandemic, there has been an increased interest in the use of geospatial and spatio-temporal analysis techniques. In data collection, applications which monitor the symptoms and duration of the disease, must also be spatially enabled to effectively report on interactions between people/phones. The analysis of data can help us understand the effects of conditions on the spread of the virus (e.g. pollution). Human movement modelling and simulation including trajectory analysis can help us to understand and predict the spread of COVID-19 while Social Network Analysis (modelling and prediction) can detect and predict new outbreaks. Finally, intuitive map-based interfaces and dashboards can present and disseminate data and information to experts and the public.

Speech, Audio, Visual Signal Processing
Although many of us were extremely grateful to be able to carry on our work and social lives through video-conferencing while remaining at home, it quickly became apparent that online meetings, face-to-face chats with family and virtual beer gardens were not the same as the real thing. People found that they were more tired after a day of online meetings than they would be after a day's work in the office. Researchers who specialise in Quality of Experience (QoE) research can help explain why this is and what we can do in the short term to lessen the effects of 'Zoom fatigue', while at the same time, they are designing models and tools to improve these technologies and make them less taxing to use.
Quality of Experience researchers work to improve our listening and viewing experience. QoE measures the degree of delight or annoyance that a user has with an application, and works through the entire technological system to improve this. QoE researchers create hierarchies of listening or seeing needs. These hierarchies don't just reflect the physicality of listening or seeing, they also need to be culturally informed and responsive to the recipient's environment. By arranging them in a hierarchy, researchers can prioritise particular features in cases where it is not possible to optimise all aspects of experience, such as reduced capacity in a network. Recent advances have led to real-time tools to improve the quality of YouTube videos While they work hard to make all of our online experiences as enjoyable as possible, QoE researchers can already share their expertise on how our senses respond to our imperfect solutions, and what steps we can take now to make our online activities less taxing.
Cyber Security
One feature which has been much commented on is that the world has reached a level of technology that allows millions of us to work and study from home. People who are ill or at risk can remain in their houses and access food, healthcare and almost all of life's necessities and comforts from home. What has not been appreciated by many, however, is that this shift has altered the global cyber security landscape, and this has been seen as an opportunity for cyberciminals. In recent weeks, Europol, the United States Department of Homeland Security, and the UK National Cyber Security Centre have warned that cyber attacks have increased and are expected to continue to do so.
A work-from-home environment pushes the defence line outside of an organisation. Setting up remote working services could pose a potential security risk when combined with possible human-error-enabled security failures. For example, in specific conditions and crisis situations such as the pandemic of coronavirus (SARS-CoV-2), e-learning systems became crucial for the smooth performing of teaching and other educational processes. In such scenarios, the availability of e-learning ecosystem elements is crucial and the DDoS (Distributed Denial of Service) attacks should be prevented.

Data Science

One of the features of the COVID-19 pandemic has been the wealth of information and datasets that have been released to the public about everything from the latest academic research to regional case counts, death rates, and other relevant statistics. This has been both a blessing and a curse, as much of this data is quite raw, and appears to compare 'like for like', when in fact different countries had different methods of data collection and different chronologies of the disease. But with the release of such a large amount of data, data scientists have been able to get to work on it, exploring many aspects of the pandemic in the hope of at least better understanding its effect on the world, but perhaps also in the hope that such analyses will reveal help us to respond more effectively going forward.
Initially researchers began by looking at simple case counts and fatality statistics, with a view to charting and comparing how different countries were responding. But from there, and as more data have been released, it has been possible to explore many other aspects of the pandemic, and to use a wider range of data to corroborate or check initial figures. For example, I was one of the first people to use RIP.ie data to estimate all-cause mortality to get a better sense of the impact of COVID-19 on death rates, beyond the official figures; the results suggested a potential under-counting of COVID-19 deaths at the time. More recently my work has looked at using a combination of mobility data and transmission rate estimates to evaluate and compare the different lockdown strategies that countries have employed. The hardest-hit countries tended to start their lockdowns later and more gradually than countries that have registered fewer deaths per capita. There is also evidence that those countries that were cautious in lifting their lockdowns have controlled their post-lockdown outbreak more effectively than countries that lifted restrictions sooner.