Student Inter-Society Tech & Enterprise Meetup (SISTEM) held in UCD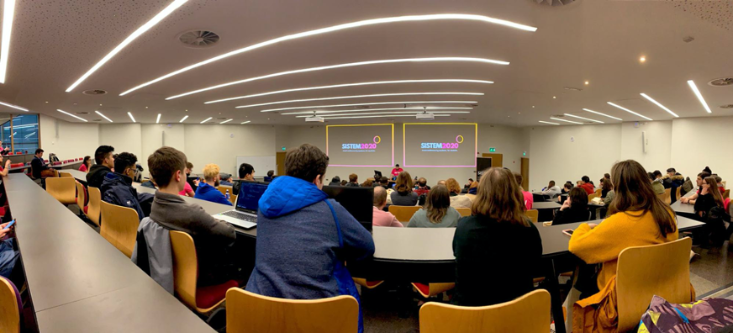 SISTEM (the Student Inter-Society Tech & Enterprise Meetup) is Ireland's largest tech conference organised by students for students, with the mission to inspire the next generation of tech. It is the only student-run tech conference in Ireland, and one of very few student-run tech conferences in the world. SISTEM is organised by a collection of student societies from across the island of Ireland, including UCD Netsoc, DCU Redbrick, DU CSS, TUD Compsoc, DU Netsoc, MU CSS, UCC Netsoc, QUB Compsoc, and NUIG Compsoc.
This year, for its 3rd edition, SISTEM was hosted by UCD Netsoc with support from the UCD School of Computer Science in the O'Brien Centre for Science in UCD on Saturday 29th February 2020. Over 200 of Ireland's most engaged students in computing travelled across the country to attend this SISTEM 2020. 23 speakers were invited from all aspects of the tech community, both in Ireland and abroad, to share their experiences in tech with an eager audience of students. All expenses for the event were covered by seven event sponsors, including Microsoft, Mastercard, and Stripe. €2,000 was raised from ticket sales, all of which was donated to Jigsaw, this year's chosen charity.
The event featured talks (including 'Distributed System Design' and 'What does a Product Manager actually do?'), panels (including 'Accessibility in Tech' and 'Women in Tech') and workshops (including 'Blockchain' and 'Image Classification using Machine Learning').
We look forward to next year's conference!