UCD CS PhD candidate award from IEEE Consumer Electronics Magazine
UCD CS PhD candidate award from IEEE Consumer Electronics Magazine
By Pasika Ranaweera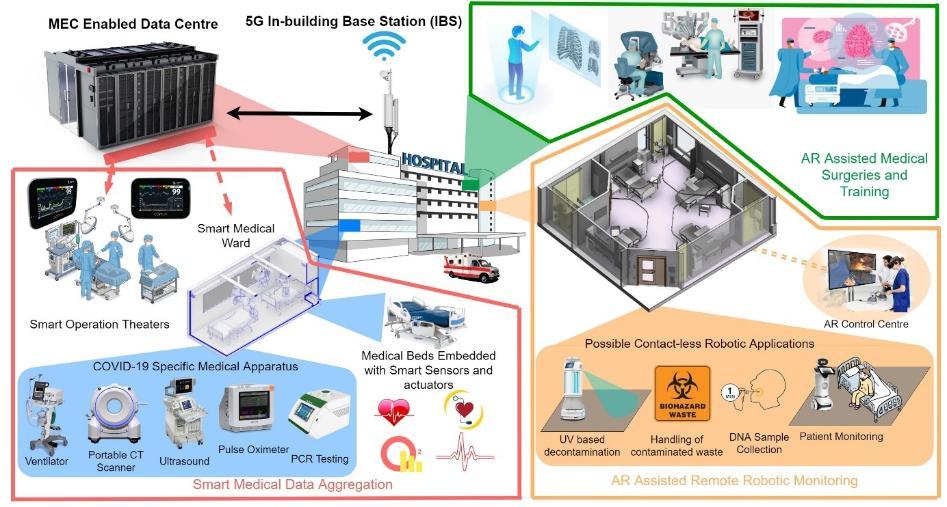 Pasika Ranaweera, a PhD candidate in the UCD School of Computer Science, recently received the 2nd place Best Paper award for IEEE Consumer Electronics Magazine for the year 2021. This award was presented by the IEEE Consumer Technology Society (CTSoc) at 2022 IEEE International Conference on Consumer Electronics (ICCE 2022).
A Smart Hospital will have an IoT infrastructure with thousands of connected devices (see illustration above), performing a very wide range of tasks. Enhanced Mobile Broadband (eMBB), Ultra-Reliable Low Latency Communication (URLLC) and massive Machine Type Communication (mMTC) build on 5G broadband cellular network technology for ultrafast communication in a hospital with an extremely high density of connected devices. Multi-Access Edge Computing (MEC) enables applications and services requiring accelerated responsiveness. Supported by Augmented Reality (AR), these technologies make it possible to develop contact-less services in the Smart Hospital.
The devastation caused by the COVID-19 pandemic over the globe is keeping the research community on its toes. My paper proposes some novel contact-less medical approaches that can be deployed in suitably equipped hospitals for investigation, diagnosis, treatment and surgery for patients with COVID-19.
The proposed use cases are AR based remote robotic monitoring, smart medical data aggregation / patient monitoring and treatment, and AR assisted remote surgery. The paper proposes an architectural layout for realizing these use cases using MEC edge computing infrastructure, specifying the networking requirements in each case. It goes on to evaluate their feasibility through simulations, considering latency, scalability, and cost.
The findings will help Smart Hospitals to build an IT infrastructure that uses these technologies for maximum impact in terms of patient and staff safety, speed and efficiency.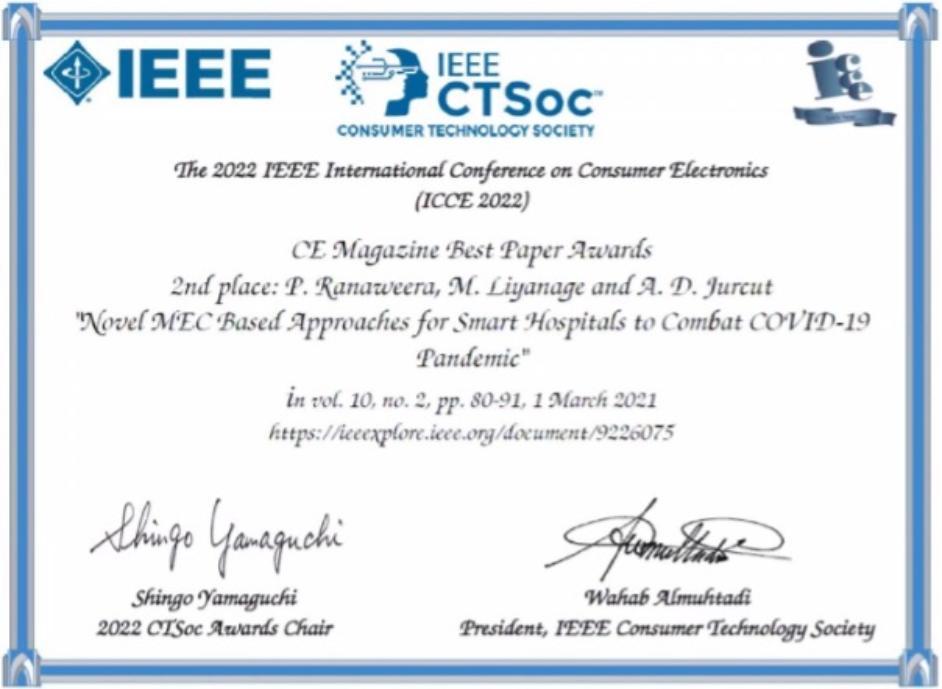 Reference for Best Paper
Ranaweera, Pasika, Madhusanka Liyanage, and Anca Delia Jurcut. "Novel MEC based approaches for smart hospitals to combat COVID-19 pandemic." IEEE Consumer Electronics Magazine 10, no. 2 (2020): 80-91.
https://ieeexplore.ieee.org/document/9226075/
https://www.semanticscholar.org/paper/Novel-MEC-Based-Approaches-for-Smart-Hospitals-to-Ranaweera-Liyanage/37f8469508f8f45162ad0885946837fda6854bb6
This work was supported in part by European Union in RESPONSE 5G (Grant No. 789658) and in part by Academy of Finland in 6Genesis (Grant No. 318927) projects. The authors would like to acknowledge the contribution of the COST action CA16226 (SHELD-ON) project.
February 2022
Published 18.02.22