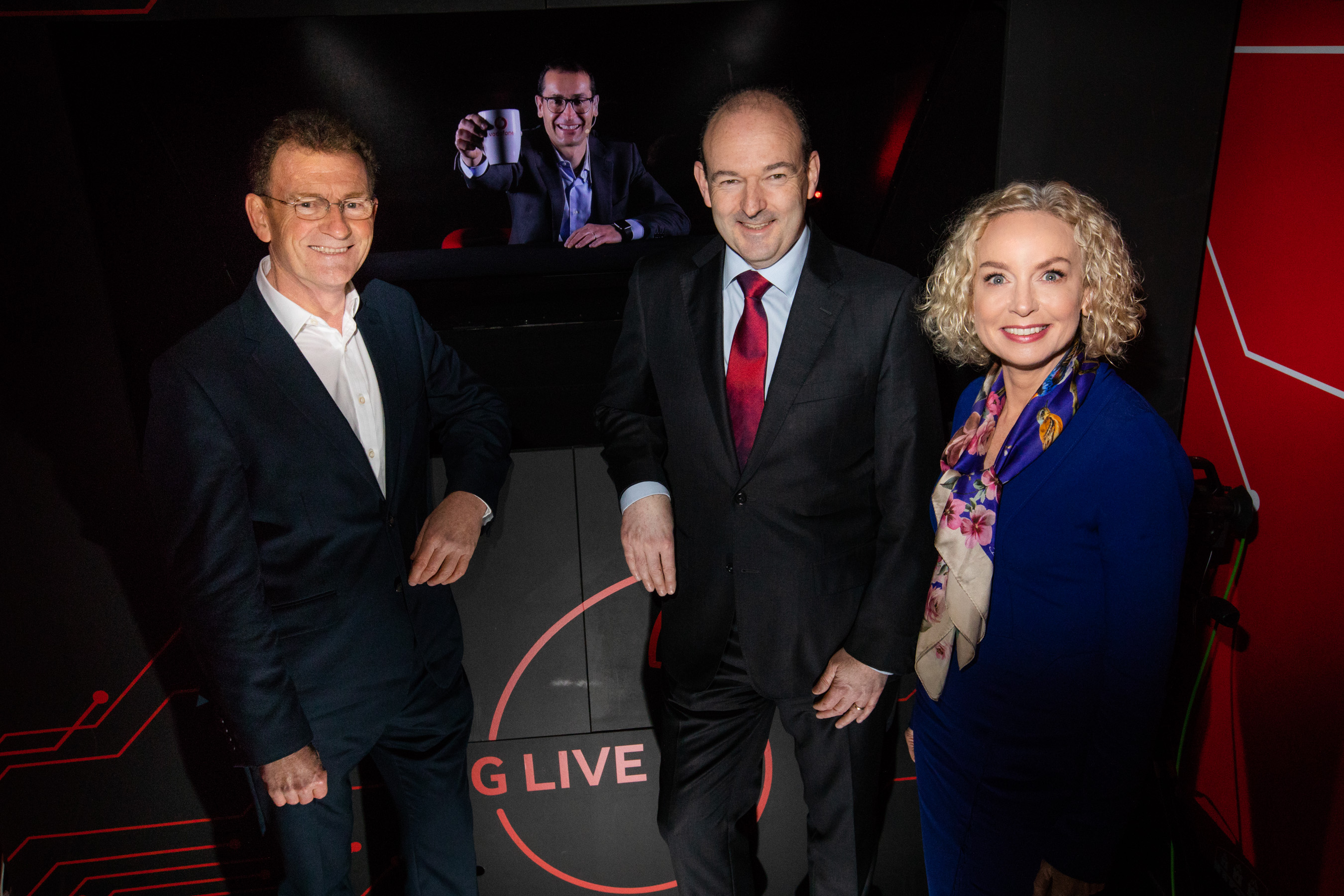 Ireland's First Dedicated 5G/IoT Accelerator Programme Open for Applications
Entrepreneurs can now apply to take part in Ireland's first dedicated 5G/IoT Accelerator Programme.
The programme, a collaboration between Vodafone, Ericsson and NovaUCD, was announced as part of the launch of Vodafone Ireland's first live 5G network site for commercial use in Dublin's docklands in late 2018.
The programme will assist entrepreneurs who want to successfully launch 5G/IoT network-enabled products and services, and is suitable for a range of sectors including; agtech, medtech, transport, manufacturing, energy and utilities.
5G/IoT will bring ten times faster data transfer speeds enabling applications such as network delivered virtual, augmented and mixed realities for richer learning and gaming experiences. It will bring shorter delays in communication enabling drones, autonomous vehicles and Industry 4.0 robotics communicate faster.
5G will enable more people, devices and sensors to communicate with each other facilitating smart campus, smart arena and smart city applications.
Over a 10-week period, starting in May, the accelerator programme will offer 12 entrepreneurial teams the opportunity to validate the commercial potential and technical feasibility of their network products and services.
The programme, which will take place at NovaUCD, will draw upon Vodafone and Ericsson's deep expertise and market knowledge and NovaUCD's experience in building compelling and investable propositions.
Announcing the call for applications Tom Flanagan, UCD Director of Enterprise and Commercialisation said, "Through this new accelerator programme we want to work with dynamic teams who have the potential and drive to bring new 5G/IoT-network enabled products and services to market."
"We are now seeking applications from established businesses, start-ups and academic researchers, in Ireland and abroad, who are developing, or who want to develop, consumer or business-oriented network offerings."
A briefing session on the new Accelerator programme will be held on 16 April (11 am – 1 pm) in the Ericsson Software Campus, Athlone. Guest speakers at this session will include Laura Turkington, Senior Manager, Global Innovation and Business Development, Vodafone.
The deadline for receipt of completed applications is 26 April (12 noon). All applications received will be reviewed by a panel comprising commercial, technical and start-up experts from Vodafone, Ericsson, and NovaUCD.
A number of teams will be shortlisted to pitch to a panel of experts on 14 May in Dublin after which up to 12 teams will be selected to participate on the programme.
The accelerator programme will start soon thereafter and will be completed by the end of July. A final pitching event will then take place in early September.
Click here for Further details on the 5G/IoT Accelerator Programme, including a link to the application form and to register interest to attend the briefing session in Athlone on 16 April.
For further information on the programme contact e: 5gaccelerator@ucd.ie
ENDS
12 March 2019
For further information please contact: Micéal Whelan, UCD Research and Innovation, Communications Manager (Innovation) e: miceal.whelan@ucd.ie or t: +353 1 716 3712.
Editors Notes
Participants of the 5G/IoT Accelerator Programme will benefit from a compelling package of supports including:
A series of workshops facilitated by experts within key aspects of new venture/product development, with a specific focus on 5G & IoT opportunities. Workshop themes will be tailored to suit the participating teams, but topics could include:
Competitive Analysis & Positioning;
Building for Scale – Technical Considerations;
Pricing within the Value Chain;
Market Scaling & Channel Development;
Compliance: Legal, Regulatory, Security.
1-2-1 mentoring from the programme team;
Facilitated access to key technical and commercial experts within Ericsson and Vodafone, including Vodafone's Global Innovation team;
Opportunities to trial suitable technologies, products and services in collaboration with Vodafone and Ericsson;
Supports for next stage validation on the 5G network;
Free co-working space at NovaUCD for the duration of the programme;
Facilitated access to NovaUCD's network of founders, investors and mentors.
Vodafone is Ireland's leading total communications provider with 2.3 million customers and employs over 2,000 people directly and indirectly in Ireland. Vodafone Group is one of the world's leading international mobile communications groups with mobile operations in 25 countries, partners with mobile networks in 44 more, and fixed broadband operations in 18 markets. www.vodafone.ie
Ericsson is a world leader in communications technology and services with headquarters in Stockholm, Sweden. The organisation consists of more than 100,000 experts who provide customers in 180 countries with innovative solutions and services. The Ericsson stock is listed on Nasdaq Stockholm and on NASDAQ in New York. www.ericsson.com
At NovaUCD, the hub for new ventures and entrepreneurs at University College Dublin, we nurture and support new high-tech and knowledge-intensive companies as part of UCD's research and innovation mission. NovaUCD has supported over 360 companies and early-stage ventures. Supported companies have attracted over €760 million of investment and currently employ over 1,040 people directly. NovaUCD has been funded through a unique public-private partnership that includes AIB Bank, Arthur Cox, Deloitte, Enterprise Ireland, Ericsson, Goodbody Stockbrokers, UCD and Xilinx. http://www.novaucd.ie