UCD Launches New Clinical Research Centre in Partnership with IEHG at Wexford General Hospital
UCD is an academic partner of the Ireland East Hospital Group (IEHG).
Yesterday, Monday the 15th of April 2019, UCD opened its first clinical research centre outside Dublin in Wexford General Hospital.
The new clinical research centre will link to the research facilities and supports provided by the UCD School of Medicine along with the wider research carried out at the hospitals within the IEHG: Mater, St Vincent's and the National Maternity Hospital.
In the year 2006, UCD opened clinical research centres at the Mater Misericordiae and St. Vincent's University Hospitals.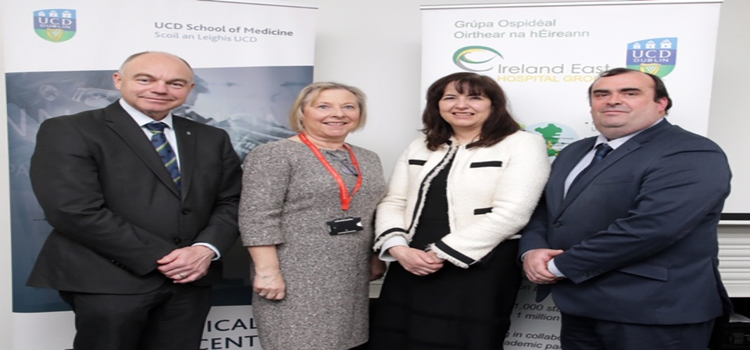 Professor Andrew Deeks, President UCD, Lily Byrnes, General Manager of Wexford Regional Hospital, Mary Day, CEO of Ireland East Hospital Group, and Professor Peter Doran, Director at UCD Clinical Research Centre
UCD President, Professor Andrew J Deeks was present at the launch and said "Wexford General Hospital will be the first Level 3 hospital in the Ireland East Hospital Group to be able to avail of expert research support, educational programmes, and oversight of clinical research within the hospital."
Wexford General Hospital is one of eleven hospitals in the Ireland East Hospital Group.
The IEHG serves a population of 1.1 million people. The eleven hospitals provide services on three levels; those serving local catchment areas, specialist/tertiary services delivered to regional populations and quaternary services delivered nationally.
The CEO of IEHG, Mary Day, said that the partnership with UCD ensured "all patients in our hospital group, regardless of geography, are provided access to cutting edge care."
Lily Byrnes who is the General Manager of Wexford General Hospital added that "Research is critical to ensuring we not only have the best treatments, but also to make sure we have the knowledge to respond to changing trends."
The Director of Clinical Research at UCD, Peter Doran said "Our work here in Wexford will contribute to medical research that aims to develop new cures and better treatments for patients. We aim to create a scientific and caring culture for the benefit of present and future patients."
College of Health and Agricultural Sciences College Principal Professor Cecily Kelleher was also present at the launch.