Diverse Scholarship Opportunities in the USA - Fulbright Irish Awards Launched Today!
Wednesday, 28 August, 2019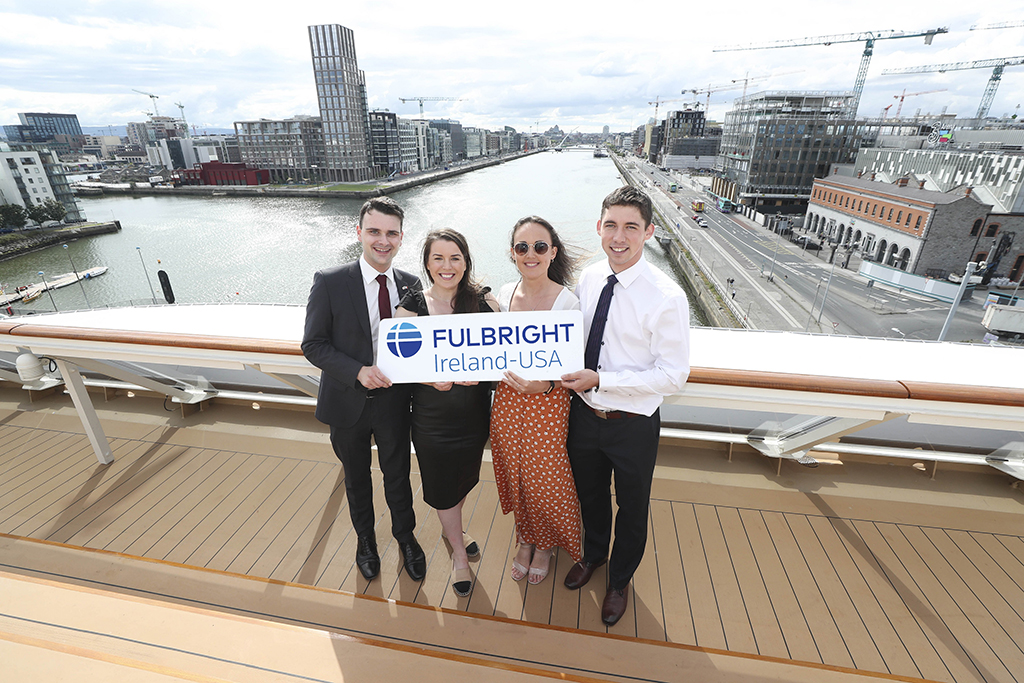 The 2020-2021 Fulbright Irish Awards were launched today with an application deadline of 31 October 2019.
The Fulbright Program provides opportunities for passionate and accomplished students, scholars, artists, teachers, and professionals from all backgrounds to undertake programs and collaborate with experts in the USA. Fulbright's mission is to forge lasting international connections, counter misunderstandings, and help people work together toward common goals.
Alumni have achieved distinction in many fields, and include 59 Nobel Prize recipients, 82 Pulitzer Prize winners, and 37 who have served as a head of state or government.
The Fulbright Irish Awards are open to all disciplines and backgrounds. The Fulbright Commission in Ireland partners with local and international agencies to offer additional funding in the areas of Health, Technology, Cybersecurity, Geoscience, Marine Studies, Agriculture, Environmental Protection, Law, Museum Studies and Irish language.
Successful candidates receive a significant monetary grant, accident and emergency insurance, visa administration, cultural and professional programming, and introduction to a vast international professional and academic network.
The application deadline is 4pm, 31 October 2019. To learn more about the Fulbright Awards visit www.fulbright.ie
Chair of the Board of the Fulbright Commission in Ireland, Dr Sarah Ingle said: "As a Fulbright Alumna, I strongly encourage students, scholars and professionals to consider applying for the 2020-2021 Fulbright Awards. Since its formation, the Fulbright Programme has promoted and encouraged the belief that by living with and learning from people of different cultures, we can shape a more positive vision for local communities and our global world. These Awards provide a huge opportunity for creativity, engagement and collaboration, as well as professional and personal growth."
Executive Director of the Fulbright Commission in Ireland, Dr Dara FitzGerald said: "Fulbright continuously creates connections in a complex and changing world - our recent global and local rebrand reflects this ethos. Our programs continue to focus on diversity, inclusion and equity, enriching Awardees' educations, advancing their careers and supporting them to make meaningful contributions in the U.S. and at home. Upon returning to Ireland, they share their stories and join thousands of international alumni serving as leaders across the globe. Fulbright programs are wholly supported by Irish government, agency and higher education institutions, this has allowed for significant increase in award funding and diversity."

S. Ambassador to Ireland, Mr Edward F. Crawford:"The Fulbright Program is the American government's flagship international educational and cultural exchange program, partnering with more than 160 countries worldwide. It continues to create lasting connections between the people of the United States and other nations—building mutual understanding and advancing knowledge across communities. The Ireland-USA Fulbright relationship runs deep and is extremely important to us. Over the last 60 years, more than 2,000 students and scholars have participated in the exchange between Ireland and the United States, which has greatly strengthened the special bond between our two nations."
An Tánaiste and Minister for Foreign Affairs and Trade Mr Simon Coveney T.D. said: "Since its inception, the global Fulbright Program has given hundreds of thousands of passionate individuals the opportunity to exchange ideas and contribute to finding solutions to important international problems. Fulbright Awards deepen links between Ireland and the USA, allowing individuals to develop their talents and expertise in a broad range of areas. We are delighted to announce the 2020-2021 Awards and look forward to seeing fruits of such collaborations."
UCD College of Social Sciences and Law
UCD College of Social Sciences and Law University College Dublin Belfield, Dublin 4, Ireland. T:
+353 1 716 7777