International Women's Day 2020
International Women's Day 2020
In the leadup to International Women's Day, UCD College of Social Sciences and Law held a celebration on Friday 6th of March 2020. Hosted by Professor Judith Hartford, Vice President of Equality, Diversity and Inclusion at UCD, the #EachforEqual Discussion Panel included leading and inspiring women Dr Grainne Healy, equality activist, Gillian Harford, MBA, 30% Club Ireland Country Executive and Molly Lamb, UCD Professional Masters in Education student and Dublin Ladies Gaelic Football All-Ireland Winner.
Judith opened by outlining some of the progress being made in recent years regarding gender equality, as UCD is committed to providing an inclusive environment to promote diversity in work and study for all members of its community. The panel shared some inspiring stories on equality, not just for women but for society in general.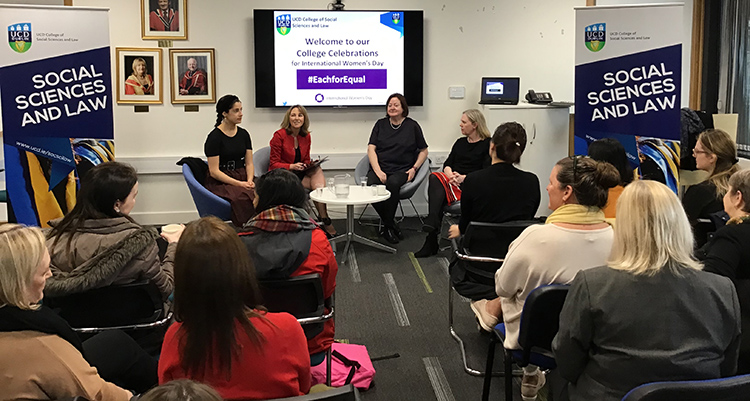 Equality in Education
Although 17 years after she had graduated with a Bachelor's in Psychology and Economics at UCD in 1986, Gillian Harford spoke about returning to do an MBA at UCD Michael Smurfit Graduate Business School in 2003, facing some stiff doubt from others. The fact that she was actually a woman thinking of taking on an MBA, something that was still not very common at that time, as well as her having children were pointed out as factors that may have impeded her ability to complete the programme. Nonetheless, Gillian applied and was accepted to the MBA programme. Although by her own account, she mentioned that she may have overcompensated in her efforts to do well, after the initial comments she received, Gillian went on to establish herself as one of the highest achievers in her class, achieving a first in all subjects during her first semester. Her male counterparts deemed her as highly driven, very competitive and as a result, wanted nothing more than to be part of her team for any group work. Gillian went on to achieve a first class honours in a very demanding programme and is today Country Executive of the 30% Club Ireland. The 30% Club is a collaborative business-led effort to make real change in Ireland, aiming towards 30% female representation in senior management by 2020.
Marriage Equality
Dr Gráinne Healy spoke about the leading role she played in the 2015 Marriage Equality Referendum in Ireland. She remembers a time where the subject of same-sex relationships was something almost exclusively discussed by members of the same-sex community. Through strong perseverance, bringing into effect equal marriage rights for same-sex couples has made an enormously positive impact on the lives of so many people. Being Co-Director of the Yes Equality Campaign, Gráinne is especially proud of the number of Irish voters who voted yes during the referendum.
Equality in Sport
Molly Lamb shared her experience of life playing in girls Gaelic Football growing up. She noticed that there was a clear bias towards the boys teams, both in terms of audience numbers and better playing facilities. It would sometimes be the case that the girls' team would have to have to wait until the last minute for their pitch to be confirmed and for a long time she outlines, it was just not taken seriously. Molly shared her stories of All Ireland failures, followed by success both with the senior ladies' team and with the Under 21s. She explained that the Under 21s team was a group of ladies that she had played with since the age of 9 and it was one of the happiest and most uplifting moments of her life.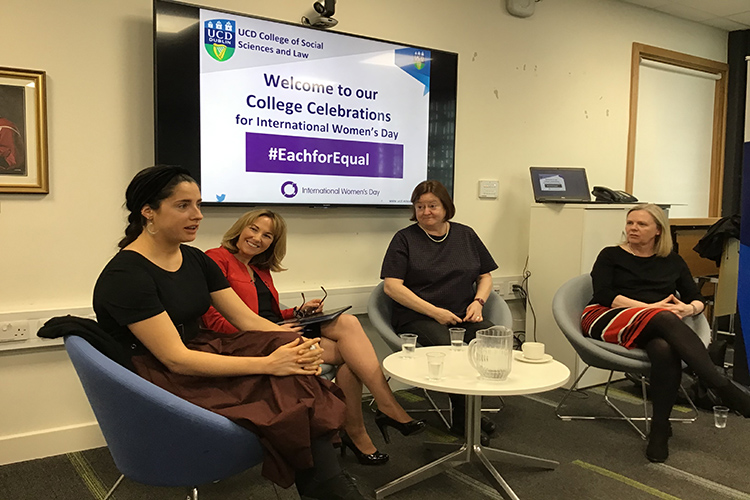 Conditions are improving in sport for women. Organisations such as 20x20 have been established to help grow female participation in sport, numbers attending games as well as media coverage of female sports games. Molly notes that nowadays equal access to facilities has become the norm, numbers at games are growing and even sponsorship has been increasing over the years.
Although we have come a long way, we still have some way to go. We need to challenge stereotypes, fight bias, broaden perceptions and improve situations for women. On International Women's Day, we have the opportunity to celebrate women's achievements in the cultural, economic, political, and social spheres.
Today we wish you all a Happy International Women's Day and encourage you to join the UCD Community under #EachforEqual and tell us how you meet some of these challenges. Click here For more information and to see a snapshot of some of UCD's leading female Alumni over the years.
UCD College of Social Sciences and Law
UCD College of Social Sciences and Law University College Dublin Belfield, Dublin 4, Ireland. T:
+353 1 716 7777