Electrical Engineering Class of 1968
Wednesday, 18 October, 2023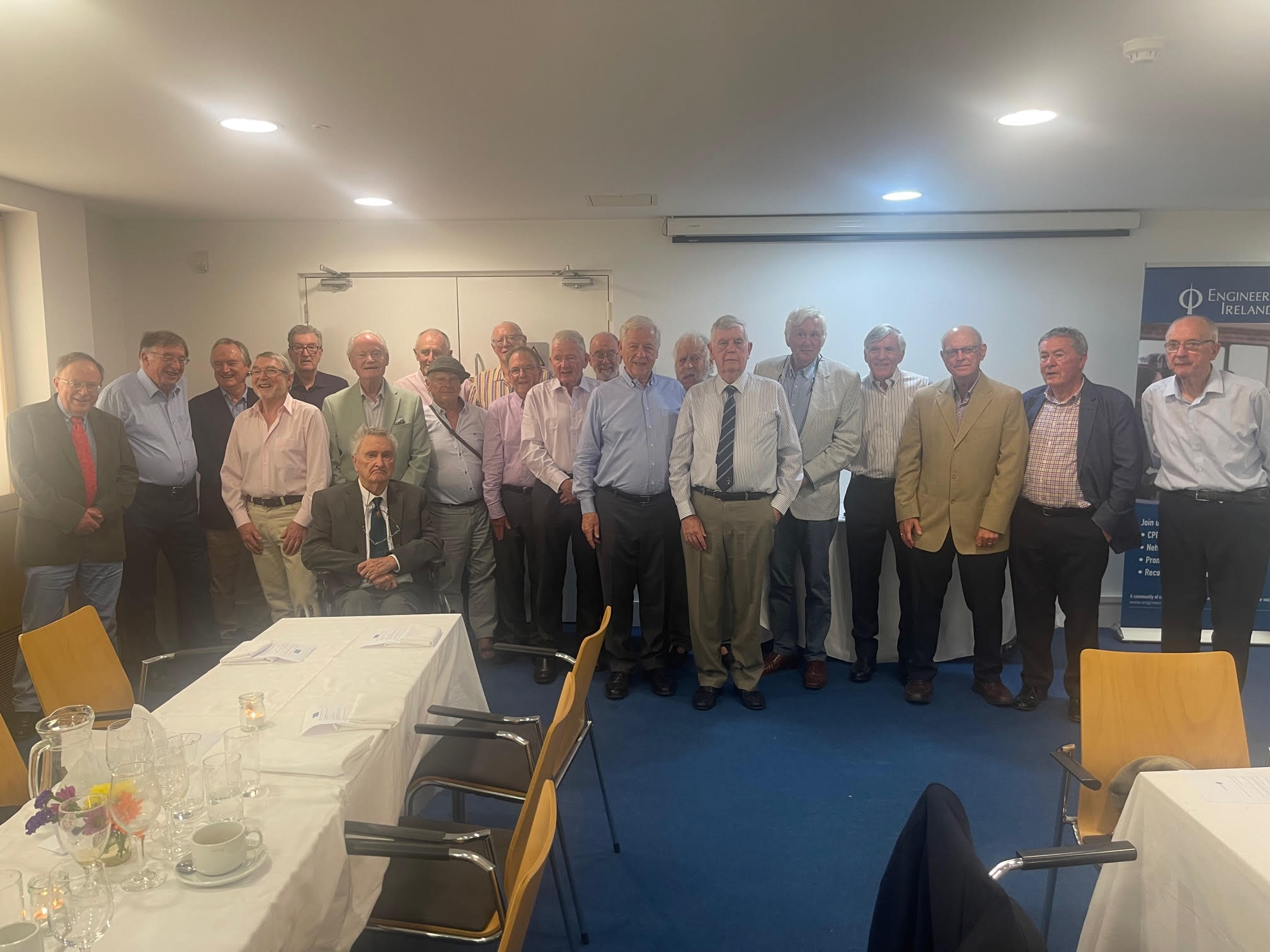 55th Reunion, June 2023. Left to right: LEFT-RIGHT: Jim O'Brien; Raymond Burke; John Dinan; Michael Barrett; Barry Walsh; Basil Dillon-Malone; Professor. Annraoi DePaor (sitting); Paddy Lord; Liam Breslin; Pat Ryan; Pat Moran; Liam McCallion; Micheal O'Laoghaire; Shay Foley; Brian Coleman; John Butler; Paudie Mercer; Eamonn Coffey; Paddy Caffrey; Owen O'Brien; Finbarr Holland.
The 1968 Merrion Street BE electrical engineering class has communicated unwaveringly over the past 55 years and celebrated many of their milestone reunions, most recently their 55th reunion on 24 June 2023.
The 1988 reception was held at Newman House, Stephen's Green followed (each reunion) by a tour of the old engineering school on Merrion Street (now the Department of the Taoiseach). Later reunions were at Café Clyde / Engineers Ireland (formerly known as The Cumann, The Engineers Club) where this extremely close-knit class enjoyed many get-togethers over the years.
It is easy to recognise the thinning-cum-lighten'ing hair since 1988 - however in no way lessening the unremitting enthusiasm manifest in the myriad of these smiling faces - mimicking those from earlier days. The popular greeting to each other interlaced with timeless memories was always: "Sur' ye haven't aged a bit!"
Six classmates from the 1988 photo are dearly departed, including, only a few weeks ago, Matt Harley RIP (12 September 2023).
Dr. Annraoi dePaor is the only surviving staff member after Professor John Kelly's sad passing in November 2022.

By Basil Dillon-Malone, BE 1968
UCD College of Engineering and Architecture
Room 122 & Room 126, UCD Engineering and Materials Science Centre, University College Dublin, Belfield, Dublin 4, Ireland T:
+353 1 716 1868
| E:
eng.arch@ucd.ie