seamlessCARE Receives 2023 NovaUCD Spin-Out of the Year Award
seamlessCARE Receives 2023 NovaUCD Spin-Out of the Year Award
Friday, 31 March, 2023
---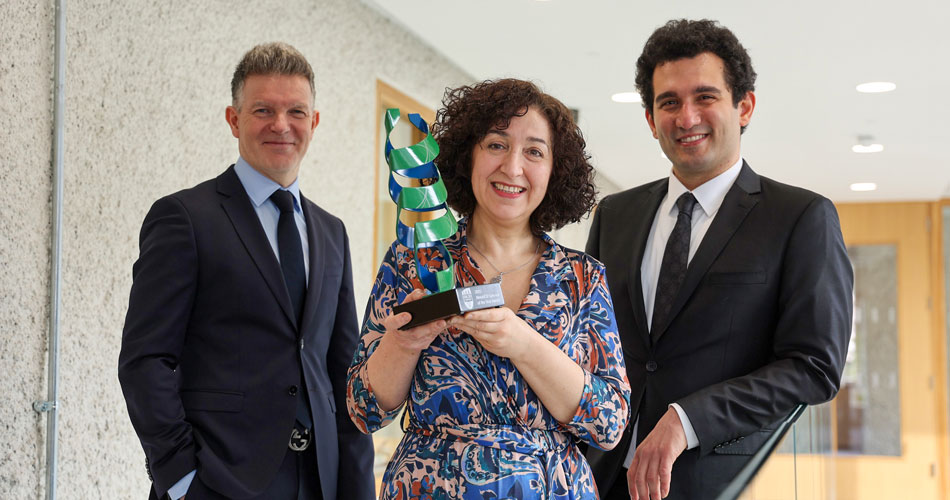 Dublin, Ireland, 31 March 2023, seamlessCARE, a UCD digital health spin-out, has been named recipient of the 2023 NovaUCD Spin-out of the Year Award.
The company was presented with the Award by Professor Mark Rogers, Acting UCD President as part of the annual presentation of the NovaUCD Innovation Awards which took place at the UCD University Club.
Speaking at the Awards event Professor Mark Rogers, Acting UCD President said, "The NovaUCD Innovation Awards are a key annual event at UCD recognising and highlighting successes achieved by our research, innovation and entrepreneurial communities across the University and I congratulate all those who have received awards. I would also like to take the opportunity of wishing them ongoing success in the future as they continue to deliver economic and societal impact through their commercialisation, consultancy, entrepreneurial and innovation activities."
seamlessCARE is focused on developing and rolling-out innovative assistive technologies to enhance communication and support the care of adults and children with complex needs such as autism, acquired brain injury, dementia, and intellectual disability.
The company was founded in 2021 by Dr Aviva Cohen, Ian Kennedy and Dr Çağrı Çubukçu as a spin-out from the UCD School Mechanical and Materials Engineering following the completion of Enterprise Ireland Commercialisation Funding.
On receiving the 2023 NovaUCD Spin-out of the Year Award, Dr Aviva Cohen, CEO and co-founder, seamlessCARE said, "The team at NovaUCD has provided mentorship, guidance, training and a host of fantastic supports. We are grateful for their help and proud to receive this Award."
In the last year the company secured €700,000 in seed funding from angel investor and former HSE chairman Dr Frank Dolphin and Enterprise Ireland, grew the team to 6 people, located at NovaUCD and established a branch in Turkey to facilitate the direct hire of development personnel.
seamlessCARE's also recently launched its first app and API, Empathic, which uses artificial intelligence to interpret the emotions being expressed by non-verbal individuals as they vocalise.
Using the Empathic app, anyone can make a short recording to understand if the non-verbal person is expressing happiness, boredom, frustration or up to 10 emotions. This can help to improve quality of life for the non-verbal person and reduce the challenging behaviours that can result from frustration.
Focus, the company's second product, currently in development, is a video-based care planning API, which is accompanied by a user-friendly mobile app. Focus will enable carers to record short videos of daily activities, take notes, send alerts and update written care plans from any device, quickly and easily.
Empathic and Focus are the first in a pipeline of technologies which seamlessCARE is developing to promote respect, safety and efficiency when supporting people with complex needs.
Last year the company was named winner of the Best Application of AI in a Start-up Award at the AI Ireland Awards and was a finalist in the 6th edition of the Altice International Innovation Awards held Portugal.
The annual NovaUCD Innovation Awards highlight successes made in areas of knowledge transfer, consultancy, entrepreneurship and the promotion of an innovation culture, by members of the UCD research, innovation and entrepreneurial community.
A total of 7 Awards were presented by Professor Mark Rogers, Acting UCD President during an event held in the UCD University Club. The other Awardees are;
2023 NovaUCD Innovation Award: Professor Stefan Oscarson, UCD School of Chemistry and Professor Stephen Carrington, UCD School of Veterinary Medicine (retired).
2023 NovaUCD Invention of the Year Award: Dr Joseph Sweeney, UCD School of Biosystems and Food Engineering.
2023 NovaUCD Consultancy of the Year Award: Dr Stephen Davis, UCD School of Archaeology.
2023 NovaUCD Licence of the Year Award, Associate Professor Siobhán McClean, UCD School of Biomolecular and Biomedical Science.
2023 NovaUCD Founder of the Year Award: Aidan O'Neill, founder and CEO, DOCOsoft.
2023 NovaUCD Innovation Champion of the Year Award: Dr Eoin O'Cearbhaill, UCD School of Mechanical and Materials Engineering.
UCD College of Engineering and Architecture
Room 122 & Room 126, UCD Engineering and Materials Science Centre, University College Dublin, Belfield, Dublin 4, Ireland T:
+353 1 716 1868
| E:
eng.arch@ucd.ie