Grainne Healy honoured with the 2018 UCD Alumni Award in Social Sciences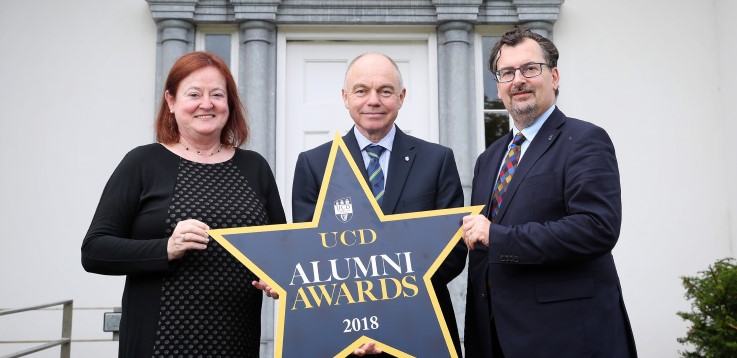 Pictured Above L-R (Dr Grainne Healy, UCD President Prof Andrew Deeks, Professor Colin Scott)
The UCD Alumni Awards proudly celebrate and honour the outstanding achievements of our alumni. The College of Social Sciences is delighted to announce that the recipient of the 2018 UCD Alumni award in Social Sciences is Grainne Healy.

Dr Gráinne Healy is a celebrated leader in gender equality and social justice. Working in activism for the past 40 years, Gráinne was instrumental in helping to turn Ireland into a nation of equals in May 2015 as co-head of the Yes Equality Campaign, the campaign which led and won the marriage equality referendum.
She is founder and chairperson of Marriage Equality Ireland since 2004 and is a published author. Dr Healy's global impact is also notable in the areas of violence against women, migrant rights and sex trafficking. She is Chairwoman of the European Women's Lobby's Observatory on Violence against Women and is a former Chairwoman of the National Women's Council of Ireland.
UCD alumni are the backbone of this great institution. Their successes reinforce UCD's position as Ireland's leading global university; their loyal involvement with UCD shapes the future of the University.