International Women's Day 2019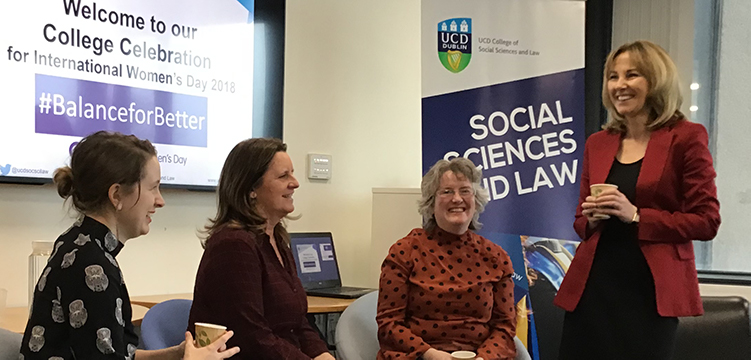 UCD College of Social Sciences and Law celebrated International Women's Day (IWD) 2019 on the 8th March 2018 in collaboration with the Equality, Diversity and Inclusion Unit. This is always an important opportunity to celebrate UCD's Institutional Athena SWAN Bronze award and demonstrate our commitment to making UCD more inclusive.
The day was marked by two events within the College. On the eve of IWD 2019, the Centre for Gender, Feminisms and Sexualities hosted Dr Maddy Coy, Deputy director of the Child and Woman Abuse Studies Unit (CWASU), London Metropolitan University who gave a talk on "Prostitution, Harm and Gender Equality".
On Friday 8th March, the College hosted a panel discussion chaired by Professor Judith Harford, Vice Principal Equality, Diversity and Inclusion within the College of Social Sciences and Law. The speakers shared their stories, addressing gender inequalities, leading change and creating a more inclusive culture for women in higher education, government and workplaces in Ireland.
The panel members included:
• Professor Jacky Croke, UCD Head of School of Geography
• Elaine Cregg, Newman Building Project Manager, UCD Aurora Alum
• Una Power, Strategic Communications Advisor to Green Party, Former Women for Election Programme Co-ordinator, UCD Politics Alum.

https://alumni.ucd.ie/international-womens-day/