UCD College of Social Sciences and Law Teaching Awards
Members of staff from the College of Social Sciences and Law were presented with awards for Teaching and Learning in a ceremony on 15th November. The awards recognize the contribution of College staff in two separate categories: 'Teaching Excellence', awarded to faculty who have made a sustained commitment to teaching excellence; 'Outstanding Contribution to Student Learning' which recognises individuals or teams of faculty, staff, tutors or demonstrators who have demonstrated excellence in their commitment to student learning in a variety of different ways.
There were 475 nominations in total across 155 individual and 8 team nominees. The quality of application was exceptionally high and congratulations to all in the College for some very inspirational teaching and student support activity.
In making the presentation to the winners, Professor Colin Scott noted the excellence of the quality of the support offered to students in the College and spoke of his pleasure in acknowledging the outstanding work of staff. He also noted that four faculty members have been nominated to the University level under Teaching Excellence, and one team under Outstanding Contribution.
Awards for Teaching Excellence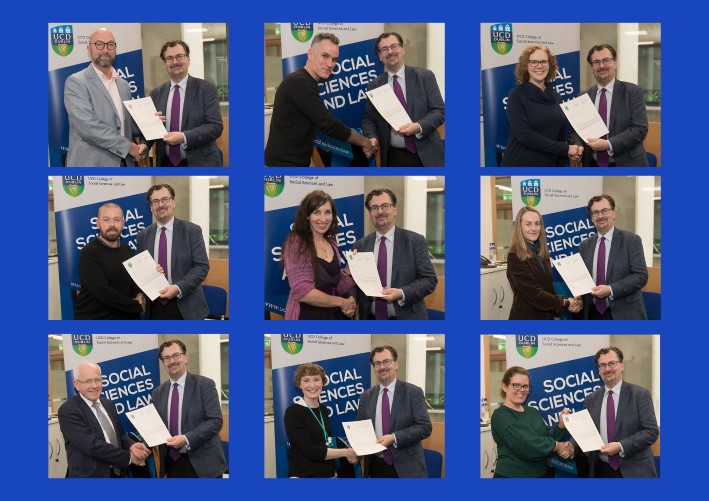 Shane Bergin, School of Education
Arlene Crampsie, School of Geography
Mathew Creighton, School of Sociology
Amber Cushing, School of Information and Communication Studies
Alexander Dukalskis, School of Politics and International Relations
Daniel Esmonde Deasy, School of Philosophy
Declan Fahie, School of Education
Cliona Kelly, School of Law (not picutured)
William Kinsella, School of Education
Áine Mahon, School of Education
Sarah Morton, School of Social Policy Social Work and Social Justice
Marie-Luce Paris, School of Law
Liam Thornton, School of Law
The Outstanding Contribution award was presented to: Social Sciences Programme team.