Widening Participation in the UCD College of Social Sciences and Law: Open Day for QQI-FET applicants
UCD College of Social Sciences and Law welcomed over 80 students to the inaugural College open day for QQI-FET students on Tuesday 16 January 2018.
The event offered students an overview of the undergraduate degrees available to them within the College, the application and admission process, as well as the supports provided by Access and Lifelong Learning, Student Advisors and the Students' Union.
Welcoming students, teachers and guests to the event, Professor Colin Scott, College Principal and Vice President for Equality, Diversity and Inclusion, outlined the College and university's commitment to the 'University for All' initiative and thanked the College's working group on Widening Participation for their work in bringing the day to fruition. Professor Scott highlighted the valuable skills students from a QQI-FET background bring to university life, and encouraged students to explore the opportunities available to them at UCD.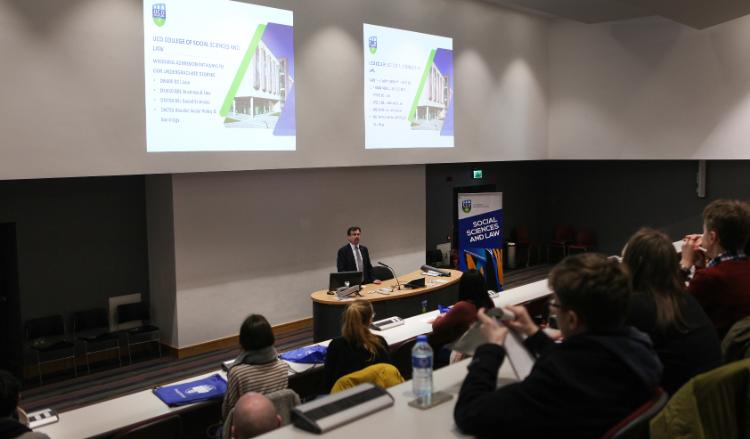 ‌
Prof Colin Scott, UCD College Principal Social Sciences and Law
Students were given an overview of the four programmes within the College of Social Sciences and Law with dedicated places for QQI-FET students (figures in brackets indicate places for 2018/19 entry for information):
- DN600 BCL Law (including 'Law with' programmes) (6 places)
- DN610 BBL Business and Law (4 places)
- DN700 BSc Social Sciences (28 places)
- DN750 BSocSc Social Policy and Sociology (10 places)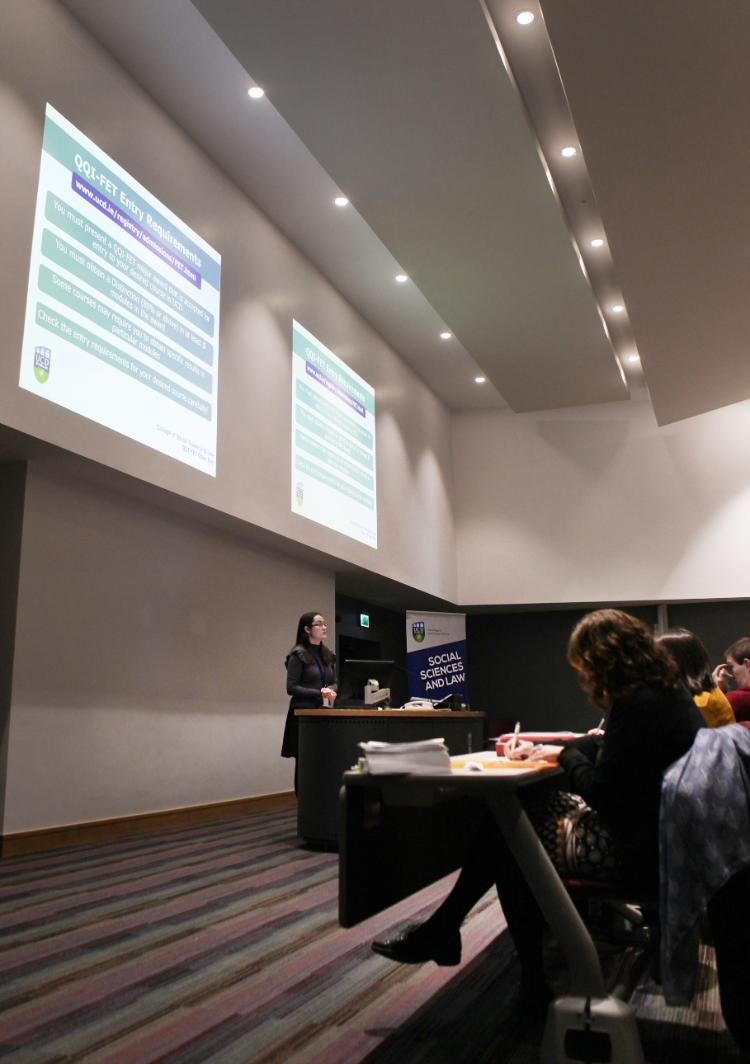 Irene Feeney - UCD Admissions
‌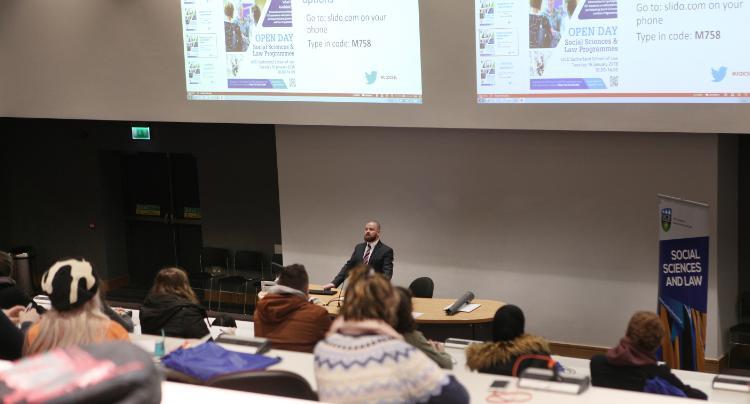 Dr Liam Thorton - Lecturer in Law, Sutherland School of Law
The programme concluded with a trio of taster lectures from Dr Eoin Flaherty (School of Sociology), Dr Graham Finlay (School of Politics and International Relations) and Dr Niamh Howlin (Sutherland School of Law), as students engaged with social inequality, Aristotle and the meaning of life, and the Constitution as a source of law.
The final event of the day was an inaugural lunch for students, teachers and guests with faculty and staff to facilitate an informal Q&A session.
UCD College of Social Sciences and Law are very appreciative of the effort made by all to ensure the success of what is hoped will be the first of many QQI-FET Open Days to come.
Any questions about our programes or pathways to study?
Email us at socialsciences@ucd.ie or telephone 01-768138.