Catholic University of Ireland Collection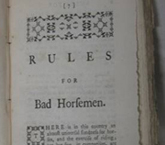 Image of a pamphlet from the CUI Library
UCD Library Special Collections holds the library of the Catholic University of Ireland.
The Collection
The Catholic University of Ireland (CUI) was established in 1854 under the rectorship of Cardinal John Henry Newman.
Its library of over 17,000 volumes, including monographs and pamphlets, was built up between its establishment and 1883.
The library contains the collections of the Most Rev. Daniel Murray, Archbishop of Dublin, and the Most Rev. Joesph Dickson, Archbishop of Armagh as well as the collection of Fr. Michael O'Flanagan.
The Catholic University of Ireland also inherited books and manuscripts from Professor Eugene O'Curry who was the first Professor of Irish History and Archaeology in the CUI.
The CUI Library as a whole covers the areas of Irish history, archaeology and literature as well as classics and theology.
Many of the theological texts were originally owned by monasteries in continental Europe.
The collection also includes material which was held in the CUI's medical school which are mostly 18th and 19th century texts and pamphlets.
Access and Use
The material in this collection is available by appointment to students, teaching staff, and independent researchers. We also welcome interested members of the public.
Please contact us at special.collections@ucd.ie for further information. To book an appointment click here.
More Information
Find material in the collection:
Use The Library Catalogue to key in Catholic University of Ireland
When you get a results screen select Special Collections from Location option in the left panel