Christopher Palles Collection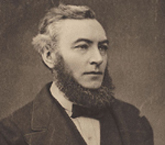 Christopher Palles
UCD Library Special Collections holds the Christopher Palles Collection.
The Collection
The Christopher Palles Collection consists of books and journals of a legal nature from the 17th to early 20th century.
The collection is most useful for the study of Irish legal history for this period.
It was donated to UCD by William Walsh, Archbishop of Dublin, in 1921 and formed the basis of UCD's Law Library at that time.
Items in the collection published before 1850 can be accessed in Special Collections.
Enquire at the Information Desk on Level 2 of the James Joyce Library for items published after 1850.
Biographical History
Christopher Palles (1831-1920) was born in Dublin and was a renowned Irish judge.
He was educated in Clongowes and Trinity and later in the King's Inns Dublin and Gray's Inn London. He was called to the bar in 1853.
In 1872 he was appointed by Gladstone as Solicitor General for Ireland and later that year to the post of Attorney General in Ireland.
Palles was interested in politics and supported the Liberal Party. He contested a by-election in 1872 against a Home Rule candidate and a Conservative which split the Catholic vote and resulted in a win for the Conservatives.
He was regarded as controversial due to his support for the Home Rule Party and his failure to support Cardinal Cullen in his denunciation of non denominational universities.
In 1874 he was appointed the senior judicial post of Chief Baron of the Exchequer Division.
He was on the bench for forty-two years and was regarded a judge of the highest standard.
In 1909 Palles was involved in the establishment of the National University of Ireland and UCD.
He retired from the bench in 1916 at the age of 85 and died in Dublin in 1920.
Access and Use
The material in this collection is available by appointment to students, teaching staff, and independent researchers. We also welcome interested members of the public.
Please contact us at special.collections@ucd.ie for further information. To book an appointment click here.
More Information
Find material in the collection:
Use The Library Catalogue to key in Palles
When you get a results screen select Special Collections from Location option in the left panel
Consult Delany, V.H.T. (1960) Christopher Palles, Dublin: Figgis, shelved on Level 2 at 340.092/PAL/D
Find information on Christopher Palles in the Dictionary of Irish Biography (UCD only).
Find information on Christopher Palles in the Oxford Dictionary of National Biography (UCD only).