John Lincoln Sweeney Collection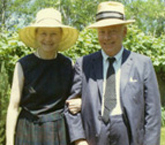 John and Máire MacNeill Sweeney
UCD Library Special Collections holds the Sweeney Collection, a collection of almost 2,000 books previously owned by John Lincoln Sweeney.
The Collection
A rich collection of 20th century English, Anglo-Irish and American literature in first and early editions, limited editions and signed copies.
Bequeathed in 1987 by Máire Mac NeillSweeney.
Many of the books in this collection were sent to Sweeney as personal gifts from the authors, occasionally including letters.
This correspondence, along with that of Máire MacNeill Sweeney, is available in UCD Archives.
Biographical History
John Lincoln Sweeney (1906 – 1986, known as Jack) was a scholar, critic, art collector and poet. Educated at Georgetown and Cambridge universities, in 1942 he was appointed curator of Harvard Library's Poetry Room; curator of the Farnsworth Room in 1945; and Subject Specialist in English Literature in 1947. In 1949, Sweeney married Máire MacNeill (1904 – 1987), a folklorist and scholar at the recently founded Irish Folklore Commission. A graduate of UCD, MacNeill's early research specialised on the study of Lughnasa, the Irish harvest festival. After their marriage, MacNeill was a Visiting Lecturer in Irish folklore at Harvard. After Jack's retirement, the Sweeney's returned to Ireland, living near Corofin, Co. Clare.
Following Jack's death in 1986, Máire bequeathed their book collection to UCD, along with other papers in UCD Archives, which were transferred following her own death in 1987. An additional bequest was made to the National Gallery of Ireland in the same year, comprising of fifteen paintings and drawings by Irish and international artists.
Access and Use
The material in this collection is available by appointment to students, teaching staff, and independent researchers. We also welcome interested members of the public.
Please contact us at special.collections@ucd.ie for further information. To book an appointment click here.
More Information
Find material in the collection:
Use The Library Catalogue to key in John Sweeney
When you get a results screen select Special Collections from Location option in the left panel