Joseph Hassett Collection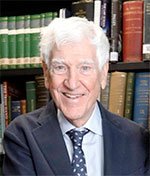 Joseph Hassett
UCD Library Special Collections holds Joseph Hassett's collection of Irish poetry.
The Collection
A lawyer, literary scholar and philanthropist, Joseph M. Hassett began his relationship with UCD as an undergraduate when he received a scholarship to attend a summer programme in literary studies. Later, he studied for and received an MA and then a PhD in English in UCD, specializing in the work of W. B. Yeats. He has published several works of important literary scholarship on Yeats and on Joyce's Ulysses, although this is not his primary profession: a graduate of Harvard Law School, Hassett has had a distinguished legal career with Hogan Lovells Washington DC. In 2019, he was awarded an honorary Doctor of Literature from UCD and sponsors an MA scholarship in Irish literature named for Professor Gus Martin (1935–95) as well as other humanities-related activities.
In 2013, Hassett donated a significant collection of twentieth and twenty-first century Irish poetry publications and manuscripts to the UCD Library, via the American Ireland Fund. This collection consists of a series of first editions of publication by W. B. Yeats, spanning his whole career. This collection also contains an example of the extremely rare 'Easter, 1916', as well as several important manuscripts relating to the women from whom Yeats drew inspiration. The collection also includes a range of contemporary Irish poetry by important Irish poets, including Peter Sirr, Eavan Boland, Nuala Ní Dhomhnaill, Michael Longley, Dennis O'Driscoll, and Maeve McGuckian among many others. Works of literary criticism relating to Yeats donated by Hassett form part of UCD's general collection.
In 2022, Hassett made a further donation of books and other materials by or relating to Seamus Heaney. This collection includes Irish, British, and American editions of Heaney's poetry, and several limited fine press editions of his work, revealing Heaney's careful consideration of how his work was presented and his collaborations with artists and fine press publishers.
Collection Highlights
Highlights of the 2013 donation include a copy of W. B. Yeats's 'Easter, 1916' (No. 4 of only twenty-five copies in a private publication by Clement Shorter) and books inscribed or signed by Yeats to Olivia Shakespear and others.
In the 2022 donation, highlights include several collaborations between Seamus Heaney and artists such as Jan Hendrix, Wendy Artin, and Claire Van Vliet: publishers such as the Gallery Press, and limited or special editions of Heaney's poetry collections.
Access and Use
The collections can be consulted by the students and staff of UCD, and by external users, in the Special Collections Reading Room.
More Information
Find material in the collection:
Search 'Joseph Hassett Donation' in the Library Catalogue
Filter the results to 'Special Collections' in the panel on the left-hand side of the screen.