Heinrich Zimmer Collection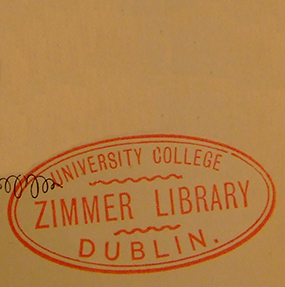 Image from Zimmer Collection
UCD Library Special Collections holds the Heinrich Zimmer Collection.
The Collection
This collection was purchased in 1910 and contains around 5,000 volumes, including monographs, journals, pamphlets and off prints.
The material in the collection relates to Celtic studies and particularly the Celtic languages but it also includes histories of various countries.
Biographical History
Heinrich Zimmer (1851-1910) was a German Celticist and philologist.
Access and Use
The collections can be consulted by the students and staff of UCD, and by external users, in the Special Collections Reading Room.
More Information
Find material in the collection:
Use The Library Catalogue to key in Heinrich Zimmer
When you get a results screen select Special Collections from Location option in the left panel