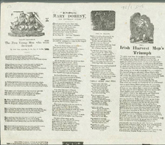 Ballad Broadsheet
UCD Library Special Collections holds the Colm Ó Lochlainn Book Collection.
The Collection
The book collection of Colm Ó Lochlainn contains early Irish printings and handsome bindings of 19th and 20th century texts.
The books relate to the subjects of Anglo Irish literature, Irish language, folklore, ballads and Irish history.
The collection also contains broadside ballad sheets, songbooks and devotional literature. Many of the broadside ballad sheets have been digitized and are available on the UCD Digital Library website.
Special Collections UCD Library purchased Ó Lochlainn's manuscripts, letters, ballad broadsheets as well as his book collection in 1963.
Biographical History
Colm Ó Lochlainn (1892-1972) was a ballad collector, Gaelic scholar, printer, publisher, binder and bibliophile, from Dublin.
He owned the publishing company The Sign of the Three Candles and later The Three Candles Press.
He was a lecturer in Modern Irish in UCD between 1933-1944.
He wrote several books, published by his own company, The Three Candles Press.
His most famous book is Irish Street Ballads which contains ballads selected from the many broadsheet ballads he had collected.
Access and Use
The collections can be consulted by the students and staff of UCD, and by external users, in the Special Collections Reading Room.
More Information
Find books and material in the collection:
Use The Library Catalogue to key in Ó Lochlainn
When you get a results screen select Special Collections from Location option in the left panel
Find ballads in the Colm Ó Lochlainn Collection in the
UCD Digital Library
.