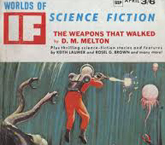 Cover of "IF" magazine
UCD Library holds the Keith Freeman Collection of Science Fiction Magazines.
The Collection
This collection was a gift of Science Fiction enthusiast Keith Freeman.
The collection came to UCD via Professor Edward James of the UCD School of History and Archives.
It was donated to UCD Library in March 2010.
Collection Highlights
New Worlds: This magazine, published by Nova, was the main UK SF magazine in the 1950s and 1960s. This run contains all the early stories of James White, the most popular of all Irish SF writers.
Science Fantasy: The UK Science Fantasy and Fantasy magazine was a companion to New Worlds, published by Nova.
Science Fiction Adventures: This magazine was a sister publication to New Worlds and Science Fantasy.
Magazine of Fantasy and Science Fiction: This is the UK reprint of one of the main US magazines, founded in 1949.
Galaxy: This is a UK reprint of a magazine that was very significant between its founding in 1950 through the 1950s and 1960s.
Astounding, renamed Analog in 1961. This is the leading US magazine from January 1930 to the present day. The June 1950 issue included an article about Dianetics by L. Ron Hubbard. Dianetics was the precursor of Scientology.
This collection also contains odd copies of a number of magazines: Alien Worlds, Amazing, Ballantine Star Science Fiction, Beyond, Future Science Fiction, If: Worlds of Science Fiction, Imagination, Nebula, Original Science Fiction Stories, Space Science Fiction, Thrilling `wonder Stories, January 1953; Venture Sf.
Access and Use
The collections can be consulted by the students and staff of UCD, and by external users, in the Special Collections Reading Room.