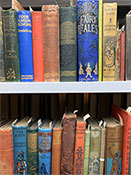 Books from the John Manning collection
UCD Library Special Collections holds late 19th and early 20th century children's books in the John Manning collection.
Biographical History
John Manning was, by his own admission, an avid collector of children's books, which he purchased from the second-hand bookshops that would have dotted the Dublin quays for most of his life (he was born in 1907). Manning was an engineer with the Electrical Supply Board (ESB) and an occasional correspondent with the 'Engineering Journal'. He donated his large collection of children's books to UCD Library over a period of years, from 1977 and 1984. He was a brother of Mary Manning (aka Mary Manning Howe), the Gate Theatre playwright; he was uncle to Susan Howe, American academic and poet.
The Collection
The John Manning collection of children's books contains ca. 300 titles.
The books are mainly by English and Irish authors.
Most of the editions are published between the 1870s and 1920s.
It contains many Boy's Own and Girl's Own magazines.
This collection was donated by Dubliner John Manning between 1977 and 1984.
It formed the basis and provided sources for a research project entitled 'Irish women writers of children's literature' which is available via the UCD Digital Library.
Access and Use
The material in this collection is available by appointment to students, teaching staff, and independent researchers. We also welcome interested members of the public.
Please contact us at special.collections@ucd.ie for further information. To book an appointment click here.
More Information
Find material in the collection:
Use The Library Catalogue to key in John Manning
When you get a results screen select Special Collections from Location option in the left panel
This booklet was created by Emma Genys, Marco Malinverno, Taelor Monkman-DeWeese, Kate Mullarkey, Usher Titus, 2nd year BA Humanities students 2022-23 as part of the module Primary Source Research. The students focused on The Girl's Own Annual Vol 21, 1899-1900.