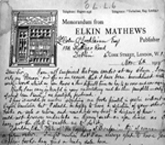 Ó L.L.6 Memorandum from Elkin Mathews
UCD Library Special Collections holds the letters of Colm Ó Lochlainn.
Identity Statement
Reference code IE/ UCD/SC/Ó L.L
Title
Colm Ó Lochlainn Letters.
Dates
1858-1961.
Level of Description
Fonds.
Extent
88 items.
Context
Creator
Colm Ó Lochlainn (1892-1972).
Biographical History
Colm Ó Lochlainn was a ballad collector, Gaelic scholar, printer, publisher, binder and bibliophile, from Dublin.
He owned the publishing company The Sign of the Three Candles and later The Three Candles Press.
He was a lecturer in Modern Irish in UCD between 1933-1944.
He wrote several books, published by his own company, The Three Candles Press.
His most famous book is Irish Street Ballads which contains ballads selected from the many broadsheet ballads he had collected.
Source of Acquisition
Purchased by UCD in 1963-64.
Scope and Content
The collection contains letters from Alice Stopford Green, Douglas Hyde, Stephen Gwynn, Robin Flower, Eoin Mac Neill, Eamon De Valera, Padraig Pearse, and Padraig O'Conaire.
Most of the letters are related to his position as a publisher.
Some are reference letters supporting his application for the position of Lecturer in Modern Irish at UCD, an application in which he was successful.
Access and Use
Access
The materials in this collection are available by appointment only to research students, reaching staff and scholars. Research students should have a letter of recommendation from their supervisor.
Reproduction
Photocopying or digital photographing of this material is not permitted.
Language
English and Irish.
Finding Aid
A listing of the letters is available online.
More Information
Find Information on Colm Ó Lochlainn in the Dictionary of Irish Biography (UCD only).