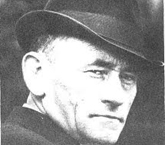 Seán Ó Riordáin

UCD Library Special Collections holds the papers of Seán Ó Riordáin.
Identity Statement
Reference code IE/ÓR
Title
Seán Ó Riordáin Papers/Aircív Sheáin Uí Ríordáin.
Dates
1940-1977.
Level of Description
Fonds.
Extent
c. 20 boxes.
Context
Creator
Seán Ó Riordáin (1916-1977).
Biographical History
Seán Ó Ríordáin was born in the Irish speaking area of Ballyvourney, County Cork.
He was immersed in the Gaelic literature and culture.
When he was fifteen he and his family moved to an English speaking area closer to Cork City.
Ó Ríordáin worked in the motor taxation office in Cork from 1936.
He took early retirement in 1965.
He was diagnosed with tuberculosis at a young age and was often in ill-health throughout his life.
His poetry included:

Eireaball Spideoige 1952
Brosna (1964)
Línte Liombó (1971)
Tar éis mo Bháis (published posthumously in 1978).

In 1967 he was appointed part-time lecturer at UCC.
He wrote a weekly column in The Irish Times from 1967 until1975.
Ó Ríordáin was awarded an honorary D.Litt by the National University of Ireland in 1976.
Source of Acquisition
Collection purchased in 1984.
Scope and Content
Diaries containing details of personal events, friends, family, health, work, and fellow writers (1940–1977).
Correspondence containing carbon copies of letters by Ó Ríordáin, letters from friends, family, publishers, newspapers, and other publications [1937–1980?].
Notes and notebooks concerning Irish language and local culture, politics, radio broadcasts, articles for The Irish Times and other publications, and drafts of poems [1949–1976?].
Papers containing poems, translations, poems by other poets, information on Irish language and the Ghaeltacht, official papers such as certificates, news cuttings and pamphlets, and photocopies of published prose and articles in various publications (1940s–1970s?).
Author's works containing published titles by Ó Ríordáin (1952–1992).
Access and Use
The material in this collection is available by appointment to students, teaching staff, and independent researchers. We also welcome interested members of the public.
Please contact us at special.collections@ucd.ie for further information. To book an appointment click here.
Reproduction
Photocopying or digital photographing of this material is not permitted.
Language
Irish.
Finding Aid
Descriptive list (Irish).
More Information
Find information on Seán Ó Riordáin in the Dictionary of Irish Biography (UCD only).