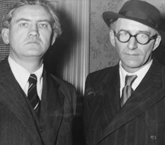 Peter and Patrick Kavanagh
UCD Special Collections holds the archives of Patrick and Peter Kavanagh.
Identity Statement
Reference code IE/ UCD/SC/KAV
Title
The Kavanagh Archive.
Dates
1872-1984.
Level of Description
Fonds.
Extent
c. 50 boxes.
Context
Creator
Patrick Kavanagh (1904-1967).
Biographical History
Patrick Kavanagh was born in Mucker, Inniskeen, Co. Monaghan to James Kavanagh and Bridget Quinn.
Patrick left school at thirteen to work with his father on the family farm.
His earliest poems were printed by the Dundalk Democrat and Weekly Independent in 1928.
Three more were printed by George Russell (Æ) in The Irish Statesman during 1929-30.
Ploughman and Other Poems was published by Macmillan in 1936.
In 1938 he moved to London in search of literary work, but returned to Ireland after 5 months.
Kavanagh then moved to Dublin where he worked as a journalist and continued writing.
An autobiography, The Green Fool appeared in1938 but was withdrawn after a libel threat from Oliver St. John Gogarty.
A long poem, The Great Hunger, was published in Horizon in 1942 to critical acclaim. However, it also attracted the attention of the censors who ordered its seizure due to the perceived obscenity of its content.
Another of Kavanagh's long poems, Lough Derg, was also written in 1942, but not published until 1971.
Other works included A Soul for Sale (1947) and Tarry Flynn (1948).
In 1952 a Dublin paper, The Leader, published a negative profile of Patrick, and he sued for libel. When the case came to trial in 1954, he lost. However, he later won on appeal.
In 1955 Patrick was diagnosed with cancer and had a lung removed.
During this difficult period he wrote some of his most critically acclaimed works including Recent Poems (1958), Italics Come Dance with Kitty Stobling (1960], and Collected Poems (1964).
Patrick married Katherine Barry Moloney in April 1967, after a nine year relationship.
He became ill on the opening night of the stage version of Tarry Flynn at the Abbey Theatre, and died a week later on 30 November 1967.
Creator
Peter Kavanagh (1916-2006).
Biographical History
Peter Kavanagh, younger brother of Patrick, attended secondary school and teacher training college at St Patrick's, Dublin.
He obtained an MA from National University of Ireland in 1941 and a PhD from Trinity College in 1944.
Peter published a number of books on the Irish theatre including The History of Irish Theatre (1947) and The History of the Abbey Theatre (1950).
Peter edited and financed a journal with Patrick, Kavanagh's Weekly: a journal of literature and politics' (13 issues; 12 April–5 July 1952).
In 1946 Peter moved to New York.
He worked as Professor of Modern Poetry at Loyola University, Chicago, and later taught at Gannon College, Erie, Pennsylvania and the University of Wisconsin-Stout.
Peter built his own printing press and began publishing his plays and Patrick's poetry.
After Patrick's death in 1967, Peter dedicated himself to publishing works on and by his brother including:

Lapped Furrows (1969)
November Haggard (1971)
Garden of the Golden Apples (1971)
Complete Poems of Patrick Kavanagh(1972, 1984, 1996, 2000)
Sacred Keeper (1978)
Patrick Kavanagh: A Life Chronicle (2000).

He also published the Dictionary of Irish Mythology (1988), The Dancing Flame: A Documentary Drama of the Poet in Society (1981), and his own autobiography in two parts, Beyond Affection (1977) and Piling Up the Ricks (1989).
Source of Acquisition
The Kavanagh archive was assembled by Patrick Kavanagh's brother Peter and purchased from Peter for UCD Library Special Collections through a national fundraising project in 1986.
Scope and Content
Patrick Kavanagh
Early literary material containing verses, novels, prose writing and other publications; family correspondence containing letters to Cecilia Kavanagh and Peter Kavanagh;letters to Patrick Kavanagh from various sources (1926–40).
Later literary material containing verses, novels, articles, lectures, published works, galley page proofs, Kavanagh's Weekly, and adaptations of Patrick's work (1940–1967).
Documents concerning the libel case of Kavanagh vs The Leader (1952–54).
Personal correspondence including correspondence with his sisters, Peter Kavanagh, Katherine Barry Moloney (1947–1967).
Printed material, press cuttings, publications, personal memorabilia, and tape recordings (1940–67).
Peter Kavanagh
Literary material containing thesis, plays, autobiographical writing, and A History of Inniskeen (1939–1978).
Printed material, personal and general correspondence (1934–1984).
Periodicals, personal memorabilia, tape recordings, and page and galley proofs (1941–82). Family memorabilia (1872–1967).
Access and Use
The material in this collection is available by appointment to students, teaching staff, and independent researchers. We also welcome interested members of the public.
Please contact us at special.collections@ucd.ie for further information. To book an appointment click here.
Reproduction
Photocopying or digital photographing of this material is not permitted.
Language
English.
Finding Aid
Draft descriptive list.
More Information