Eva Gore-Booth Papers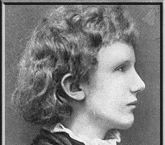 Eva Gore-Booth
UCD Library Special Collections holds a collection of letters and poems by Eva Gore-Booth.
Identity Statement
Reference code IE/ UCD/SC/GB
Title
Eva Gore-Booth Papers.
Dates
[1916?].
Level of Description
Fonds.
Extent
14 items.
Context
Creator
Eva Gore-Booth (1870-1928).
Biographical History
Eva Gore-Booth was an Irish poet, dramatist, philosopher, and influential political activist.
She was born at Lissadell House, County Sligo.
Eva's older sister was Constance Gore-Booth, better known as Countess Markievicz.
In 1886 Ester Roper and Eva Gore-Booth became joint secretaries of the Women's Textile and Other Workers Representation Committee.
She was also active in the National Union for Women's Suffrage Societies (NUWSS) and wrote propaganda pamphlets and articles in feminist and trade union journals.
Eva was a keen poet and playwright, with her first published volume of poetry being praised highly by W. B. Yeats.
She published ten volumes of poetry and the verse dramas Unseen Kings (1904) and Death of Fionavar (1916).
Source of Acquisition
Donated by Liam O'Leary, February 2008.
Scope and Content
Holograph letters from Eva Gore-Booth to Meredith Starr and other correspondents concerning the occult, reincarnation, poetry, German immigration into England, the social situation in Ireland, and visiting her sister, Countess Markievicz, in Dublin [1916?].
Holograph poems including a poem entitled Roger Casement (not dated).
Access and Use
Access
The materials in this collection are available by appointment only to research students, reaching staff and scholars. Research students should have a letter of recommendation from their supervisor.
Reproduction
Photocopying or digital photographing of this material is not permitted.
Language
English.
Finding Aid
n/a.
More Information
Find Information on Eva Gore-Booth in the Dictionary of Irish Biography (UCD only).