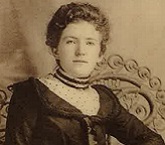 UCD Library Special Collections holds the Annie O'Donnell Letters.
Identity Statement
Reference code IE/ UCD/SC/AOD
Title
Anne O'Donnell Letters.
Dates
1901-1904.
Level of Description
Items.
Extent
70 letters.
Context
Creator
Annie O'Donnell (1880-1959).
Biographical History
Annie O'Donnell (1880-1959) was born in Lippa, near Spiddal, Co. Galway in 1880. She left Galway for America in 1898. During the voyage, she made friends with a 22-year-old farmer from Co. Kilkenny, Jim Phelan. Annie went to work as a children's nurse for a wealth family in Pittsburgh and corresponded with Jim for a three year period before they married. She lived in Pittsburgh until her death in 1959.
These letters are a valuable record of an emigrant Irish woman's life in the United States at that time.
The letters have been published under the title Your Fondest Annie , edited and with an introduction by Professor Maureen Murphy.
Maureen Murphy is Professor of Secondary Education and English at Hofstra University and the editor of Asenath Nicholson's Annals of the Famine in Ireland (1998) and Ireland's Welcome to the Stranger (2002).
Source of Acquisition
This collection of letters was donated to UCD Library (via UCD School of History) by Maureen Murphy who received them from Annie and Jim's son Frank Phelan.
Scope and Content
The letters are quite frequent and give an account of Annie's day to day life. She describes her routine tasks and lifestyle as a member of staff in the Mellon household; taking care of the children, the uniforms they wore at different times of day and how they spent their time in the evenings.
Annie often asks Jim to send her a photograph and/or refers to photographs that she has sent him. She also refers to photographs of her parents.
Annie refers to events such as an outbreak of scarlet fever in 1902 and a visit from soldiers on the 4th of July. She describes Halloween, Christmas and St Patrick's Day festivities.
She writes accounts of those she has stayed in contact with at home and in America including her parents, Jim's relatives in America, her sisters living in Pittsburgh and a priest in Spiddal for whom she raised money for and sent home to repair a church while in America.>
Access and Use
Access
The material in this collection is available by appointment to students, teaching staff, and independent researchers. We also welcome interested members of the public.
Please contact us at special.collections@ucd.ie for further information. To book an appointment click here.
Reproduction
Photocopying or digital photographing of this material is not permitted.
Language
English.
Finding Aid
Descriptive list.